Alice Camera is a clever blend of AI, high-quality optics, and smartphone intelligence
Launching in summer 2022, the Alice Camera is designed to offer 'the intelligence and user experience of a phone but with the image quality of a DSLR'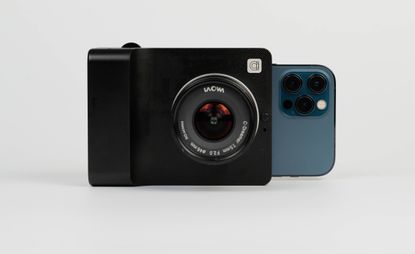 (Image credit: TBC)
For spontaneous photography, the best camera for the job is the one you happen to be holding. For the overwhelming majority of casual photographers, that camera is the one in your smartphone. The very first cameras appeared on commercial mobile phones around the turn of the century (although as ever with tech milestones, there are multiple claims to the title of pioneer). The early work of companies like Kyocera, Motorola, Samsung, and even Apple, opened the floodgates to what is now best called 'computational photography'; relatively small sensors and lenses, paired with massively sophisticated algorithms and processing to deliver the kind of images that even the best DSLR cameras would struggle to match.
One company believes that mobile photography could be better. While many aftermarket devices promise to enhance or expand the capabilities of a smartphone lens system, Alice Camera bypasses the built-in sensors completely in favour of a bespoke lenses and sensor system. Billed as the 'camera for creators', the device makes bold claims for its ability to combine new and old hardware with AI-driven software.
We spoke to CEO and co-founder of the company, Vishal Kumar, about his aspirations for the product, which is due to launch this summer.
Wallpaper*: How long has the Alice Camera been in development?
Vishal Kumar: We had a proof of concept in June 2020, but I would say that the Alice Camera formally began development in September 2020, when we received an innovation grant from Innovate UK (the government's research agency) that turbocharged our development and allowed us to hire a team and expand.
W*: What inspired the gadget?
VK: We built the Alice Camera out of frustration with the lack of innovation and usability of traditional interchangeable-lens digital cameras. Digital cameras are not really fit for a fast-paced content lifestyle and have lost out massively to an explosion in smartphone camera technology. Smartphones leverage computational photography with an easy-to-use design, but their small sensors will never be enough for creators who generate a living from their content, because those creators tend to care a lot about quality.
W*: What are your aspirations for the device?
VK: Our team is made up of creators, photographers, and engineers and we wanted a device that had the intelligence and user experience of a phone but with the image quality of a DSLR. We started to think about how a new generation camera could be redesigned from the ground up. Our solution was to combine smartphone and mirrorless camera technology with computational photography into one device, our AI camera called the Alice Camera.
W*: Will it work with any smartphone? What does the app add to the usual camera software?
VK: Yes, it will work with most phones, both iOS and Android. We only use the smartphone as a display and control interface, the image processing pipeline and computational photography algorithms run on the processor inside the Alice Camera. There is essentially no difference in functionality when using the Alice Camera with different phones, even relatively old ones.
Running the Alice Camera app on the user's smartphone adds the experience of using a latest-gen smartphone screen as the viewfinder for a professional interchangeable-lens optical system, and being able to upload instantly to the cloud or social media is pretty handy. Pairing the camera so closely with the smartphone unlocks a bunch of user experience improvements and allows it to fit in more seamlessly with the modern content creator's workflow.
W*: What were the main technical challenges?
VK: The design of the Alice Camera is extremely minimal when compared to a traditional mirrorless DSLR camera. We've stripped out a lot of complexity; there aren't too many physical buttons and there are only a handful of core electronic components. The Alice Camera is built more like a smartphone than a traditional camera, which has meant that we have redesigned the electronics from scratch.
It has been designed specifically to enable advanced AI-powered computational photography algorithms to be run on images collected by its micro four-thirds sensor.
W*: What are its specifications?
VK: The Alice Camera contains an advanced Qualcomm Snapdragon processor, similar to those in many Android smartphones, with enormous image-processing capacity, alongside a Google Edge TPU, a dedicated accelerator for AI algorithms, similar to those found in some Google Pixel phones. It is a radically different design to a typical mirrorless or DSLR camera, with a greater focus on flexibility and computational power.
AI is a transformational technology for photography, it enables many things that were previously impossible and automates things that previously required skilled human intervention. It allows professional-quality post-processing to be applied to video in real time for live streaming, and it allows a camera to capture photos with higher resolution and dynamic range than its optical system is capable of.
W*: How does the camera use AI?
VK: [AI] is causing fundamental changes in how content is created, shared and consumed, and the Alice Camera is designed to harness it. We have already collected over five million images from open datasets to train our AI models. Now we're building our own proprietary image database to further train and enhance our novel end-to-end AI pipeline for professional imaging.
The global chip shortage has had a wide impact on the whole market, and we did witness delays of six months. However, we have been in continuous contact with our suppliers and have managed our supply chain for 2023.
W*: Who is the target market?
KV: The target market is income-generating content creators who produce, edit and share content on a frequent basis. According to a recent LinkTree report, there are now 200 million creators around the world who make an income from their content online. These creators typically start out their careers using a smartphone to produce content, but as they become more famous and start to take on paid work, they tend to use entry-level mirrorless cameras to produce content.
The Alice Camera value proposition will strongly resonate with them because our goal is to provide them DSLR quality content but to drastically streamline their workflow. But, increasingly, many small businesses are also interested in using professional cameras to share content, in fact, 30 per cent of the people who have pre-ordered an Alice Camera are small business owners or video agencies. §
INFORMATION
Pre-orders at alice.camera (opens in new tab)
Jonathan Bell has written for Wallpaper* magazine since 1999, covering everything from architecture and transport design to books, tech and graphic design. He is now the magazine's Transport and Technology Editor. Jonathan has written and edited 15 books, including Concept Car Design, 21st Century House, and The New Modern House. He is also the host of Wallpaper's first podcast.