­­Making paper: traditional Japanese gift wrapping gets a modern German twist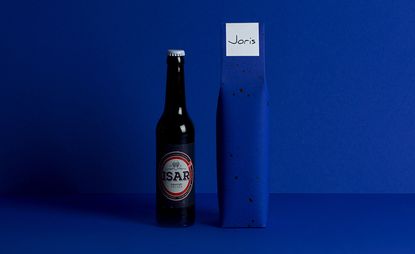 (Image credit: Sonia Mangiapane)
Gift giving has reached new heights with the launch of Wrappu, a one-stop shop for visual junkies the world over. Wrappu was born out of a desire to bring a renewed appreciation for paper craft into a more contemporary context, celebrating a family heritage of bookmaking in the process.

Headed by Munich-based graphic designers Ngaire Wex and Micha Kumpf – the former having specialised in book design and calligraphy for many years while Kumpf's father and grandfather were bookbinders – Wrappu was founded when the pair were left inspired after a trip to Japan where the country's attention to detail in both product packaging and presentation spurred them on to create their own. The name itself is a nod to these origins, a play on the Japanese word for 'wrap'.
Placing itself firmly at the intersection of culture and design, Wrappu blends influences from East and West and from the old and the new. While the paper is printed in Germany using Pantone ink on 100 per cent recycled card, the varied paper designs and forms (like pyramids and prisms) find its inspiration from the world over, specifically Australia, Asia and Europe – places the duo have called home in recent years.

Available in a range of colours like apricot, slate, ultramarine and yellow, Wrappu proves that it's not just what you give, it's also about how you present it, serving as a gentle reminder that the tactility of paper is now more important than ever before in our fast-paced digital world. That is, if you have a special message to share.
INFORMATION
For more information, visit the Wrappu website (opens in new tab)