In memoriam: Wim Crouwel (1928-2019)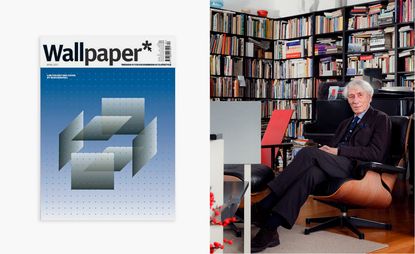 (Image credit: Portrait: Qiu Yang)
Wim Crouwel, the Dutch design icon who gave us the ultra-geometric Gridnik typeface, has passed away at the age of 90 in his hometown of Amsterdam.

With the agency he co-founded, Total Design, Crouwel pioneered a rigorously functional approach to posters, logos and corporate identities, changing the face of design in the Netherlands. Alongside his famed creation of Gridnik and the New Alphabet – an extraordinary cipher script of vertical and horizontal lines – the designer was also defined by his remarkable ability as a 'spatial organiser' for exhibitions, spaces and fair stands.

Crouwel used grids consistently throughout his career, which visibly or invisibly directed the balance of his designs. 'I rarely make even the smallest sketch without drawing on squared paper,' he said when we asked him to bring his uniquely tight grip on form and space to the limited edition cover and interiors shoot (pictured at the bottom of this article) in Wallpaper's April 2011 issue (W*145). We weren't surprised to find the grid incarnated in 3D. For the cover he designed (pictured top left), he created the illusion of a depth of space that seems to sink into the paperstock.
When we visited his apartment ahead of the 2011 collaboration, we learned that his tastes as a design connoisseur were considerably broader than the stern principles he employed as a designer. The stylistic nadir between Gerrit Rietveld's 'Red Blue' chair, Charles and Ray Eames' lounge chair and Frank Gehry's 'Power Play' plywood chair found in his living spaces was typical of Crouwel's eclectic and expressive taste. 'There is a constant struggle between what I appreciate in the work of others, and my own ideas,' he said at the time. 'But often, when I like something that vastly differs from my own work, it reinforces my own standpoint.' It was a standpoint of unadulterated functionalism.
Born in 1928, at the high point of the modernist avant-garde, Crouwel's steadily steered career was as unwavering as his vision. After founding the aptly named Total Design studio in 1963 (which he did with fellow graphic designer Benno Wissing, industrial designer Friso Kramer, and entrepreneur brothers Paul and Dick Schwarz), from 1985 to 1993 Crouwel was director of Museum Boijmans van Beuningen in Rotterdam, and, passionate about education, was also a professor at Delft University of Technology (now TU) and at Erasmus University in Rotterdam. His work has been documented and saluted by various retrospectives, notably at London's Design Museum in 2011, and then at the Stedelijk Museum in Amsterdam later that year. He had a relationship with this hometown institution for over three decades. In its exhibition, his unique take on modernism was delivered in a new light, particularly in the case of his typographic achievements, which were read with renewed interest as we pushed into the digital era.

He continued working throughout his life, contributing typefaces to The Foundry at the turn of the decade, ensuring his legacy carried over into today's digital work. His approach was frequently ahead of its time – his 'New Alphabet' of 1967 playfully exploited the limited resolution of the earliest computer monitors, effectively making him a pioneer of the abstract power of pixelation. Other fonts were designed for electric typewriters, taking the fast-moving demands of technology and making them into concrete aesthetic statements.

Just two months ago, Crouwel received the prestigious medal from the Type Directors Club for his oeuvre. Earlier, he received the Piet Zwart Prize and the Gerrit Noordzij Prize, among a cabinet of accolades that celebrate his original voice. 'With his grids Wim Crouwel formatted the Netherlands into modernity,' reads an obituary announcement on the Total Design website. 'He touched and taught beauty by skewing the system.' His vastly influential visual vocabulary stretches far beyond the Netherlands; it will be missed and remembered by the creative world at large.
Elly Parsons is the Digital Editor of Wallpaper*, where she oversees Wallpaper.com and its social platforms. She has been with the brand since 2015 in various roles, spending time as digital writer – specialising in art, technology and contemporary culture – and as deputy digital editor. She was shortlisted for a PPA Award in 2017, has written extensively for many publications, and has contributed to three books. She is a guest lecturer in digital journalism at Goldsmiths University, London, where she also holds a masters degree in creative writing. Now, her main areas of expertise include content strategy, audience engagement, and social media.