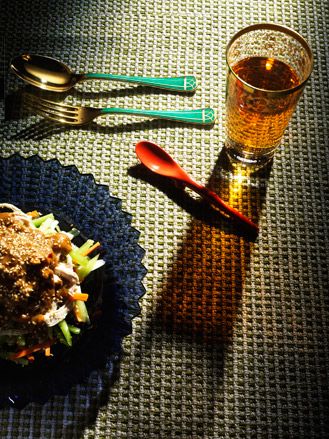 (Image credit: Richard Foster)
Chivas Regal with Bang Bang Chicken
18-year-old Blended Whisky, £41, by Chivas Regal

Serves 4
4 skinless boneless chicken breasts
2 tbs sesame seeds
1 cucumber
1 carrot
4 spring onions, trimmed and chopped
For the dressing:
4 tbs smooth peanut butter
2 tbs soy sauce
2 tbs toasted sesame oil
2 tbs light vegetable oil
2 tsp Szechwan chilli oil (include some of the chilli flakes in the oil)
Juice of half a lime
1 tbs sugar
1 tbs finely grated fresh ginger
Place the chicken in a pot, cover with water, bring to the boil, then turn down the heat and simmer for 15 minutes until cooked through. Remove from the liquid and allow to cool. When cold, place each breast on a board and bang it sharply two or three times with a rolling pin to begin breaking up the flesh. Shred the chicken into strips. Place in a bowl and set aside. Put the sesame seeds in a dry frying pan over a medium to high heat. Toast them, shaking the pan constantly and never leaving them unattended, as they will turn golden brown very quickly. Pour out onto a plate and set aside. Peel the cucumber, slice into quarters lengthways, and cut out the seeds. Julienne the cucumber into strips roughly matching the chicken shreds. Peel and julienne the carrot similarly. To make the sauce, place all the dressing ingredients in a bowl over a pan of simmering water. Whisk for a minute or so, until the sugar has dissolved and you have a smooth paste. Remove from the heat. Whisk in approximately 100 ml of hot water, more or less, gradually, until you have a thick dressing. Compose the plates with a layer of cucumber, carrot and spring onion, followed by the chicken, and then the sauce. Sprinkle with sesame seeds and serve.
All photographs by Richard Foster
From Scotch with cake to Hakushu with sashimi, some of the finest whiskies meet their perfect partner at the Wallpaper* tasting table.
Glengoyne with venison carpaccio with beetroot salsa
Ten-year-old Highland Single Malt Whisky, £30, by Glengoyne

Recipe by Tom Lewis of Monachyle Mhor Hotel, Perthshire, Scotland. www.mhor.net
200g loin of wild venison
a sprig of thyme
2 beetroot, peeled and diced
3 tablespoons light olive oil
1 tablespoon aged sherry vinegar
juice of half lemon
2 small shallots, finely chopped
1 small mild chilli, finely chopped
10 yr old Glengoyne malt whisky, to taste
a handful of dressed garden leaves (rocket and land cress)
For the horseradish crème fraîche:
5 tablespoons crème fraîche
1 tablespoon mayonnaise
a thumb of fresh horseradish, peeled and grated
a squeeze of lemon
a few drops Tabasco, to taste (if required)
salt and freshly ground black pepper

Preheat the oven to 220C/350F/Gas 5.
Season the venison well and rub with thyme. Heat a heavy frying pan add a dash of olive oil, then sear the venison evenly all over, counting to ten slowly while you turn it around. Remove to a tray to cool and rest.
Roast beetroot in foil envelope with fresh thyme and olive oil and a couple tablespoons water for 40 mins. Cool. When cold, peel and dice, then mix in the remaining ingredients, adding a dash of Glengoyne to taste. Season with salt and pepper and leave to infuse for 20 mins.
Mix the crème fraîche with the mayonnaise and horseradish. Leave to infuse for 1 hour then pass through a
Hakushu with sashimi
12-year-old Hakushu Single Malt Whisky, £47, by Suntory, from Royal Mile Whiskies

Slice thin strips of tuna, fatty tuna, salmon and squid with your sharpest knife. Serve with pickled ginger and wasabi
Greenore with smoked salmon and soda bread
Greenore 15-year-old Single Grain Irish Whiskey, £52, by The Cooley Distillery, from The Whisky Experience

Smoked Salmon made by Frank Hederman at The Belvelly Smokehouse Co. Cork.
Available from Fortnum & Mason, Selfridges, Wright Brothers, Borough Market.
www.frankhederman.com

Soda Bread
Makes 1 loaf
250g wholemeal flour
200g plain flour
1tsp salt
1tsp bicarbonate of soda
300ml buttermilk, or a mixture of 150ml sour cream and 150ml water, whisked together.
Grease a baking sheet. Preheat the oven to 200ºC. Mix the flours, salt and bicarbonate in a large bowl. Make a well in the centre and pour in the buttermilk. Stir, and bring the dough together, then knead briefly and lightly with your hands to make a smooth, slightly flattened, round ball. Place this on the baking sheet and score a deep cross in the loaf. Bake for 30 minutes. The loaf should be well-browned and sound hollow when tapped on the base. Cool on a wire rack.
The Balvenie with Dundee cake
12-year-old Double Wood Single Malt Scotch Whisky, £29, by the Balvenie

Whisky Dundee cake

100ml whisky, plus more for feeding
350g mixed dried vine fruit
100g glace cherries, halved
50g chopped candied peel
zest of one orange
150g butter at room temperature
150g soft brown sugar
3 eggs, beaten
200g plain flour
a pinch of salt
1 tsp. baking powder
2 tbs ground almonds
100g whole blanched almonds
Place the vine fruit, cherries and orange zest in a bowl with the whisky, and leave to soak overnight.
Grease an 8 inch 20cm round baking tin, and line with baking parchment. Preheat the oven to 170ºC. Sift together the flour, baking powder, and salt and set aside.
Beat the butter and sugar together until light and fluffy. Add the beaten egg, a little at a time; making sure each addition is thoroughly incorporated before adding the next. Carefully fold in the flour mixture, and then the ground almonds. Mix in the fruit and whisky. Spoon the mixture into the tin, smoothing the surface with the back of a spoon. Arrange the blanched almonds on the top of the cake, pressing them in only very lightly, to avoid them sinking during baking. Place the cake in the oven for 1 hour 45 minutes -2 hours until the centre is firm and the cake golden brown. Cool in the tin for 30 minutes, then remove to a wire cooling rack. Make small holes in the top of the cake and feed it by sprinkling the surface with couple more tablespoons of whisky.
Johnnie Walker with Lamb Bhuna
Black Label Blended Whisky, £25, by Johnnie Walker

Serves 4-6
4 tsp coriander seeds
2 tsp cumin seeds
2 tsp mustard seeds
2 tsp fennel seeds
2 tsp fenugreek seeds
2 dried red chillies, broken onto pieces
1 tsp black peppercorns
5tbs tbs vegetable oil
1 large onion, peeled and finely chopped
1 thumb sized piece fresh ginger, peeled and finely chopped
4 large cloves of garlic, peeled and finely chopped
3 peeled chopped tomatoes, or 250g canned chopped tomatoes
12 curry leaves
1 kg boneless lamb, cut into 3cm cubes
11/2 tsp salt
Heat a heavy frying pan over a medium to high heat. When hot, add all the dry spices and stir them around for 3-5 minutes until they are fragrant, and a shade darker. Tip them onto a plate and allow to cool slightly, and then grind them to a fine powder in a pestle and mortar or spice grinder, and set aside.
Put the oil into a large heavy pan over a medium heat. Add the onion, ginger, and garlic, and fry, stirring constantly, for about 5 minutes, until soft and golden. Add the chopped tomatoes and the curry leaves and continue to stir-fry for about 5 minutes until you have a thick paste. Add the ground spices and cook for another minute, adding a tablespoon or two of water if the paste seems too dry. Add the meat and the salt, stirring, and coating the pieces in the fragrant spice mixture, for five minutes. Pour in 250ml water, bring to a simmer, then cover the pan, reduce the heat to low and cook for one and a half hours. After this time, remove the lid, turn the heat to high, and reduce the sauce, stirring constantly, until it clings to the meat. Serve with rice or roti.
Glenmorangie with chocolate whisky semifreddo
Signet Single Malt Scotch Whisky, £112, by Glenmorangie, from The Whisky Exchange

Serves 8-10
250g dark chocolate at least 70%
4 eggs separated
5 tbs caster sugar
3 tbs Whisky
400 ml double cream
Line a 1 litre loaf tin with cling film. Break up the chocolate and place in a large bowl over a pan of simmering water, until the chocolate has melted. Stir and set aside. Whisk the egg yolks with two tablespoons of the sugar, until pale and fluffy. Beat this mixture into the melted chocolate, and then beat in the whisky. Beat in 150ml of the cream, until you have a smooth and glossy mixture. Whisk the egg whites in a large clean bowl until they hold soft peaks. Add the remaining sugar, whisk again until glossy, and set aside. Beat the remaining cream in a separate bowl until it hold soft peaks and then beat about a quarter of it into the chocolate mixture, to loosen it. Fold in the rest of the cream, and then the egg white, until all are thoroughly but lightly combined. Spoon into the tin and place in the freezer for at least 6 hours. Remove from the freezer 15 minutes before serving. Invert onto a plate, remove the cling film, and cut into slices with a sharp knife dipped in warm water. Serve with blueberries and raspberries.
Talisker with scallops with black pudding and pea purée
Ten-year-old Single Malt, £59, by Talisker, from Single Malts Direct

Serves 4 as a generous starter
For the pea purée
40g butter
1 tbs olive oil
1 banana shallot or small onion, peeled and finely chopped
400g frozen peas
200 ml chicken stock
about 20 mint leaves
3 tbs double cream
salt and pepper
2 tbs olive oil
1 Stornaway black pudding, or approx. 400g, cut into 8, 1cm thick slices.
12 scallops
salt & pepper
Heat the butter and olive oil in a medium sized pan over a medium heat. Add the chopped shallot and cook for about 5 minutes until soft and golden. Add the peas and the stock, bring to the boil, turn down the heat and simmer for about 7 minutes until the peas are tender. Add the mint and cream, season to taste, and then process the mixture to an almost smooth puree, but with some texture remaining.
Heat a large, heavy frying pan and pour in the olive oil. When very hot, place the black pudding slices in the pan. They will need about 2 minutes on each side, the scallops one minute each side. Season the scallops with salt and pepper and place them in the pan when you turn the black pudding. The black pudding should be crispy, and the scallops well browned. Spoon hot pea puree onto each plate, add two slices of black pudding, and place three scallops on top.
Receive our daily digest of inspiration, escapism and design stories from around the world direct to your inbox
Melina Keays is the entertaining director of Wallpaper*. She has been part of the brand since the magazine's launch in 1996, and is responsible for entertaining content across the print and digital platforms, and for Wallpaper's creative agency Bespoke. A native Londoner, Melina takes inspiration from the whole spectrum of art and design – including film, literature, and fashion. Her work for the brand involves curating content, writing, and creative direction – conceiving luxury interior landscapes with a focus on food, drinks, and entertaining in all its forms