The fastest electric bike on earth is a tech toy for thrill-seekers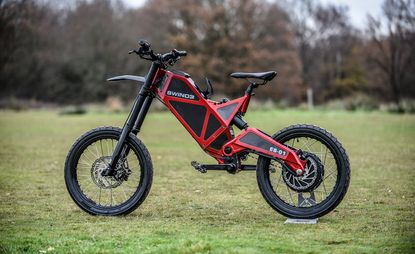 (Image credit: swindon-engines.com)
Mind-blowingly, brutally fast. That's how the British manufacturer of the SWIND EB-01 describes its audaciously equipped two-wheeled product.

Designed for adrenaline-charged, off-road recreation and billed as the world's most technically advanced and powerful electrically powered 'hyper bicycle', the EB-01 has an official top speed of 60mph. With a bit of tuning and tinkering, says its designer Raphaël Caillé, it could go as fast as 80. Wallpaper* travelled to a private tarmac and dirt track cycle facility in far east London for a test ride.

A thing of jolie laide, butch utilitarian beauty the Swind is, genetically speaking, 70 per cent downhill mountain bike and 30 per cent Ducati Monster. The air cooled cell and drive train sit inside a bombproof aluminum and carbon-fibre monocoque frame. Bolted on is a regenerative braking system and thumb shift gear levels. Long travel forks at the front end and a big bouncing swing arm at the rear. Choose from either knobby or road tyres. The 1.75 KW.H lithium-ion battery is fully charged in 90 minutes and it'll go for up to 80 miles. You also can pedal it like a normal push bike (if you really want to).
There are three twist-and-go power settings – Eco, Normal and Boost. Eco is perfect for a shopping trip or a canal toe-path, while the torque, acceleration and sheer brutish thrust of the 'Boost' option will take your breath away. The iPhone sized, digital dash has buttons for traction control, range control and, hilariously, 'wheelie control'.

The boutique project of Swindon Powertrain, a specialised tech outfit that creates cutting-edge products and prototypes for supercar OEMs and Formula One teams, the £15,000 EB-01 went on sale earlier this year but has already established its place on the international big boys' toys market. Early adopters have been hypercar owners and boat owners. 'The kind of people who want to add the hyper e-bicycle to their garage or perhaps to have a pair sitting on the deck of their mega-yacht,' says Raphaël Caillé. The fact that the bicycle's wheels can be fitted with soft, dune sports tyres will help sales in the UEA.

'Off road test riders have been thrilled to find out that they can go up hills as fast as they can go down them,' says Caillé. 'It completely changes the perception of cycling and the riding experience.'
INFORMATION
SWIND EB-01, £15,000. For more information, visit the Swindon Powertrain website (opens in new tab)