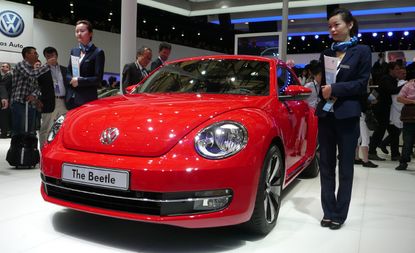 (Image credit: press)
Volkswagen Beetle
This is the third generation Volkswagen Beetle that was unveiled simultaneously in Shanghai, Berlin, New York and on MTV.
'I said to my team we need to return to the original Beetle because the one before this was too much in the way of a toy and with this one we wanted to come back with a real car,' head of VW Group design Walter de'Silva told W*. 'We think it looks elegant, much more masculine and sportier than before -- and these were the three elements we had in mind.'
Sale: 2012 with a cabriolet to follow shortly
Price: TBC
China is heading towards becoming the world's biggest economy. This we know. Yet what remains poignant is the speed in which its consumer needs and tastes are evolving.
A simple tale told by Volvo (opens in new tab)'s design director Peter Horbury at the Shanghai Motor Show last week serves to highlight this change. When Horbury showed Volvo's S60 prototype to his Chinese colleagues a year ago they cautioned that it was not aesthetically conservative enough - that the coupé style sporty rear will not appeal to this market, which historically prefers sedans. Yet as soon as the car hit production, the Chinese were hugely in favour of this architecture.
'Chinese consumers are developing into a much more sophisticated market than some of the brands that have been popular here realise,' warns the designer, who is now in close contact with this market since Volvo was bought by Geely, one of China's largest domestic carmakers. 'We just don't know what the market requirements will be in three years,' he says, adding candidly: 'We are here to find out, to gauge the public and the market.'
China's booming economy may be slowing down with the government placing restrictions on spending, yet it still remains one of the largest markets for carmakers. This was evident by the number of new models and concept cars launched at the Shanghai show. Coinciding with the New York Auto Show, it was also almost a symbolic battle of world powers. On this showing, China is clearly ahead.
To be fair, Shanghai is still some way off the visual standard achieved at its American and European counterparts. Nevertheless the expo halls had been modernised, and even though health and safety standards were questionable and the design of exhibition stands is still an evolving art, there was undeniably a buzz, an energy that directly mirrored the mood outside on the streets of Shanghai.
Volkswagen
Possibly one of the most hyped launches came via Volkswagen (opens in new tab), mainly because it is the most established Western marque in the region. The German carmaker unveiled the 21st century Beetle -- a car that didn't quite have the success the Germans had hoped for in the Asia region when the first 'New' Beetle was unveiled at the tail end of the last century. The new car was unveiled the night before the show in a visually spectacular location on the Bund, overlooking the river Huangpu and Pudong, against a dazzling backdrop of towers and neon.
Walter de'Silva, head of VW Group design, justified the model's evolution. 'The Beetle before this was a nice car, but the design was too much in the way of a toy. With this one we wanted to come back with a real car.' The Italian designer has a complex job, orchestrating a whole host of brands that includes not just VW but also Porsche, Audi, Bentley, Seat, Skoda and Bugatti. De'Silva admits that he needed to show that the Beetle's design heritage stems from Porsche. 'The front of the Beetle comes from the DNA of the Porsche,' he explains. 'This is because they come from the same father and this is a great opportunity to confirm our heritage.' In this context the new Beetle is certainly more aesthetically in line with its family.
BMW
Not to be outshone, BMW (opens in new tab) unveiled the elegant 6-Series Coupé, a design that closely followed on from the recently produced Convertible. Showing the new car in China not only affirms the marque's commitment to this region, but also reveals a market mature enough to appreciate a more subtle approach to car design.
Mercedes Benz
Fellow German Mercedes-Benz (opens in new tab) unveiled Concept A-Class, a hugely important car for the luxury marque as confirmed by design director Gorden Wagener. 'The A symbolises the rebirth of the brand,' he says. 'It brings us into the future to be more progressive and more appealing to younger customers.' Strong words, but Wagener has been working hard to reclaim the marque's position as a progressive and innovative company by injecting a strong aesthetic to its current generation of cars.
On the A the design is certainly a visible departure from the previous model. The new car no longer sits high and upright. Instead Wagener and his team have opted for a sportier package to compete head on with the Audi A3 and BMW 1-Series. 'As we are readjusting and repositioning the brand, it was important to come up with a concept that is competitive,' says the German designer. 'We needed not to just catch up with them but attack and be ahead of them.'
Audi
Rival Audi (opens in new tab) unveiled the Q3 production car, a small sporty SUV for 'guilt free' urban driving. It also showed the A3 e-tron, the latest electric concept car to join the zero-emission family of future cars that includes the R-8-based e-tron (of which a small number will be built from next year). 'Sooner or later we're moving into the e-tron direction,' confirmed Audi's design chief Stefan Sielaff. 'We are mentally preparing the customer to accept that we will do something slightly different. Let's face it, driving e-tron cars is the more socially attractive statement.'
E Scooter
China is a country long criticised as a major carbon gusher. Yet, publicly at least, change is apparently in the offing, with the government talking the talk of cutting emissions as it aims to be less and less dependent on crude oil. A representative from independent advisor McKinsey noted that the country is investing heavily in creating an infrastructure to support electric mobility.
Simon Loasby, VW's regional design director based in Beijing, agrees that there is a noticeable commitment to clean driving. 'The electric scooter is a new thing for Europe whereas they sell 20 million of these already in China,' he enthuses. 'My cleaning lady arrives on an electric scooter, then takes the battery out to charge it up. They are mentally used to it and the infrastructure is already here.'
His E Scooter concept for VW, unveiled at the show, is a charming proposition -- the tiny two-wheeler sporting a Shanghai city map to add a touch of regional personalisation.
Shanghai, it seems, is also pretty much ahead of Europe in terms of connectivity. 'Here the card you have for the underground is linked to everything else so you can take a taxi with it, you can get on the train -- it is all interconnected,' says Loasby. 'And you will be able to rent our scooter using the same card.'
Geely
The most talked about launch, however, was for sure Concept Universe - the first car to be produced by Volvo under Geely. The Scandinavian firm has ambitions to double its volume by 2020 with China at the core of this, and the impression this car leaves is crucial in gaining popularity in this market.
Concept Universe features a rather ornate grille and light treatment that was inspired by such abstract ideas as Chinese writing and sunsets. Design boss Horbury explains: 'Our Chinese colleagues allow us a little bit more of an insight into how the Chinese think. We get into so much more of the less technical side, more into the ethereal, the emotional.'
The British designer admits there is a completely new input into the way he is designing. 'Chairman Li (Geely boss Li Shufu) himself will send a poem or some music now and then to inspire. We love it and it is a very healthy way of looking at product design.'
China's domestic brands
Sadly China's domestic brands still have a long way to go - the likes of Brilliance, Chery, Changan and SAIC displaying a bizarre mix of slavishly copied and just terribly uninspiring designs. We walked the expo halls with former BMW design director Chris Bangle, and he commented that he thinks Chinese designers are simply too naive when it comes to the basics of design and proportion. That said, design is still considered important, and many emerging Chinese companies are hiring the likes of Italian consultant Pininfarina to help out. Pininfarina has done consulting for Brilliance, Chery and JAC, for example, and the firm even had its own stand at the show for the first time, displaying the Ferrari FF and Maserati GranTurismo.
Horbury is optimistic about China. He says it took us 70 years of driving cars to get to where we are now, and the Chinese are doing this in just 10. 'You know they have to redraw the road map of Shanghai every three months! So what is it to say the bling bling of today will not be the poor taste of tomorrow?'
Loasby agrees. 'You can compare China to America in the 1950s and 1960s when everyone was really happy,' says the VW designer. 'There was a self confidence so you wore different things and bought different items.' The car industry is certainly hoping to bask in this burgeoning consumer society, boosting profits and pushing the technological envelope at the same time.
Volkswagen E Scooter
The Volkswagen E Scooter concept was designed and developed in China but with global urban mobility in mind. A 350-watt electric motor, powered by a hydride battery helps the scooter hit 30mph and travel for 25 miles on a single charge. VW is considering a production model that could be rented
Mercedes-Benz Concept A-Class
Mercedes-Benz's entry-level A-Class has undergone a complete transformation. The high architecture and upright seating position has been replaced by a much more sportier, and therefore younger, package
We caught up with Mercedes creative director Gorden Wagener who said: 'The first A was very revolutionary but now we are producing two cars the A and the B that are very much alike.
'When you put the current A against the BMW 1 Series or Audi A3 they are much sportier cars which doesn't help us in terms of brand perception. The new A is young and cool and will redefine the brand showing how progressive we are.'
More than 80% of what we see in this concept car will filter through to the production car due in 2013
Volvo Concept Universe
The Volvo Concept Universe is a brave proposition that aims to move the brand even further away from its long-standing association with boxy estates. It is also the first car to be shown since China's Geely bought Volvo from Ford last year
We caught up with Volvo head of design Peter Horbury in Shanghai. This is what he had to say about the car: 'The Chinese have the festival of the moon where writers and artists gather together and drink and write and paint to celebrate the moon. The front end of this car is very much about the mystery of looking beyond the stars.
'When I talk about the sudden streaks of sunlight that appear from behind the moon and the total eclipse as it is just about to end our Chinese colleagues love it. They see it immediately. In Frankfurt they would think I am crazy!'
Audi Q3
Shanghai saw the world premier of Audi's compact Q3 SUV. It shares the Q design language with its four doors and wrap around tailgate, but has a faster rear end to be more of a SUV/coupé mix
Sale: November 2011
Price: Circa £25,000
Audi A3 e-tron
The A3 e-tron is the latest concept to join the electric drive family. Design cues here and there and the use of carbon fibre hint at the electric motor that drives this car and help differentiate the e-tron cars from Audi's mainstream cars. This is the final chapter to the A3 family and the car, if it gets the go-ahead, is around 90% close to production
BMW 6-Series Coupé
BMW showed the second in the 6-Series range, the Coupé. Head of exterior design Karim Habib had this to say: 'This was an iconic car and we had to make it stronger in terms of elegance and make it sportier and I think we have achieved a level of elegance.'
Sale: September 2011
Price: TBC
Peugeot SXC
Peugeot's SXC concept car has been designed and developed by the French firm's design and technology centre in Shanghai. Peugeot plans to launch at least one new model per year in China in the coming years and with this crossover vehicle it is showing its willingness to adapt to the specific expectations of each market
Mini Goodwood
The Mini Goodwood is a limited edition car that has received the Rolls-Royce treatment with an interior built under the supervision of the luxury marque's interior designer Alan Sheppard
BYD S6
The BYD S6 SUV is a big car for the Chinese marque that is currently regrouping having expanded too quickly in 2008 and 2009
Geely Emgrand GE
This is the Geely GE, the Chinese firm's answer to Rolls-Royce. Having undergone much restyling following criticism that is resembled the British luxury marque too closely, the new car carried Geely's premium brand name Emgrand
Geely Gleagle GS
The GS coupe is the star of Geely's midrange Gleagle brand and a car that will perhaps help the Chinese maker establish itself in the US market
MG Concept 5
The MG Concept 5 was developed with owner SAIC as a Ford Focus challenger
Brilliance Concept Sedan
A mid-sized saloon representing a new design language for the Chinese marque
Changan Ford Voss
The new Voss, a minivan concept with daring gullwing doors by Changan Automobile Group in association with its partner Ford