Electrification reigns at Auto Shanghai 2019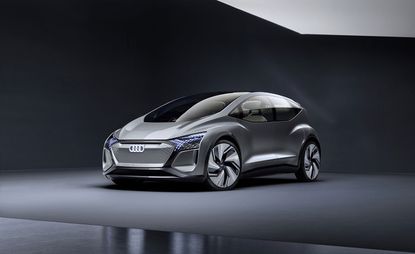 (Image credit: Audi )
Wallpaper* Newsletter
Receive our daily digest of inspiration, escapism and design stories from around the world direct to your inbox
Thank you for signing up to Wallpaper. You will receive a verification email shortly.
There was a problem. Please refresh the page and try again.
The world's biggest vehicle market is fast becoming the most influential too. At China's most important motor show for 2019 – Auto Shanghai (18-25 April) – electric car unveilings were the rule, not the exception. The only significant global premiere that Wallpaper* noted without an electric powertrain was Mercedes GLB small SUV – and even that model will spawn an electric variant soon.

The reason? While the western world slowly moves towards electric vehicles – accelerated by the ripples from VW's 'Dieselgate' emissions scandal – the Chinese Government is promoting electric vehicles as never before. This is in large part to alleviate the vast country's urban traffic and pollution problems but also because, as one non-Chinese designer working for a local Chinese maker put it: 'the Chinese Government wants its auto industry to take over the world via electrification'.

Despite a slight sales decline in 2018, down 4 per cent to 23.8m units, the Chinese market is still massive and firmly number one – the US shifted 17.3m and Europe 15.6m by comparison. Chinese designers at local car brands – albeit often under the guidance of older Western design chiefs – are now showing more maturity in exterior execution and creating interiors bristling with innovation. Meanwhile, many historic western brands are being revitalised under new Chinese backing (Volvo and more recently Lotus are two examples, both now majority-owned by Geely Holdings).

All in all, China has become a key market, investor and player in the auto world. Out of the myriad global unveils across a dozen-plus halls over multiple floors, here are Wallpaper's 2019 Auto Shanghai favourites…

Geometry A
Chinese brands unknown or at least new to most western eyes were in abundance at the 2019 Shanghai show. In contrast to the various mystery start-up concepts with only projected on-sale production dates, the model A from all-new, all-electric Geometry brand of parent company Geely Auto, was one of the most convincing unveils. Why? Because a) the compact saloon is already on sale in China, for RMB150,000 (about £17,000), due for distribution worldwide and offering two credible electric-range options – 410km and 500km and b) the well-designed vehicle has a remarkably sophisticated interior with details like embedded under-the-surface buttons that not even high-end Western makers have yet managed to get into production.
Lotus Type 130
Historically much-loved but currently under-performing sports car brand Lotus chose Shanghai to announce its effective re-birth with backing from Chinese owner Geely Auto. The first product in the new range will be a £1.5m-plus full-electric two-seater hypercar called Type 130. Development is well under way – we've seen exclusive full-scale model evidence – but publicly for now Lotus only showed an enigmatic silhouette render. Expect Le Mans prototype-style aero tricks and serious power and performance from the final model to be revealed later this year in London, and more sporting models from Lotus to come swiftly after. Promising.
BYD E-Seed GT
Build Your Dreams (BYD) is a Chinese supplier of electric buses to London – routes 153, 360, 507 and 521 in case you were wondering. It's also a major manufacturer of batteries and trains and boasts being the best-selling electric car maker in the world. So far so functional, but at Shanghai BYD broke free from its practical self to unveil a gull-wing doored E-Seed GT concept created by a supergroup of western designers led by ex-Audi design boss Wolfgang Egger and ably assisted by ex-Mercedes interiors man Michele Jauch-Paganetti and ex-Ferrari exterior expert JuanMa Lopez. More about styling direction than tomorrow's production reality and far removed from BYD's regular electric SUVs and saloons, the E-Seed GT nonetheless shows BYD's ambition to build some more dreams, and knowing its track record, sooner than you think.
Karma GT by Pininfarina
Another western brand resurrected by Chinese backing – even if far less established than Lotus – is the nascent US EV brand Karma. The brand's first Revero four-door model has been on sale for a few years now and sold a few hundred in the US, but Shanghai saw the reveal of a revised version plus the far more striking two-door coupe GT alongside it. Created by legendary Italian design house Pininfarina behind almost all the great Ferraris of the late 20th-century, it presented a highly elegant future design direction for the upmarket EV Tesla rival. If we were Karma, we'd take it.
Mercedes Concept GLB
Master niche-filler Mercedes, unveiled another SUV – the small but upright seven-seat Concept GLB which will make production barely changed later this year – after chatting to Chinese customers and realising they'd missed a trick. 'The design is a mix of G-Wagen and GLS and came as a direct result of customer feedback from China,' Mercedes' head of exterior design Robert Lesnik explains. 'Not every market wants a third row, but China was keen and it will be sold worldwide, with the third row optional in European markets.' Unlike almost every other car at the Shanghai show the GLB was shown with a 224hp four-cylinder petrol engine. But fear not EV fans, an electric version called EQB will follow in 2021.
Volkswagen ID.Roomzz concept
VW's upcoming family of EVs are all prefaced by the ID moniker and its sixth – the ID.ROOMZZ – was revealed in Shanghai. Despite the German brand's misplaced obsession with spelling most of its EVs with too many capital Zs – CROZZ, BUZZ and VIZZION are three others – the idea is still not sending us to sleep, as the concepts genuinely preview a change of course from the disgraced business famously caught fibbing about its diesel models' emissions back in 2015. The ID.Roomzz – capitalisation now dropped for the sake of sanity – is VW's seven-seat electric SUV and its clean aesthetic inside and out is firmly in line with the rest of the ID range which should lead to a more beautiful and cleaner landscape from 2021 onwards. China is a key part of that push too. VW has gone on record as saying its overall Group (including Audi, Skoda et al) aims to produce 22 million full-electric vehicles by 2028, of which it hopes 11.6 million will be sold in China. Serious and likely.
Aiways U7 ion
Yet another example of a Chinese start-up recruiting established talent from more mature automotive markets, Aiways – born in 2017 – recently hired independent designer Ken Okuyama and gave him the rather grand title of 'chief advisor of design and art'. The Japanese veteran is best known for his work at Pininfarina, including the Ferrari Enzo, 612 Scaglietti and 599 GTB Fiorano as well as the Maserati Quattroporte. Okyama also has his own eyewear range and designs trains and bikes. In Shanghai, his first design for Aiways was the U7 ion concept, a spacious four-seater equipped with 12 high definition screens that aims to be a sanctuary for modern life. Somewhat unbelievably it boasts a self-learning robot, mounted to a roof rail inside the cabin that moves around the vehicle to offer on-board sound recognition, passenger identification and more. Okuyama is clearly convinced. 'I chose to work for this company because they do technology in a way the Japanese and Koreans don't,' he explains candidly. One to watch.
Audi AI:ME
Audi's design has been going through an awkward phase of late so it was refreshing to see and sit in the very well-resolved AI:ME megacity concept in Shanghai. Displaying bold ideas with a truly original interior it also gained bonus points for including, as far as we are aware, the first use of hanging plants in a concept car. Beyond that original aesthetic flourish, the AI:ME offers space for four people, Level 4 autonomous capability and high levels of artificial intelligence (thus the vehicle's name). The idea behind the AI:ME is that it will learn users' preferences over time, reacting to eye movement, voice, gesture and touch, to make each journey more tailored. So for instance, the lighting in the car only switches on when the driver approaches and the order in which the lights come on guide the user's gaze towards the car's various functions.

Dial in the use of material not normally associated with vehicle cabins, like Corian (which covers the door rails and touch pads), high-quality wooden struts (and those hanging plants) in the large panoramic roof area, electro-chromatically tint-able windows, and a sound system with noise cancelling to shut out traffic noise and city dwellers' inward gaze when required, and the AI:ME creates quite a vision for shareable future city mobility. As Australian-born interior designer James Nissen explains: 'Overall, our approach was to make the AI:ME less like a car, and more like a home.' The best interior concept of the show by far.
INFORMATION
Auto Shanghai runs until 25 April. For more information, visit the Auto Shanghai website
ADDRESS
National Exhibition and Convention Center
333 Songze Avenue
Qingpu District
Shanghai
Receive our daily digest of inspiration, escapism and design stories from around the world direct to your inbox
Guy Bird is a London-based writer, editor and consultant specialising in cars and car design, but also covers aviation, architecture, street art, sneakers and music. His journalistic experience spans more than 25 years in the UK and global industry. See more at www.guybird.com