Princess Yachts R35 performance yacht brings 'fast decorum'
'Captain Carbon' provides design insight into this refreshingly well-rounded yacht experience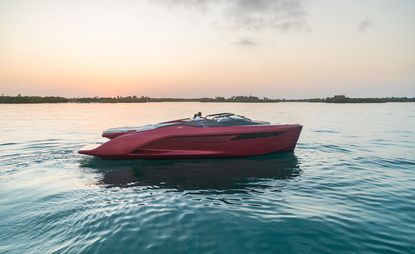 (Image credit: TBC)
The new Princess R35 performance yacht appears to have pulled off the rare trick of combining agility and elegance in a single package. The backstory of the British-built boat may involve the skills of legendary Italian design house Pininfarina allied to technology derived from the Americas Cup racing team BAR, but arguably its most exciting feature is the sheer enjoyment to be had from piloting the vessel at speeds that might unsettle lesser yachts while keeping one's cool and looking good.

The R35 is almost 11 metres long with a half-load displacement of nearly six tonnes – and this correspondent is far from a yacht-racing expert – but the ease with which it is possible to accelerate up to 50 knots, then steer and turn sharply in a manner that doesn't scare your passengers, feels incredible, and incredibly safe.
The secret behind the 860hp R35's high-speed composure is hydrofoil technology, albeit used in a different way to something you might have experienced on a channel crossing where the foils help lift the boat out of the water to reduce drag. Instead, the R35's Active Foil System, developed with BAR technologies, doesn't lift the boat up but uses two independently-adjustable foils below the waterline to channel water around the yacht. This ensures the boat always has the most effective contact area according to computer analysis of the boat's pitch, speed and acceleration characteristics. Calculated 100 times a second, the carbon fibre foils at port and starboard move by plus or minus five degrees to keep the boat as stable as possible. In addition, the pilot can assist the computer adapt to the sea conditions by choosing from Optimal, Sport and Rough modes from the helm's twin 17-inch Volvo Garmin touchscreens.

The boat's ability to carve through air and water so effectively is also the result of good aero design input from Pininfarina, a weight-reducing carbon fibre hull developed by an ex-McLaren Automotive expert and the computational fluid dynamics expertise of Isle of Wight-based naval architects Olesinski. As Princess Yachts' director of marketing Kiran Haslam explains: 'Our product development director Paul Mackenzie was at McLaren for a long time and responsible for technical development. His nickname was "Captain Carbon" so now you have an idea why we're sitting in a 100 per cent fully carbon fibre yacht. Pininfarina had a lot of ideas for this boat which challenged us too. We've actually looked at aerodynamic efficiency for probably the first time since we've ever built a boat.'
To help new customers learn how to get the most out of their circa £560k vessel, Princess Yachts is also offering a 'familiarisation course' prior to delivery – like Porsche and other high-end performance carmakers have done for years. Teamed with a cozy cabin below deck, replete with large screen, live-stream footage of the direction of travel (from an exterior-mounted forward-facing camera) and an upmarket sound system from British audio maker Naim with waterproof speakers and a subwoofer to add sonic ambience and excellence, the Princess R35 really does seem to offer a refreshingly well-rounded yacht experience. Fast decorum indeed.
INFORMATION
Receive our daily digest of inspiration, escapism and design stories from around the world direct to your inbox
Guy Bird is a London-based writer, editor and consultant specialising in cars and car design, but also covers aviation, architecture, street art, sneakers and music. His journalistic experience spans more than 25 years in the UK and global industry. See more at www.guybird.com