Porsche Design shapes Alpha Piano's mPiano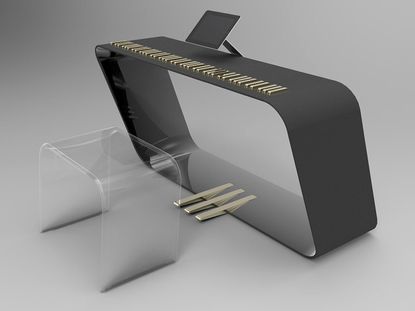 (Image credit: TBC)
Calling the mPiano an electric piano is like saying a wolverine is a dog-sized ball of fur in the otter family. True, yes. But a whole different animal. When Mario Aiwasian worked at 188-year-old Austrian piano maker Bösendorfer – the oldest maker going and inventor of the 97-key Imperial Grand – he supported professional artists on tour. Aiwasian left Bösendorfer to found Alpha Piano when he got an idea for an electronic piano good enough for classical musicians yet also easy to transport, set up, and adjust. The mPiano is his company's latest creation, a purely digital MIDI controller penned with the help of Porsche Design Studio in Zell am See, Austria.
The 'm' in mPiano stands for 'mechatronic,' a term we're more used to hearing in connection with a certain six-speed BMW transmission. Here, however, it describes electronic actuators underneath the 88 keys that permit fine tuning of the keyboard's feel. Changing the keystroke resistance means players can make the mPiano feel like a Steinway grand, or a Casavant Opus pipe organ, or a Yamaha synth or something else that hasn't been invented. What's more, each pressure-sensitive key features polyphonic aftertouch – modulating tweaks like vibrato and volume is as easy as sliding a finger up or down an individual key.
Alpha's custom app provides the controller interface and runs on an iPad set atop the mPiano, with changes to parameters like resistance and pitch wirelessly sent to the Wi-Fi-enabled piano. Four potential app profiles mean a single mPiano can be four wildly different instruments, a boon to help justify the as-yet-unknown price; certain to be more expensive than a traditional digital piano when production begins, it won't demand near as much as a top-tier traditional piano: when Porsche Design collaborated with Bösendorfer on a grand piano, it cost $272,699 new. And you won't have to retune an mPiano after a wet, humid summer.
Alpha Piano, which works with Porsche Design to create all of its instruments, put its first piano on the market just two years ago and already has a sterling pedigree. Chick Corea helped develop the company's namesake instrument, now supposedly played by Lenny Kravitz and Supertramp's Roger Hodgson, as well as the classically inclined Vienna State Opera and St. Florian Boys' Choir. Prince commissioned a purple Alpha Piano to play at the Vienna Konzerthaus on his European tour this year, but he died before he touched a key. The mPiano looks like it will keep similar company, though: it won a Red Dot Design Award in March, and Alpha says Lady Gaga has already ordered one for an upcoming tour.

This article originally appeared on The Drive