Think on it: Oyler Wu creates Meditation Pods for Headspace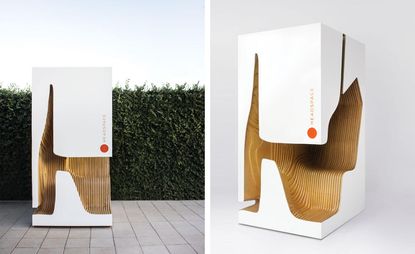 (Image credit: Oyler Wu Collaborative)
Meditation, everyone knows, happens in the mind, and how we furnish that 'space' is entirely up to us. But how would that – the physical manifestation of that experience – translate into a physical environment? Architecture duo Oyler Wu has taken on the challenge to create the Headspace Meditation Pods.
Credited with taking the benefits and practice of meditation to the masses, Headspace has amassed over 5 million active users since launching in 2010. 'We're continually striving to create the most compelling invitation for people to practice meditation,' explains the app's co-founder Rich Pierson of this latest collaboration. 'Part of the challenge is how you make meditation, which is an intangible exercise, tangible? The pods are an innovative way to do this and will hopefully encourage people to reevaluate how they look at meditation.'
Crafted from multiple layers of machine-cut wood set over a steel frame structure, the inspiration for Oyler Wu's pods – natural geological formations – is clear to see. The sleek, curvilinear seating position invites users to sit comfortably in a soothing environment where an internal screen (hidden from the view of other spectators) allows users access to the entire Headspace library of guided meditations.
This isn't the first collaboration for the meditation experts; their 'No Noise' campaign touched down at London's Selfridges in 2013 and carries on in the sky with Virgin Atlantic's inflight Headspace channel. The state-of-the-art pods have been unveiled this week in Los Angeles and have a full global launch slated for later this year. Mindfulness, it seems, is here to spread.
INFORMATION
For more information on Headspace, visit the website