Inspired by a 20th-century German illustrator, Anatomē looks to a new era of wellness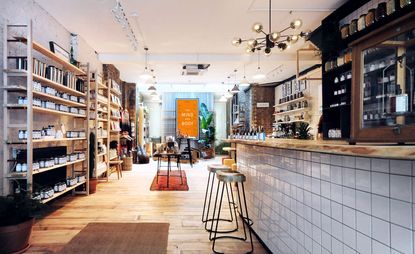 (Image credit: Anatomē)
Anatomē – the new health, wellness and fitness brand – has opened its first shop in London. Inspired by early 20th-century German physician and illustrator Fritz Kahn (the man who made infographics before they were a thing) it looks to a new era of wellbeing. Behind this new concept is 'visionary entrepreneur' Brendan Murdock, founder of branding agency Verdant London and creator of Murdock London.

Anatomē's motto is straightforward: 'nutritional and emotional balance is the pathway to a healthy lifestyle'. Through advice carefully depicted on its anatomic drawings, this is exactly what Anatomē delivers. Murdock worked closely with creative agency Studio 91 Design and a team of nutritional experts to formulate a branding strategy, alongside a full range of organic health products. Highlights include a collection of specially curated essential oil blends, created in collaboration with perfume curator Anastasia Brozler, that focus on pairs of wellbeing buzzwords, like 'energy + strength', 'balance + stability', 'focus + concentration', 'expression + confidence', 'recovery + sleep'.
The brand's new shop, in the heart of Shoreditch, is a small refuge to recharge from London's hectic lifestyle. Browse the apothecary bar, while enjoying your Anatomē bespoke teas, cold pressed juices, protein shakes, Monmouth coffee, or alkaline Antioxidant water.

Warm, earthly colours and materials (wood, brick, tiles, potted plants) speak to the brand's finely crafted attention to detail, while the large windows and skylight bathe the interior in natural light. Alongside the Anatomē range the shop offers a carefully selected choice of sport clothing, luxury fitness equipment, accessories and books, while in-house nutritionist Winder Ton is on hand to offer personalised, professional advice.
INFORMATION
For more information, visit the Anatomē website (opens in new tab)
ADDRESS
46 Charlotte Rd
London, EC2A 3PD
VIEW GOOGLE MAPS (opens in new tab)