3 workout brands packing a style punch for spring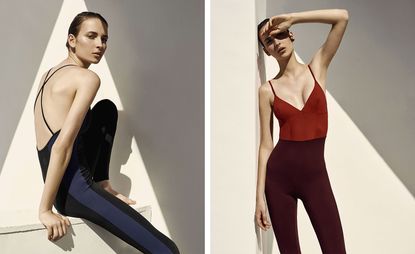 (Image credit: Press)
While athleisure has reigned the catwalks for countless seasons, IRL workout wear has been making efforts to keep up too. Explorations in tech fabrics and sustainability have optimised the materials we wear so close to the skin. Between couture corsetry, graceful silhouettes and strategic colour blocking, the style stakes have soared. Here are three new brands keeping up both performance and appearances…

Ernest Leoty
When exploring the Louvre archives, trained engineer Marion Rabate discovered the work of visionary designer Ernest Leoty. In the late 19th century Leoty was famous for his corsetry, and his endeavour to 'create an object of art of an incomparable flexibility that facilitates the movement of the body instead of impeding it'. Ballet-lover Rabate was immediately drawn to his studies while searching for inspiration for her leisurewear venture, and she promptly sought to acquire the rights to the brand and its name.

'He was a very modern man,' Rabate says. 'Very influenced by his mother, and his wife. He was interested in the comfort aspect of the corset. He brought the stretch into corsetry.' As such her high-performing dance and sportswear follows suit: modern, elegant yet flexible, her pieces take reference from ballet costumes but are wrought in the same fabrics and factories as Eres and technical cycling wear producers, Rapha. 'They follow the fundamentals of ballet,' she explains of her garments, 'rigour and grace.'
Varaa S/S 2018
Vaara
Tatiana Korsakova's leisurewear education came by way of her career as a model. 'I travelled a lot and was always surrounded by the world of fashion, absorbing everything around me,' she explains. 'It was also a time that taught me the importance of listening to, and caring for, my own well-being. It was therefore a very natural step to bring together these two passions of mine.'

The result of this union is a range of 'soft sport' apparel, perfect for all-day activity with pieces that transcend barre, yoga and gym workouts and ease effortlessly into downtime and relaxation. Pairing figure-flattering lines with careful colour blocking, these pieces come in a clean and crisp collegiate colour palette of navy, grey, white and red. Sourcing her materials from Italian mills, Korsakova seeks harmony through Vaara, championing a 'balanced point of view that allow our garments to be both effortless and versatile'.

Laain
Hailing from fashion backgrounds – one in design, the other in styling – Sheila McKain and Tamara Rothstein form an expert designer duo. Between McKain's experience designing for labels like Oscar de la Renta, Daks and Jaeger and Rothstein's days styling for fashion houses Dior and Louis Vuitton and magazines like POP, 032c and i-D, there was plenty to draw these two friends together – not least their love of yoga.

Having spent a summer working out together, the pair noted a distinct lack of choice in activewear. 'We decided to design our own pieces that could take you from the gym to a meeting and still look chic' McKain explains. Cue Laain and its pared-back aesthetic born of McKain's 'American heritage filtered through my lens of 12 years of living in London'. The graphic S/S 2018 collection consists of striking, colour blocked separates rendered in sweat-wicking, quick-drying, and UV protectant fabrics – 70 per cent of which are made from recycled polymer fibres.
INFORMATION
For more information, visit the Ernest Leoty website (opens in new tab), the Laain website (opens in new tab) and the Vaara website (opens in new tab)