Selfridges' Festival of Imagination illuminates its London flagship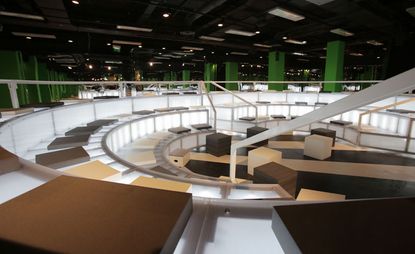 (Image credit: press)
Clearing away 2013's sale racks, London department store Selfridges has switched out its festive decorations for a 'Festival of Imagination' (opens in new tab) with the aim of inspiring a little collective creative consciousness.

Giving the TED Talks circuit a run for its brain fuel, the retail monolith is offering up a three-pronged approach to expanding our imaginations in-store; the concept itself conceived by Selfridges' new deputy chairman Alannah Weston, in accordance with founder Harry Gordon Selfridge's mantra: 'Develop imagination, throw away routine'.

The showcase begins at street level with conceptual window displays by big thinkers such as artist Rolf Sachs (opens in new tab) and architect and educator Minimaforms (opens in new tab) (the latter's 'petting zoo' pane has robotic sensor tentacles that replicate the motion of passersby). On the ground floor is the 'Imagine Shop', debuting 'future-facing' design curios (from 3D home printers to GPS shoes), while on the floor beneath is an 'Imaginarium', designed by maverick Dutch architect Rem Koolhaas (opens in new tab).

Located within the store's Ultralounge space, the Imaginarium has manifested as a think tank platform, from which Selfridges is hosting a daily program of speeches, discussions and debates by leading 'imagineers' - with Sachs kicking off the proceedings today.

Holding just 72 people at a time, the Imaginarium's amphitheatre-like steel structure, clad in frosted acrylic and illuminated from within, many not pertain the grandeur of other Koolhaas creations, but it's no doubt the festival's crowning jewel. Extending the optical illusionary theme, the floor has been painted with a rhythmic linear pattern, while the room's structural columns have been finished with optic green paint - the same stuff used for green screen filming.

'Over the past few years we have seen a huge rise of interest in the connection between science and art,' says Linda Hewson, Selfridges' director of windows and creative, who executed the festival with her team. 'Initially we wanted to explore a project that was all around invention, but we evolved the concept and the focus became imagination, which had broader creative potential.' It also offers a nice follow up to Selfridges' first wellbeing campaign 'No Noise', which looked at mindfulness and meditation last January.

As for the Koolhaas coup, Hewson explains: 'We have wanted to do a project with Rem and OMA for a long time because they are a huge source of inspiration for the creative teams at Selfridges. They are concerned not only with architecture, but urbanism, cultural analysis and fashion - including Prada's fashion shows sets and store design.'

The project certainly offers food for thought - and, if Dominic Wilcox's GPS shoe (opens in new tab) prototype finds its way into production, next year's January concept may also offer a direct route home.