The Brick answers Antwerp's design gym call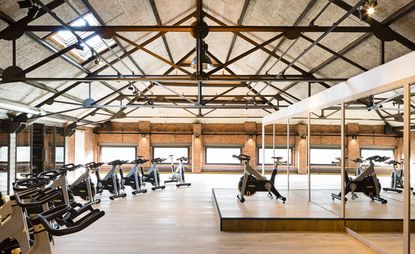 (Image credit: Frederik Vercruysse)
'How was it possible that Antwerp, this bustling city with its fashion reputation, diamond trade, and so much more, only had these typical-looking, run-of-the-mill gyms?' asks Tiffany Stevens when recalling the frustration her husband David Box and she experienced as personal trainers in the Flemish city.

The couple started a personal training studio in Antwerp's Zurenborg area, then founded M4teria, a high-end personal gym in the same neighbourhood. Clients there egged them on to open another gym concept, just 6 months after M4teria was up and running.
That concept became The Brick, a contemporary fitness space located in Antwerp's hip South area. 'We accidentally heard these premises were vacant through a friend, and immediately fell in love', says Stevens. 'It used to be a warehouse at first, then an office and stockroom for a Belgian menswear brand.'

Many of the building's original bones were preserved: floors were stripped to reveal the weathered layer underneath, concrete pillars were kept, brick walls exposed. From the street level entrance, steel stairs lead up to the reception and sitting area, behind which a partition partly hides strength training and cardio equipment from view. Another steel staircase leads to the second floor level, where a glass partition divides a mirrored area for group lessons and an additional area for strength training. Another partition there is decorated with a playful Studio Job pattern.
'For the concept for the interior, we didn't work with interior designers', explains Stevens of Box and hers' curation of the furnishings, which were mostly sourced at RR Interiors in Knokke and IKEA.

'We wanted to keep the character of the building intact, first of all', she continues. 'Secondly, we wanted to give a warm, welcoming feel to every part of the space that is not directly linked to the gym itself.'

As a result, the sitting area radiates a homely loft atmosphere, with mustard yellow, velvet sofas and green Gubi Beetle chairs. 'We chose a beautiful sculpted oak wood table to welcome our guests, which is intentionally lower than the counters you would usually find in gyms – we were aiming for an open aesthetic more often found in boutique hotels.'

The minimal, concrete changing rooms and sauna boast rainshowers, Vola taps and hair and skincare products by Marie Stella Maris. 'It's a complete experience, unique in Belgium', says Stevens. 'We don't want our clients to say 'I'm going to the gym', but, 'I'm going to The Brick.'
INFORMATION
For more information, visit The Brick Gym website (opens in new tab)
ADDRESS
Waalsekaai 57, 2000 Antwerp
Belgium