Building muscle: London architecture walks and runs
Try these London architecture walks and runs for some physical and intellectual edification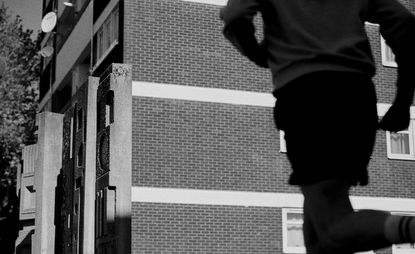 (Image credit: Taran Wilkhu)
As the English capital begins to emerge from its third lockdown, we share a selection of architectural running and walking tours to reacquaint yourself with the city and its iconic brutalist architecture.
London architecture walks and runs
Charles Baudelaire, the great 19th-century poet, essayist, and dedicated urbanite, was a keen advocate of exploring cities on foot. 'What strange phenomena we find in a great city,' he wrote. 'All we need do is stroll about with our eyes open.' Change that indulgent, flanneuring stroll up to a gentle athletic jog and you'll get to see even more.

London-based personal trainer Ed Conway has long been a Baudelairian advocate of working away from the limited confines of the gymnasium, training his clients instead, in gardens and parks, on the streets, in the concrete, brick and towering thrum of the big city.

An architectural autodidact, Ed's interest in London's ever-evolving design and construction was fired by running amongst the capital's fine examples of mid-century, modernist and brutalist buildings, observing and appreciating material and edifice on the air-soled hoof.
These two passions have been combined to create a series of five specialist urban running routes that explore the best of the city's architectural delights. Here, Ed shares a selection of his architecture runs, giving London-dwellers an easy guide to visual and physical edification on the go. For those outside the English capital, these regimes can inspire your own architecture-focused fitness forays around your hometown. For those who prefer a gentle stroll to high-octane cardio, the routes are ideal for architectural walks as much as runs.

So slip on your trainers, open your eyes, and discover the city. The race is on...
Route: Hampstead – 1930's modernism and mid-century brutalism
This run mainly focuses on architecture of the 1930s, when many left-wing intelligentsia from eastern Europe were seeking refuge in London from Nazi Germany. Either inspired by the Bauhaus or forced to relocate after its closure, architects, designers and artists collaborated on and greatly influenced the design elements of the newly developed buildings around Hampstead.

The run is bookended by two pioneering 1970s low-rise, high-density estates that sought to reimagine the reject cheap, poorly built tower blocks that were popular following World War II.
You'll see:
Dunboyne Estate by NeaveBrown
Isoken by Wells Coates
Housden House by Brian Housden
2 Willow Road by Erno Goldfinger
Brand Hill Estate by Benson & Forsyth
Sun House by Maxwell Fry
66 Frognal by Connell, Lucas & Ward
Alexandra Road Estate by NeaveBrown
Route: Bethnal Green – social housing and brutalism
The run follows many of architects Berthold Lubetkin and Denys Lasdun's egalitarian social housing developments of the '50s and '60s, which replaced bombed-out Victorian terraces destroyed during the Blitz.

These buildings sought to reconnect the East End communities that had been ripped apart by the bombings with remodelled versions of terraces houses. Their maisonettes in multiple-story format and communal spaces for social interactions.
You'll see:
Keeling House by Denys Lasdun
Haggerston School by Erno Goldfinger
Sivil House by Berthold Lubetkin
Dorset Estate by Berthold Lubetkin
Barnsley St by Noel Moffat
Trevelyn House & Sulkin House by Maxwell Fry & Lasdun
Lakeview Estate by Berthold Lubetkin
Claremont Estate by Berthold Lubetkin
Route: Regent's Park to Camden
An array of social and private modernist housing that links Erno Goldfinger and Denys Lasdun to their protege Peter Tabori and also the projects of Sydney Cook, the Head of Camden Borough's Architecture Department throughout the 1960s and 70s.
You'll see:
20 Regents Park Road by Erno Goldfinger
Royal College of Physicians by Denys Lasdun
Oakshott Court by Peter Tabori
Osssulton Estate by LCC
Maiden Lane by Benson & Forsyth
INFORMATION
Receive our daily digest of inspiration, escapism and design stories from around the world direct to your inbox