Omega's Olympic record of timing inventions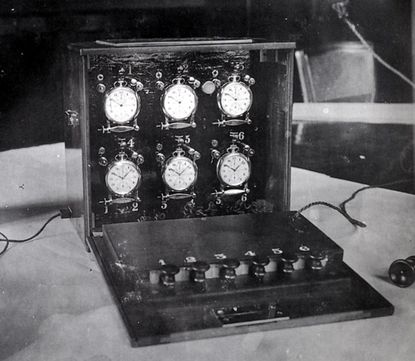 (Image credit: Omega)
Wallpaper* Newsletter
Receive our daily digest of inspiration, escapism and design stories from around the world direct to your inbox
Thank you for signing up to Wallpaper. You will receive a verification email shortly.
There was a problem. Please refresh the page and try again.
When a tenth or a thousandth of a second can make or break a career, timing is everything. Ever since the first modern Olympic Games, held in Athens in 1896, time measurement has been the pivot around which the event turns. It's a serious job for serious timekeepers.

A few watch brands have taken on the task in the hundred-odd years of the event's history. Swiss motorsports timer Heuer (it acquired the TAG prefix in 1985) was a natural partner in the 1920s, while Seiko has also been timekeeper for several Games. But it is the Biel based brand Omega that has had the most consistent link, and London 2012 marks its 25th outing as Official Timekeeper.

It's no mere brand-endorsement exercise, either: the pursuit of ever more precise timing is what makes the watch world tick, but the Official Timekeeper is under scrutiny to develop equipment that is not just up to the job but that is better at it. Hence, affiliated watch companies have always poured huge resources into sports-timing technology.

And, because Omega has presided over a century of change - when stopwatch holders at the touchline reluctantly gave way to electronic timers then digital methods – the company's role as a technology pioneer is pretty impressive. Its engineers have spent decades developing kit that is not only elegantly designed – so as not to impede audience views of athletes crossing the finishing lines – but that performs and concurs with the demands of athletes, officials and the millions of people who watch the Olympic Games on television.

Take the Omegascope, which launched in 1961. By enabling live running times to be relayed on television for the first time, it directly engaged audiences, enhancing viewer experience, making broadcasting history while it was at it.

Naturally, Olympics timekeeping is computer-based now, but Omega continues to accelerate change, propelling the future of sporting performance along with it. Practising swimmers at Zaha Hadid's Aquatics Centre in east London were recently asked whether improvements in Omega's touch-pad technology – a system that responds to a swimmer's touch but not the movement of the water – would pass muster.

Here, as part of our inaugural Sports Special (out now), we chart Omega's unbeatable track record of Olympic timing inventions, from the 1920s up to the impending 2012 London games.
1932: Los Angeles

Omega became official timekeeper of the Olympics at the Los Angeles Games in 1932, supplying 30 high-precision chronographs for use across all sports. These stopwatches were officially certified and tested for precision in Switzerland, convincing the Olympic Organising Committee to select Omega for the Games. Official results were recorded to fifths and tenths of a second
1952: Helsinki

The Racend Omega Timer produced images of athletes crossing the finish line with a running measurement strip divided into hundredths of a second at the bottom of the picture. It was renamed the Photofinish in time for the 1952 Olympics. The Omega Time Recorder, mobile and independent of the electrical network, enabled results to be printed out on a roll of paper, winning Omega the prestigious 'Croix du Mérite Olympique'. Official times were now recorded to the nearest hundredth of a second
1956: Melbourne

A new innovation debuted at the Melbourne Summer Games in 1956: the Swim Eight-O-Matic Timer, a semi-automatic timekeeping device for swimming races. Complete with digital display, it allowed timekeepers to distinguish between two individual swimmers who appeared to finish at exactly the same time
1964: Innsbruck

Invented in 1961, the Omegascope allowed the introduction of the concept of real time in televised sports reporting by superimposing luminous numbers on the bottom of the screen; it revolutionized timekeeping and left no margin for error because it was openly on display for millions of TV viewers. It was later used at the 1964 Olympic Winter Games in Innsbruck – the first fully electronically timed Olympic Games. Never before had spectators beyond a venue been so quickly and well informed about events taking place elsewhere
1988: Calgary/Seoul

Calgary and Seoul were the first Olympic Games with computerised timekeeping, which menat that results and analysis could be stored in databases for posterity. The Omega video matrix board boasted colour images in Seoul
1992: Albertville

At the 1992 Winter Games in Albertville, speed skaters relied on the Omega Scan-O-Vision system that digitally measured times to the nearest thousandth of a second as skaters crossed the finish line. The system effectively photographed time by fusing time and continuous picture in a single document. This development heralded a new chapter in the science of timekeeping
2010: Vancouver

The most talked-about piece of sports timekeeping equipment in Vancouver was the new Electronic Start System. At the Olympic and Paralympic Winter Games, this was replaced by a streamlined, futuristic device composed of a flash gun and a sound-generation box. When the trigger is pressed, three things happen simultaneously: a sound is 'played', a light flash is emitted and a start pulse is given to the timing device. By pressing the trigger a second time within two seconds, the false start is audibly signalled. Sounds can be changed and downloaded by computer
2012: London

OMEGA's new Open Water Gate is set up to relay new timing information. Previously, times were only reported at the beginning and the end of the marathon. Now intermediate times will also be available. The gate positioned at the finish has touchpads with vertical transponder antennas while the ones in the intermediate positions have horizontal transponder antennas that pick up the signals 'on the fly' from the transponders the swimmers wear on their wrists. At the finish, there are also high-definition cameras mounted on poles that serve as a reliable backup system and which are used when athletes are too close in time and cannot be ranked by the transponder system alone
2012: London

The Quantum Timer and the Quantum Aquatics Timer mark the beginning of a new generation of OMEGA Timing products. The resolution is 100 times greater than with previous devices. The Quantum also delivers precision of 0.1 parts per million (ppm). This means that there is a maximum variation of only one second out of ten million seconds or a thousandth of a second out of every thousand seconds. The previous devices had precision of 0.5 ppm so in this respect, the new ones are five times more accurate. The precision is achieved through the use of a component created by Micro Crystal, which is embedded in the timer
2012: London

OMEGA is also introducing an updated athletics starting block at the London 2012 Olympic Games. The runners' reaction times are measured entirely by the measurement of force against the back block and not by movement. The new blocks can detect the reaction times of every runner – from children through to world-class sprinters – without changing any settings on the device. The central bar is thinner than that of the previous device allowing better starting positions for women and children. The foot rest is now wider, having been expanded from 120 to 160 mm, allowing different starting positions
2012: London

An innovative light system called the Swimming Show will also make its debut at the Olympic Games in London. There are lights mounted on the starting blocks positioned next to the touch pads at the end of the pool where the swimmers stop their races. A single large dot of light on a swimmer's starting block indicates first place; two medium-sized dots of light indicate second; and three smaller dots of light confirm a third place finish. The light system was conceived primarily for spectators. They don't need to look at the main scoreboard to confirm the results; the three top finishers will be clearly identified at the end of the pool
Receive our daily digest of inspiration, escapism and design stories from around the world direct to your inbox