The bold and beautiful boats of this year's Monaco Yacht Show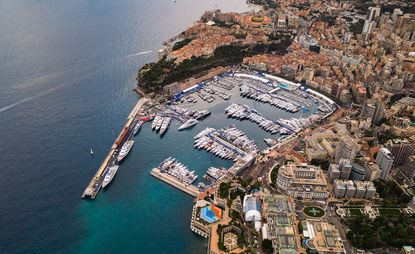 (Image credit: Mc-Clic)
The autumn yachting season sets sail with a cluster of boat shows around the world, including the Salone Nautico in Genoa, the Cannes Yachting Festival and the biggest and most prestigious event of all, the annual Monaco Yacht Show at the end of September. Founded in 1991, the MYS was focused on superyachts from the start, and as the sector expanded, along with the length and ostentation of the yachts themselves, the MYS has become a celebration of all things high-end, and not just nautically minded.

As always, far-fetched concepts are thick on the ground, although the boats in the harbour are no less spectacular. Contemporary designed interiors still lag a decade or so behind architectural trends, and there's still a noticeable passion for the all-out, highly styled decorative interior; Winch Design's TIS, built by German yard Lürssen, won the Show's Interior Design Award for its Versailles-on-sea approach. Other companies used the MYS – and Cannes – to debut designs that are many years from being launched.

So is it all just business as usual? As demonstrated by the billions of dollars invested in the boats floating in Port Hercules and moored offshore, the superrich don't seem to be in much danger of going broke. And superyachts aren't losing their fascination either. Launching such a boat isn't exactly a stealthy operation; these beasts take years to build and fit-out and shipyards around the world are stalked by enthusiasts eager to track progress on the latest vessels. Despite the high-wattage spotlight that shines on these extreme displays of wealth, designers, shipyards and owners collude to keep essential details under wraps. You have to be in the know to understand exactly where the money's coming from, for example, and while a 100m-long yacht can't exactly stay under the radar, you'll be hard pressed to find interior images of many of the biggest and boldest boats afloat; they are simply not available for public consumption.

Monaco has a vested interest in maintaining this veil, and even though the MYS is all about display, getting on board the newest superyachts is very much an invite-only proposition. That said, the show is still a place for 'international premieres', with new launches taking the role of debutantes on the international stage. Here's our round-up of the best new boats, completed or conceptual, unveiled at the tail end of summer 2019.
Nomad 95 by Gulf Craft
The trend for long range craft continues, perhaps because of the stealth-wealthy implication that you can spend long stints at sea. Nomad Yachts is from the Emirates, one of several Gulf-based yacht builders that are gaining increasing traction in the market that kick-started the superyacht era back in the 70s. The Nomad 95 SUV even has a name that implies a more rugged, enduring character, although it is of course luxury business as usual below decks, with up to seven crew attending to the six staterooms rooms, set out in a modishly neutral way. The handsome lines were designed by Andrew Wolstenholme and the yacht includes solar panels on the superstructure to give it more self-sufficiency.
Bintador by Tankoa Yachts
Bintador is new a hybrid design from Italian company Tankoa Yachts, a 50m boat based on Tankoa's S501 series and designed by Francesco Paszkowski. With a near-silent range of nearly 5,000 nautical miles it uses one of its two main engines to power the electric propulsion system, with a booster mode that uses both engines and electric motors to reach 18 knots. The five-cabin yacht was launched in May. Paszkowski's interior, designed in collaboration with Magherita Casprini, has an abundance of natural materials and a playful use of artificial light, mirrors and windows. tankoa.it
Grande S10 by Azimut Yachts
Azimut Yachts' Grande S10 has been doing the rounds of the Mediterranean shows, a sleek yacht with an exterior designed by Alberto Mancini to evoke the idea of a grand seaside villa. There are also copious references to car design, particularly in the way the main cabin curves back above the hull. Interiors are by Francesco Guida, with hi-tech touches like an electrochomic glass skylight.
Sangi by Royal Huisman
The Sangi concept was unveiled at the show by Dutch shipyard Royal Huisman. The name, which means 'change' in Esperanto, signals the ambition for this medium-scale superyacht to be more flexible and 'smarter'. Royal Huisman hopes that future owners will take advantage of the choice afforded by the 55m lightweight aluminium hull – plenty of interior space, multiple configurations and the opportunity to install hybrid or full electric drive systems. Sneaking in below a gross tonnage of 500 means the yacht doesn't have the regulatory burden of a larger yacht. The trim, upright design is by Cor D. Rover and naval architects Van Oossanen.
165 Wallypower by Wally
Eagerly awaited and announced in time for the show, the 165 Wallypower is a 50m motor yacht proposal from celebrated Italian shipyard Wally, working in conjunction with two of the superstars of yacht design, Espen Øino and Luca Bassani. Featuring the signature faceted Wally style, the 165 Wallypower is spacious and flexible, with five main cabins including an owner's stateroom, several fold down balconies and an extending beach club. Concealed functions include the hidden tender garage beneath the foredeck, and frameless, flush glass.
Lush by Oyster Yachts
Lush is a classically elegant sailing yacht with nearly 100,000 miles on the clock, the boat's owner enlisted the firm to undergo a complete re-fit. The end result is a modern take on the traditional nautical interior, updating the 2012 Oyster 885 model with many carefully crafted elements, from walnut furniture to wireless charging pads scattered around the cabins. A wide beam allows the 90-foot yacht to sleep up to 12, including crew, while the raised saloon offers sea views during inclement weather.
48 Wallytender by Wally
Wally, now owned by the mighty Ferretti Group, ramped up its presence at this year's MYS with the reveal of the 48 Wallytender. Designed to be either a compact standalone boat for day trips and short excursions, or to be stowed on board the grandest of superyachts, the 48 is an evolution of the original Wallytender, introduced by Wally founder Luca Bassani back in 2001. Flush fittings, faceted forms and folding platforms are all signature elements of any Wally design, as is the impressive 38 knot performance.
Samurai by Alia Yachts
Turkish yard Alia Yachts debuted their 60-metre Samurai at the show, a new flagship styled by Omega Architects with interior by the British firm Redman Whiteley Dixon. This was the first show appearance by a boat completed some three years ago, an indication of how much the industry is driven by owners' languid timetables and availability. Accommodation is for a maximum of 12 guests and 14 crew, with the entertainment areas finished in a breezy, loft-living style that makes the most of the yacht's 10m beam. There's also room on board for two custom-built 7m tenders. aliayachts.com
Feadship SYZYGY 818
Acclaimed Dutch yard Feadship brought SYZYGY to Monaco, a 77m superyacht previously known only as Project 818. Twelve guests are attended to by a crew of 18, but the most significant element of this sleek design is the use of glass. Curved glass technology is hugely complex on boats, as the stresses and strains far exceed that of conventional architecture. SYZUGY's wraparound superstructure was only made possible by advances in glass design and manufacture.
Wally / Pininfarina 101
A fittingly grand concept from Wally was announced a few weeks earlier at the Cannes Yachting Festival. Designed in collaboration with Pininfarina, the 100ft sloop promises to be a truly dramatic sailing boat. A vast, uncluttered deck area is great for both racing and sunbathing, depending on your activity levels, whilst interiors look set to continue the Wally tradition of pared-back nautical minimalism.
Sherpa XL by Arcadia Yachts
Arcadia Yachts' Sherpa XL also debuted at Cannes before sailing down to Monaco for a second showing. Described by the company as a 'pocket mega yacht', the XL illustrates the trend for more functional, utilitarian designs that eschew obvious elegance in favour of maximum interior space. At just 24m long, the XL still has space for eight guests. The tall, cabin-forward hull design is arranged to maximise deck and entertaining space, allowing for an architectural approach to design.
Excellence by Burgess
Broker Burgess Yachts showed the 80m Excellence, one of the standout superyachts on display. With a sleek, prominently bowed exterior by Abeking & Rasmussen and interiors by Winch Design, Excellence was awarded the Finest New Superyacht Award and the Best Interior. The latter includes a swimming pool, while views from the main deck are through curved floor to ceiling mirrored glass walls.
Metis by Benetti Benetti's 63m Metis illustrated the multi-studio collaborative nature of most big yacht projects. Built by an Italian yard, the naval architecture is by Giorgio M Casetta with interiors by the pioneering London studio of Bannenberg & Rowell together with Birgit Otte Interior Design. This hefty team of talent have come up with a design that makes it all about the owner – their suite is an impressive 162 square metres, with panoramic ocean views. The main deck also includes a playroom and nanny suite.
Joy Rider by Damen
The esoteric and highly extravagant sector of 'Yacht Support Vehicles' was epitomised by Damen's Joy Rider, the functional flip side to the trend for sleek-decked superyachts. 46m in length, Joy Rider is designed to tag along at a discrete distance, with a dedicated helipad and space for 15 tonnes of tenders and water toys, as well as ancilliary accommodation for six more guests.
Ocean Alexander 90R
Ocean Alexander are Taiwanese, an example of how this traditionally Northern European-based industry is becoming more and more global. The company was actually started in the late 70s and their latest boat ups the ante on the glamour and scale. The 90R is notable for its broad beam and impressively airy interior, more akin to a floating loft apartment than a traditional boat. . oceanalexander.com
INFORMATION
Jonathan Bell has written for Wallpaper* magazine since 1999, covering everything from architecture and transport design to books, tech and graphic design. He is now the magazine's Transport and Technology Editor. Jonathan has written and edited 15 books, including Concept Car Design, 21st Century House, and The New Modern House. He is also the host of Wallpaper's first podcast.