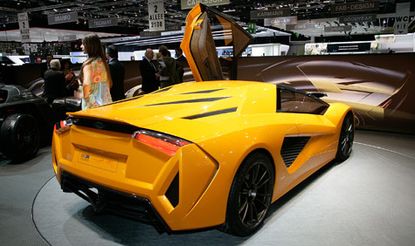 (Image credit: press)
Right now, the automobile is having an identity crisis. The industry's current business model is in financial ruins and established brands are facing unprecedented challenges. Traditionally, the Geneva Motor Show (opens in new tab) has provided a bit of escapism, steering away from reality in favour of a futuristic showcase for advanced designs.
It helps that the show is compact and user-friendly, its Swiss location a perfect venue for the display of high-end metal from the nearby European motor giants. 2009 proved to be no exception; despite the doom and gloom, the show presented a refreshing selection of beautifully executed premium vehicles sitting alongside beefed-up super cars and an array of imaginative eco concepts that will hopefully grace our roads in the near future.
Here's our round-up of the most interesting cars on show (opens in new tab)
The race towards greener cars has picked up serious momentum with EU targets set for 130g/km by 2015. Renault (opens in new tab) revealed its plans to produce a full family of electric vehicles, with three new models expected by 2012. Nissan (opens in new tab) has already said it is serious about EVs and Toyota (opens in new tab) and Honda (opens in new tab) have long been in the game with their green options.
One interesting concept at Geneva was GM (opens in new tab)
's futuristic looking Ampera - the European version of the Chevrolet Volt. Housing an innovative petrol-electric hybrid engine, it points the way to mass-market low-emissions motoring. SEAT, Volkswagen (opens in new tab)'s Spanish arm, showed the Leon Ecomotive, a green concept for the five-door family car, while Ford (opens in new tab) displayed the Iosis Max, a C-segment car that features the firm's EcoBoost petrol engine technology.
Others gave eco cars sex appeal. Italian coachbuilder Italdesign Giugiaro (opens in new tab) unveiled Namir, a deliciously-styled concept sports car powered by a hybrid system. Premium Californian marque Fisker Automotive (opens in new tab) showed Europe the sleek Karma sedan luxury plug-in hybrid and the Karma S hardtop convertible variant.
There were hardly any grey clouds hovering over Aston Martin (opens in new tab), Ferrari (opens in new tab), Lamborghini (opens in new tab), Bentley (opens in new tab) or Rolls Royce (opens in new tab) either, at least not to the casual observer. New product, new ideas and a brave face are clearly the ways to tough out tumultuous market conditions. Well-heeled consumers prove that there is still global demand, albeit niche, for beautifully-sculpted metal, replete with sumptuous, handcrafted interiors.
Aston Martin displayed the elegant DBS Volante and the bespoke One-77, Ferrari unveiled the 599XX showpiece, Lamborghini the ultimate rendition of the ageing Murcielago, Bentley the powerful Continental Supersports and Rolls Royce the 200EX baby executive car. Business, it seems, is carrying on as usual.
The middle of the market is still being offered plenty of charm. We especially liked the gorgeously lines of the new Audi A5 Cabriolet and the equally desirable Mercedes E-Class Coupe. Other notable cars included the Tata Nano Europa, the 'people's' car for Europe, and the Pininfarina-designed Prima prototype, which showcased the Indian marque's willingness to adapt its design to suite the high maintenance European market.
There were also some innovative design solutions on show from the likes of Nissan and upmarket sister marque Infiniti. Both the Qazana and Essence demonstrate yet again that design director Shiro Nakamura and his London-based team have a clear direction in mind for each brand, injecting them with just the right dose of Japanese heritage. Others showed off some true avant-garde futurism, most notably the Swiss company Rinspeed with their iChange, a car that can adapt its shape according to the number of passengers on-board.
The show was a missed opportunity for some, most notably Citroen (opens in new tab) who showed little perception by attempting to resurrect its once iconic DS badge with a small C3-sized concept. The pink-roofed DS was displayed in a dimly-lit room tucked away at the back of the stand, not exactly a triumphant return to quirky design values.