Frankfurt Motor Show 2015: a wealth of automotive gems despite industry woes
A sombre mood hung over the biennial Frankfurt show, known traditionally a time for German carmakers to flex their muscles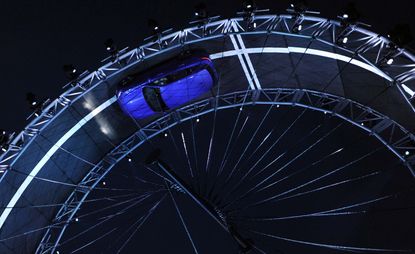 (Image credit: press)
The biennial Frankfurt show is traditionally a time for German carmakers to flex their muscles. So it was an unfortunate turn of events when BMW's new chief executive Harald Krüger collapsed from what is said to be exhaustion as he delivered his keynote speech, bringing the press conference to an abrupt halt. Even more troubling are the VW Group's issues with alleged emission dodging, an unfolding scandal that threatens the lustre of the country's entire industry.

Presciently, perhaps, the mood was set for a rather sombre auto show, lacking the spark of recent years and a reflection on lacklustre car sales, especially in the promising future and frontier markets. Carlos Ghosn summed it up. 'We have to accept that growth cannot be linear,' said the Renault Nissan boss, noting the significant drop in sales in Russia and Brazil, and 'disappointing' developments in China.

The Jaguar (opens in new tab) F-Pace is a direct response to the economy of car making in this volatile global marketplace. This is the first sports utility vehicle from the marque, a timely product designed to interact with fresh customers. It joins an ever-growing family that includes the latest F-Type sports car and the small saloon XE – and it makes complete business sense given the popularity of such small on-road crossovers in Europe and beyond.

On the eve of the motor show, the F-Pace proved its credentials as the 'sportiest SUV' by defying gravity on the largest-ever loop the loop completed by a road car. It was undeniably exhilarating watching stunt driver Terry Grant race the car inside the 19.08m tall, 360-degree circle.

Another marque exploring novel territory is Bentley (opens in new tab). The Bentayga is the company's first SUV and has been in the making for some four years. The production car revealed here is a far cry from the earlier brash concept EXP 9 F presented at the 2012 Geneva Motor Show. Instead this is a studied approach to a luxe off-roader with a distinct Bentley flavour.

We caught up with Sang Yup Lee, head of exterior and advanced design. 'I feel this is the biggest launch in the Bentley history,' he said, noting the marque's recent four doors have largely been interpretations of traditional luxury. 'This is a representation of modern luxury. We have a great tradition but we must move forward,' he added candidly.

Rival luxury automobile maker Rolls-Royce (opens in new tab) revealed the Dawn at Frankfurt. With its restrained sensibility, this sumptuous drop-top smaller Rolls is squarely aimed at younger drivers and markets beyond Europe.

Elsewhere, Mercedes Benz (opens in new tab) took the wraps off the S-Class Cabriolet, its first full-size convertible car in four decades. The company would like to enjoy a slice of the booming ultra-luxury sector by expanding its pinnacle S range. Earlier this year we saw the 18-foot S-600 Maybach limousine, and Frankfurt was also the stage for the unveiling of the powerful S-63 Cabriolet, a plausible rival to Bentley's Continental GT Speed Convertible.

On a more conceptual level, Mercedes revealed Intelligent Aerodynamic Automobile, IAA for short. This is a real concept car in the old fashioned sense. Some colleagues joked that it is harking back to the 1950s, yet it was refreshing to be shown an idea that isn't a production car in soft disguise. Instead this is the latest in a series of studies into future design, active aerodynamics, and alternative powertrains.

Finally, Porsche's Mission E proved to be one of the only real revelations at Frankfurt. Pre-show digital teasers have taken the surprise element out of these events – a bit of a shame and perhaps an indication that the current motor show format is in need of a review.

Porsche (opens in new tab), nonetheless, managed to keep its lips sealed until the press day. This sleek four-door 600bhp-plus electric concept car previews an upcoming ecologically responsible supercar that promises everyday practicality with unrivalled range.

'We always said that when we do an electric car, it would be a true sports car,' said head of research and development Wolfgang Hatz. Speed, it seems, is here to stay and it is up to sports car makers like Porsche to preserve the thrill of motoring in the age of electrification.
Jaguar F-Pace
The F-Pace is Jaguar's (opens in new tab) first SUV in its 70-year history. Based closely on the 2013 C-X17 concept study, the lightweight aluminium architecture allowed the team the design freedom to create a car with 'latent poise, a svelte car with attitude', notes design director Ian Callum.

With the F-Type as benchmark in terms of design, Callum also sought to extract some of what he called 'the spirit' of the sports car. Many of the design details are also carried through, including the distinct light designs at the front and rear, which together with Jaguar's mesh grille, help seal a strong family identity.

Callum admits designing an SUV was not an easy task for a marque with such a sporting heritage and a low, long and sleek vernacular, admitting, 'the customer wanted one. It is a practical car but with the spirit of Jaguar.'

The F-Pace cabin has room for five adults and there is a versatile 650/1740-litre cargo space. The doors come alive with Jaguar's signature blue ambient lighting, and the optional panoramic roof expands almost the entire length of the car suggesting a more spacious cabin.

This is a highly intelligent car too, featuring the marque's latest 8-inch touchscreen and infotainment system, with an optional 10.2-inch InControl Pro system, which can connect up to eight devices to a wi-fi hotspot in the car.

The F-Pace is also a highly powerful machine. On the eve of the Frankfurt Motor Show, it broke the Guinness world record by completing the largest ever loop the loop, a 19.08m tall, 360-degree circle

On sale: spring 2016
Price from: £34,170
Bentley Bentayga (opens in new tab)
Marking the company's first venture into this sector, the Bentayga promises to be the most powerful, sumptuous and exclusive sports utility car ever built. 'The typology of the vehicle is therefore very contemporary,' explains Sang Yup Lee, head of exterior and advanced design, 'yet we had to ensure it is unmistakably a Bentley meaning very chunky front and thick body sides, and very powerful wheels. It has a unique fast rear glass that creates an unusual proportion for an SUV,' he adds.

The cabin demonstrates the skills of Bentley artisans at the Crewe factory. There is an abundance of handcrafted wood, hand stitched quilted leather, precisely engineered chrome elements – seamlessly executed within a highly digital and connected environment.

Interesting design details include washers hidden on either side of the headlamps that spring out and spray high-pressure water to clean the lights. Customers can specify a bespoke Breitling mechanical Mulliner Tourbillon clock that automatically winds by way of a dedicated high-precision mechanism within the car. Made especially for the Bentayga, it comes in rose or white gold, with a choice of a mother-of-pearl or black ebony face decorated with eight diamond indexes.

Bentley customers are unlikely to go off-roading, yet there is something sexy about an automobile with this degree of refinement with real 4x4 capabilities. This 2,300kg car is highly powerful too, promising 0–60mph in a speedy four seconds

On sale: first quarter of 2016
Price from: £160,200
Rolls-Royce Dawn (opens in new tab)
The Rolls-Royce Dawn pays tribute to the 1950 drop-head Silver Dawn. Unlike the Silver Dawn that was factory built, the drop-head models were the last cars to be custom built and sculpted at coachbuilders, with only 28 made until 1954.

Like the car it honours, this is a voluptuous sculpture, yet the surfaces are quiet with a relaxed informality. Some 80 per cent of the exterior body panels are new, to accommodate an evolution of the design language and to encapsulate four-seat super-luxury architecture. The wide canvas roof seamlessly melts into the metal body, and we like the weighty 'click' as it drops open touching the mirror-matched open pore wood rear deck cover.

For director of design Giles Taylor, the design had to be primarily about the purity of line, the simplicity of form; 'Three or four lines that evoke the glamour and the style of some of the most beautiful drop-heads ever created by Rolls-Royce,' he says, adding that above all it had to have a 'crisp, modern edge that would fit our contemporary customer'

On sale: early 2016
Price from: £250,000
Porsche Mission E (opens in new tab)
The Porsche Mission E is a sleek four-door 600bhp-plus electric concept sports car. It previews an upcoming sustainable supercar and hints at a 0–62mph that will challenge the latest 911 Turbo, as well as a range of over 331 miles.

Two electric motors, mounted up front and at the rear, provide power to the four wheel drive Mission E. Studies from the marque's latest sustainable cars – Le Mans-winning 919 Hybrid and of the 918 Spyder hypercar – have helped the development of the lightweight construction, electric drive and battery technology on-board Mission E
The e-tron Quattro is Audi's latest study into the future of electrification and previews the upcoming Q6 e-tron Quattro. The bold and, in places, futuristic design – with its sharp Matrix headlights upfront and long LED taillights at the rear, aerodynamic features, lightweight construction and battery technology – is suggestive of the marque's future family of electric vehicles. The e-tron Quattro challenges the fastest of Audi's conventional driven SUVs, and promises zero-emission range of some 311 miles
Q6 e-tron Quattro on sale: 2018
Mercedes-Benz S Class Cabriolet
The new Mercedes-Benz S-Class Cabriolet is the marque's first full-size convertible car in some four decades. It utilises a three-layer canvas soft top that can be raised or lowered in less than 20 seconds and up to speeds of 37mph.
Much like its roofed sibling, the open-top S is luxuriously equipped, has a fully digital instrument cluster, and touch-sensitive dials that control the separate infotainment screen. The latest offering is part of the company's plans to expand on its pinnacle S-Class range, joining the 18-foot-long S-600 Maybach limousine shown earlier this year
On sale: early 2016
Price from: c. £68,000
Intelligent Aerodynamic Automobile (IAA) forms part of a series of concept cars by Mercedes-Benz that study future design, alternative hybrid powertrains and active aerodynamics.
This four-door saloon previews the petrol-electric plug-in hybrid powertrain technology, and touch-based controls Mercedes plans to feature in its future cars. It is above all though a study into active aerodynamics.
Reminding us a little of BMW's 2008 GINA study, the IAA sculpture expands and changes shape from 'design' to 'aero' mode at speeds of above 50mph. The tail, for instance, stretches to increase length by some 390mm, and flaps in the front bumper and in the grille monitor airflow around the wheels and car. In its most efficient 'long tail' form, drag coefficient is at a super low scale of 0.19cd
Citroën Cactus M (opens in new tab)

Cactus M by Citroën examines the possibilities of a convertible model joining the Cactus family. This drop-top crossover concept car draws inspiration from some of the design ideas introduced in the Mehari, the no-frills country and beach vehicle based on the 2CV and built between 1968 and 1986.

The theme here is surfing, so the cabin is waterproof – the seats are made of wet suit material, and the rubber floor mats can be removed to let water escape through plugholes. This fun concept car is replete with two surf boards tied to the wooden veneered windscreen and rear hoop
Vision Gran Turismo previews Bugatti's future form language, elements of which we should see in the Veyron successor due in 2017. Design director Achim Anscheidt notes candidly that the marque's design has 'reached a new stage in its evolution'.
Inspiration came from the company's 1920s and 30s racing heritage, most notably the Type 57 Tank that won at Le Mans in 1937 and 1939. This being a concept car, it is naturally an exaggerated representation, with emphasis as much on extreme performance as styling. 'Even so, the progressive design language will demonstrate the path to be taken by Bugatti design over the next few years,' says the designer
The Ferrari Spider is the second car to join the 488 family and with its turbocharged V8 engine promising 660bhp at 8000rpm, and top speeds of 203mph, is the most powerful mid-engine open-top the marque has ever built.
The body is the work of coachbuilder Scaglietti, and like its predecessor, it features a metal folding roof that takes 14 seconds to raise or lower where it lies flat on top of the engine. Finally, the car comes equipped with Apple CarPlay
On sale: spring 2016
Price from: £200,000
Lamborghini Huracán LP610-4 Spyder
Huracán LP610-4 Spyder is an open-top two-seater by Lamborghini that claims to be some 40 per cent stiffer with 50 per cent more downforce than its predecessor, the Gallardo Spyder. Much like its coupe sibling, the convertible is powered by a 5.2-litre V10 offering 602bhp and 413lb ft of torque and despite a bit of added weight, it sprints from 0–62mph in just 3.4 seconds
On sale: spring 2016
Price from: £205,0000
Mini Clubman (opens in new tab)

The Mini Clubman has grown in size; it is hugely roomier, and more versatile than the outgoing model. It remains close to the concept we saw at the Geneva show two years ago evolving the barn-style doors of the original Clubman and introducing new horizontal rear lights to provide visual width. The eccentric design of the original car, however, with its unique single rear-hinged nearside door, has been somewhat diluted for an altogether more sober Clubman

On sale: October 2015
Price from: £19,995
Land Rover Discovery Sport HSE Dynamic Lux
Discovery Sport HSE Dynamic Lux is Land Rover's most expensive model in the range. It features new black doors and body cladding, 20-inch black alloy wheels, and the cabin comes with a selection of unique colour and trim options. The car features a new Intelligent Dynamic package that combines the company's All Terrain Progress Control and adaptive damper systems. Finally, Active Driveline changes the drive depending on conditions, from two to four wheels
On sale: October 2016
Prices from: £46,000