Flower focus: Régime des Fleurs' fascination with the past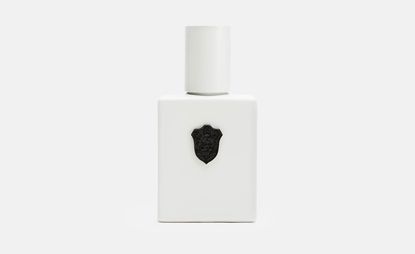 (Image credit: press)
Régime des Fleurs' latest iteration arrives as an exclusive for The Line, New York City's online destination for eclectic objects, old and new. The fragrance, titled 'Mirror', is an intriguing blend of smoky gaiac wood, green galbanum, saffron and violet – a harmonic fusion of both masculine and feminine notes.

The flower-focused fragrance brand has been making waves since it was established in Los Angeles by Alia Raza and Ezra Woods in 2013. A joint fascination in the multiple levels on which flower essences function inspired the friends to establish the company, which uses high percentages of natural flower extractions to create exquisite scents.

A shared nostalgia for early 1990s aesthetics, the socio-cultural sentiments of the Ancien Régime and classical mythology shaped the brand and inspired their first two collections. The first – the 'Debut Collection' – specifically explored water and wetness (by way of the 'cultivated opulence' of the 18th century and 20th century high modernism); while 'Collection Two' focused on texture, or 'evolving tactile impressions', themes embraced with the intent of portraying the power of scent and how it evokes the past in the present.

The company's fragrances are split into three esoteric classifications: 'Lyrics', 'Ballads' and 'Epics'. 'Lyrics' (from 'nitesurf' to 'freeworld') are crisp, with watery notes and aromas of petals and leaves, designed to represent nature's understated elegance. 'Ballads', such as 'Dove Grey' and 'Bel Époq', are more conceptual, while sophisticated 'Epics' ('Nymphaea Caerulea' and 'Floralia') have been crafted using precious rare ingredients such as Indian and Hawaiian blue lotus, Nile waterlily headspace and white ambergris.

The elegant bottles have all been designed by Raza and Woods, with paints and coatings – some of which were developed for motor-racing and aeronautical purposes – chosen to evoke each scent and drive home the 'themes' of the perfumes. 'Nitesurf', for instance, is meant to conjure the vision of neon flowers on Venice Beach at night; the fluorescent safety-orange bottle signifies not only an exaggerated orange blossom effect but also reflects the area's late 80s and early 90s youth culture.
Receive our daily digest of inspiration, escapism and design stories from around the world direct to your inbox