Es Devlin collaborates with Chanel on monumental exhibition
Es Devlin has created an immersive labyrinth to celebrate the 100th anniversary of Chanel No5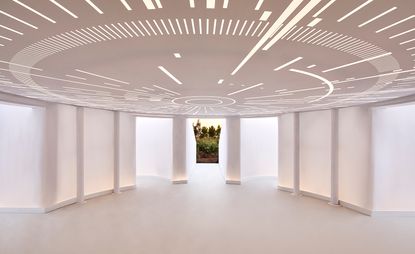 (Image credit: Es Devlin x Chanel)
Chanel No5 celebrated its 100th anniversary in 2021, and the brand has celebrated throughout the year with a variety of campaigns, events, and launches.
The most recent, and certainly one of the most exciting, happenings it has staged is a new monumental labyrinth designed by artist and designer Es Devlin.
Devlin is best known for her 'stage sculptures' that use a dazzling combination of built structures, lights, and sound to create environments that are nothing short of awe-inspiring. Her design for Chanel doesn't disappoint, giving visitors an experience that feels as epic as Theseus' fabled journey into the labyrinth.
Those lucky enough to make it to Miami before the exhibit closes 21 December 2021, will have to parse their way through a forest to Devlin's massive white labyrinth. From there, they will ascend a ramp that provides an ample view of the surrounding treetops, as well as a garden populated with the plants and flowers that make up Chanel No5. At the top of the ramp, visitors will find a sundial that indicates the passage of the sun overhead, as well as the 28 minutes it takes for the molecules of Chanel No5 to evaporate, according to their different molecular densities.
After that, it is time to move into the labyrinth itself–a white-walled series of five concentric pathways, filled with light and a thumping soundscape designed by Devlin in collaboration with Chanel's In-House Perfumer Olivier Polge.
When creating the sculpture, Devlin was preoccupied with the interplay between the natural environment, the architecture that populates it, and the behaviour of the humans that populate them both.
'The word labyrinth originally referred to human movement: it was a dance before it became architecture,' Devlin says. 'If our behaviour can define out architecture, then perhaps art and architecture can alter our behaviour.'
'If works of art can help us see ourselves as part of the biosphere and symbolically fused with it, if we can start to see plants and animals as equal protagonists as ourselves in life, I believe we have a better chance of making the fundamental behavioural shifts that are necessary not only to avoid climate chaos, but also to live in a more just, equitable, ad joyful way,' she explains.
Sustainability was also a key tenant of the project, titled Five Echoes. After the installation closes, all components of the labyrinth will be repurposed and recycled. While, the forest of over 1,000 plants, shrubs, and trees that make up the exhibit will be replanted in parks throughout Miami-Dade County.
INFORMATION
Mary Cleary is the Beauty & Grooming Editor of Wallpaper*. Having been with the brand since 2017, she became an editor in February 2020 with the launch of the brand's new beauty & grooming channel. Her work seeks to offer a new perspective on beauty, focusing on the pioneering personalities, product designs, and transformative trends within the industry.