Olfactory overhaul: New York perfumer DS & Durga reveals four new scents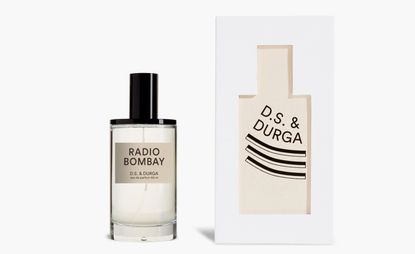 (Image credit: DS & Durga )
The husband and wife team behind DS & Durga, David Seth Moltz and Kavi Ahuja, met in New York when he was in a band and she was starting out as an architect, founding their brand in 2007. Named after Moltz's initials and his nickname for Ahuja ('Durga' means Hindu goddess), they soon attracted fans thanks to his imaginative and often wittily titled perfumes, packaged in attractively decorated bottles of Ahuja's design. Initially made by hand in the couple's Brooklyn apartment, they offered the very essence of the artisanal experience.

Almost a decade on, Moltz remains as passionate about perfume as ever, with a mind-expandingly wide spread of references, including Celtic mythology and American history. Their range includes the fig-and-iris infused 'Debaser', named after a Pixies song, and our personal favourite, 'Burning Barbershop', the inspiration for which, as David describes it, is a short story in itself: 'A fire broke out in the Curling Bros. barbershop in Westlake, NY in 1891. All the shaving tonics with their spearmint, lime, vanilla and lavender burned. A charred bottle was found half-full. It smelled like this.'

But no brand can afford to rest on its laurels, however fragrant those laurels may be, so Ahuja has given the bottle designs, packaging and typography a complete makeover. Each bottle has the perfume name on the label now ('Why did we not think of that before?' Moltz wonders), and out go the thick-bottomed rectangular bottles with their archaic herbal-inspired illustrations, to be replaced by more modern-looking, pared-down circular bottles topped with black metal. Out, too, goes the appealingly artisanal typography in favour of a cool new font (LL Circular from the Swiss type foundry Lineto) and three different logos.

To celebrate the redesign, Moltz has created four new perfumes: 'Rose Atlantic', 'Radio Bombay', 'Durga' and 'White Peacock Lily'. Three are floral scents. 'Rose Atlantic' mixes the smell of roses with the salty tang of the sea (Moltz was brought up on the New England coast). 'Durga' is an exotic concoction of tuberose, iris, ylang ylang and jasmine, with (to us at least) a hint of coconut; while 'White Peacock Lily' (the title of which comes from a piano piece by the American composer Charles Griffes) is an attempt to 'do a flower rather than a floral reinterpretation', Moltz says. Wallpaper's favourite of the four is 'Radio Bombay', which Moltz describes as 'a deconstructed sandalwood' and, more poetically, as 'a wood-cased radio in a hot car with a copper pipe coming out of it'. It's clever and thoughtful and – most importantly, of course – has an attractive but individual scent, miles away from the generic smells on offer from most big-business brands. Which is exactly why we like DS & Durga so much.
INFORMATION
From £158 for 100ml. For more information, visit the DS & Durga website (opens in new tab)