Liquid assets: strike it rich with the current fondness for fat-washed cocktails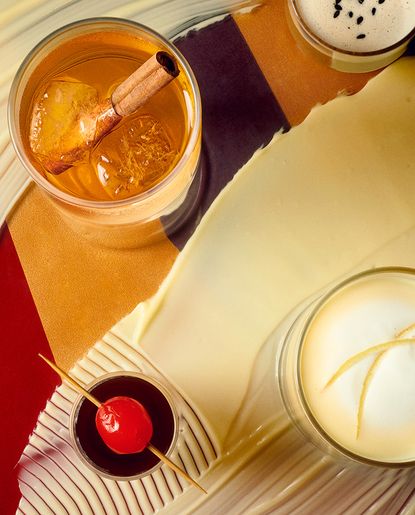 (Image credit: Jack Wilson)
As the flavour profiles of cocktails become more complex, and ingredients lists start to sound like three-course meals, techniques are developing to bring more culinary raw materials into a liquid state.

One such method is fat-washing, which has become a way to beef up beverages without texturally clogging the palate. Bringing all the comforting, rich savour of butter, coconut, peanut butter, bacon fat or foie gras into a glass, the technique pays dues to the perfume industry and its age old methods for extracting aroma from oil with alcohol.

It entered the drinks industry around 2007 when Don Lee, or New York cocktail bar PDT, put butter-washed rum and coke together for his Cinema Highball. Essentially, a fatty ingredient is added to a spirit and then frozen so that the hard layer of fat can be skimmed off and the remaining spirit retains he flavour.

Federico Pasian and his team at London's Quaglino's are experimenting with techniques such as coating the inside of a bottle with coconut butter for a Negroni, so that the liquid in contact with the solid butter acquires creaminess and aroma, while at The Roosevelt Room in Austin, Texas, the Silver Meadows cocktail features foie gras-washed St Germain.

Our favourite cocktail fat, however, remains butter. Pairing perfectly with rum, lemon, apple and spices, cocktails such as the Baked Apple (with brown butter bourbon, sherry, apple butter, spices, Amaro, orange liquer and bitters), served at The Bonnie in Astoria, New York, are top of our wishlist this season.
As originally featured in the December 2018 issue of Wallpaper* (W*237)
INFORMATION
For more information, visit the PDT website, the Quaglino's website, The Roosevelt Room website and The Bonnie website