Milan's EICMA 2018 powers ahead with the all-electric motorbike pioneers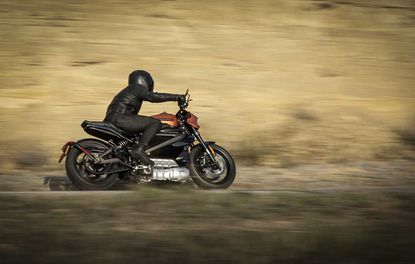 (Image credit: livewire)
Among the selection of cutting-edge motorcycles at the 2018 EICMA show in Milan, an increasing amount feature power plants consisting of a battery and electric motor, as opposed to a fuel tank and an engine.
We explore the standout all-electric designs.

ARC Vector
The headline Milan showstopper in 2018 is a British-designed and built dream machine – the ARC Vector – which promises to be the world's most advanced electric motorcycle, boasting superbike pace and class-topping range between charges.
Supplied with a haptic jacket from impact protection gurus Knox that can play music and even tap your shoulder if there's a car approaching from behind, the £90,000 price tag also includes a unique Zenith helmet, which acts as the key. Designed in collaboration with UK-based Hedon, the calfskin-trimmed helmet has a connected head-up display that projects speedo, sat-nav and ancillary graphics handily onto the rider's visor, Iron Man-style. A live rear-view camera also allows the pioneering machine to forgo fussy mirrors.
The bike itself is truly revolutionary by design. Constructed using a hand-built carbon-composite chassis, complete with clever battery-module monocoque and carbon dual front and rear swingarms, it promises MotoGP levels of stiffness. The Vector is also light, tipping the scales at 220kg; almost 60kg lighter than its nearest rival and providing a power-to-weight ratio that many fossil-fueled superbikes would be proud of.
Jewellery including custom-made Ohlins dampers and powerful Brembo brakes on BST wheels complete the package. Standstill to 60 mph takes 3.1 seconds whilst top speed is set at 120 mph. ARC's CEO Mark Truman, former head of Jaguar Land Rover's White Space innovation lab, which is also behind the project said, 'We are building the Vector for people who are on a journey, and we want people to continue taking those journeys in a future world where the use of internal combustion engines will be restricted.'
He continued, 'At ARC, we have set out to create an electric motorbike with soul, one which thrills riders every bit as much as a flame-spitting internal combustion cycle, and which is more inspiring and desirable than any other two-wheel on the planet.'


Harley Davidson LiveWire
Harley Davidson unveiled its production-ready LiveWire electric motorcycle in Milan, which has been undergoing testing with the public since 2014. The legendary US manufacturer has now confirmed that it will be available to order in January 2019.

Full technical specifications are yet to be released but in terms of the overall design, the LiveWire retains its inherent dynamic appearance demonstrating a clear step away from the traditional chopper-style that the brand is famous for. Nevertheless, Harley Davidson's current design cues are retained in the new mini fairing.
Dual 300mm discs and performance orientated brake calipers from Brembo hint at considerable pace, as does the fully-adjustable Showa suspension hardware. Power comes from a 12-volt lithium-ion battery which is stored in an aluminium case lined with cooling fins that can be fast charged through the tank. Production bikes will offer seven rider modes, three of which can be tailored to suit the rider's preferences.
As with most electric bikes there is no gearbox or clutch and according to Harley, 'The bike is designed to produce a tone that increases in pitch and volume with speed – a new sound that represents the smooth, electric power of the LiveWire motorcycle.'


KYMCO SuperNEX
The fastest and potentially the most rewarding electric bike to ride at the EICMA show is the SuperNEX from Taiwanese brand KYMCO, one of the largest scooter manufacturers in the world already adept at mass producing electric bikes.

Capable of 0-60mph in 2.9 seconds and 0-150mph in just 10.9 seconds, the SuperNEX represents a new direction for KYMCO, taking most of its inspiration from the class-leading petrol-powered superbikes from Europe and Japan. There's even a manual gearbox to ensure riders achieve a strong emotional connection with the machine – something the maker believes to be a hugely important part of riding this kind of motorcycle.

Brimming with technology and top-of-the-line components, KYMCO's supersports bike offers four power intriguingly named rider modes: Poised, Assertive, Bold and Extreme, in addition to the safety features found on most bikes of this nature such as adjustable traction control, anti-wheelie systems and ABS.

The SuperNEX also offers what's known as an Active Acoustic Motor, which essentially amplifies the existing sound of the electric motor, allowing the rider to control the character and volume. A KYMCO press release states, 'The motor has a multi-frequency acoustics generator that reconstructs the dynamic sounds of the motor with great authenticity. It delivers the iconic supersport thrills and messages that every sport bike rider needs.'

Curtiss Zeus
The brainchildren of Curtiss Motorcycles' chief design director, Jordan Cornille, the latest Zeus Cafe and Bobber concepts are futuristic developments of the other-worldly bare aluminium machine unveiled earlier in the year at California's Quail Motorcycle Gathering.

Displaying a considerably cleaner aesthetic with black and white-painted body panels, both bikes feature an improved centre-line cantilever mono-shock chassis design complete with girder mono-shock front forks. Following the forming of the company's new Advanced Powertrain Division, headed up by Paul Ogilvie, the two latest Zeus variants now have the looks and quality of finish to back up the hugely impressive specification.
'We are excited to showcase what we believe is the best technology in the industry,' commented Ogilvie. 'By utilising cutting-edge energy storage systems to balance power and range, we aim to deliver a range of 280 miles (450km), 197Nm (145ft-lbs) of torque, and a 0-60mph (0-97km/h) time of 2.1 seconds, all with a 140kW motor.'

Currently only concepts, Curtiss is hoping to enter the two designs into production by 2020, taking on Harley Davidson's LiveWire in the race to produce exclusive, American-made electric motorcycles.


Super SOCO TC Max
With two electric motorcycles already in production, the latest product from Super SOCO improves on a formula that has so far proved a success for the Shanghai-based 'emoto' maker.

Offering low cost, lightweight and stylish electric motorcycles to the masses, Super SOCO TC Max targets urban riders looking for more range and more performance than their existing TC and TS models.

Capable of 62mph (100km/h) and with a range of over 65 miles, the TC Max delivers an impressive 170Nm (125ft-lbs) of torque at the rear wheel, via a very quiet low maintenance belt-drive system. Power comes in the form of a 72V and 45Ah lithium-ion battery which ingeniously, is removable for ease of charging in urban environments.

Most impressive however is the TC Max's affordability. Already homologated for EEC standards in Europe, it will cost €4,499 ($5,100) for the standard, aluminium wheel version.
INFORMATION
For more information, visit the EICMA website, the ARC website, the Harley Davidson website, the KYMCO website, the Curtiss website and the Super SOCO website