Citroën recalls the past to reinvent the future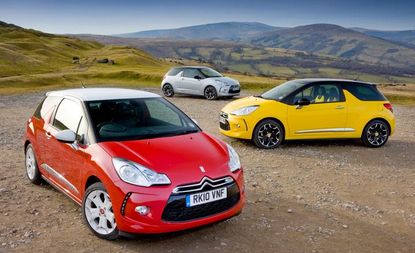 (Image credit: press)
Quirky invention and an alternative approach to design are the long-held beliefs behind Citroen. Somewhat lost for a decade or so, the French manufacturer is now hard at work rediscovering its eccentric mojo.
Founded by Andre Citroen in 1919, the company's first real sign of leftfield ingenuity didn't surface until 1934 when Citroen and his team unveiled the start of many firsts during this richly experimental era of motoring. The Traction Avant was not only constructed with an all-steel-body, but it was also the first mass-produced front wheel drive car. As a result it was spacious and strong, a workhorse for taxi drivers or family men. Similarly, the 2CV of 1948 was a piece of functionalist art; the car reduced to its bare essentials.
It wasn't until the Paris Motor Show of 1955 that the automotive world witnessed Citroen's boldest and most unbridled approach to car design with the public unveiling of the groundbreaking DS. With Italian sculptor and industrial designer Flaminio Bertoni as chief stylist, the DS was a perplexing mix of futuristic contouring and outright bewilderment. It was a sensation. Ultimately, the DS became enshrined as a legend of modern design, receiving countless accolades during its two decade life and beyond, proof enough of its stylish allure.
So why the history lesson? Well Citroen are striving once again to enchant the design and motoring fraternity. Stage one was to revive the DS badge, applying to a line of highly styled versions of their stock production cars to a dealer near you. The first complete offering in the proposed four-car line is the distinctively styled and attention-grabbing DS3.
We recently had the pleasure of acquainting ourselves with this new direction after taking delivery of the range topping D-Sport model. Citroen have pitched the DS3 as an addition to the already bulging premium supermini sector, encountering the likes of the admirable MINI, Alfa Romeo's neat MiTo, the retro charm of the Fiat 500 and most recently Audi's A1. Here, competition is alive, well and threatening from all angles.
Externally, the D-Sport exudes an elegant yet aggressive personality. Its engaging outline is characterised by its cunningly designed floating roof, an illusion conjured in union with its equally impressive shark fin B-pillar. Head on, piercing curved strips of LED lights are housed within faux air intakes, asserting the model's slick and athletic demeanour.
Inside the DS3 is directly appointed as a driver-focused, sporty environment. The low slung, body-hugging seats offer up support in all the right places, even when you're just sitting in traffic, while all dashboard instrumentation is neatly oriented to the driver's eye line, making this a genuinely pleasing place to spend time.
Despite the DS3`s design gumption, the undisputed highlight is its tremendously willing 150hp engine. The BMW co-developed 1.6 THP 150 offers punchy performance across a wide enough rev range to provide a thrilling experience for even the most hardened of libertines. In spite of its abundantly rewarding nature, the power-plant manages both fuel consumption and CO2 emissions intelligently and efficiently.
Citroen claims to have driven from London to the Edinburgh fringe festival and two hundred miles back on a single tank of petrol, a claim not doubted but comedy alone by its sheer nature.
With comprehensive options ranging from 38 body/roof colour combinations, and numerous coloured cloth and leather finishes to drilled aluminium pedals and diamond-tipped alloy wheels, the potential for personal expression is vast and that's before we mention stereo, navigation and parking sensor options, among others. Citroen's vision for this particular model is evidently based around client customisation, freedom of choice, unique experience and a refined product for all.
Although this is an imaginative take on a conventional sector, it's unlikely the DS3 of 2010 will have anything like the same impact as the original made half a decade ago. However, what's clear is that by looking back, Citroen are once again surging forward. More DS models are waiting in the wings, beginning with the new DS4 and eventually culminating in what could be the true heir to the original, the DS6.
As a sign of this renewed commitment to design, Citroën's stylists spent the best part of 2008 creating a remarkable styling concept, the GTbyCitroën. The project was overseen by Takumi Yamamoto and originally intended to exist only virtually in the classic Gran Turismo video game. A virtual unveiling was well received and the company's prototype series set to work turning pixels into carbon fibre. The end result, first shown last year, is a long, white painted behemoth, festooned with spoilers and scoops. The dark, cave-like cabin is accessed via scissor doors, and the conceptual and experimental nature of the car is demonstrated by the simple toggle switch controls, race-car steering wheel and total absence of creature comforts.
Wallpaper* was lucky enough to sample the GTbyCitroën at this year's Goodwood Festival of Speed, where the concept was making its second public appearance in the UK, completing the swift series of sweeping curves that takes drivers through the Festival crowds up Goodwood's famous 'hill'. It wasn't all plain sailing. For a start, this car is very much a one-off, effectively a piece of automotive sculpture bolted to a powerful (and anonymous) V8 with minimal concessions to function. Citroën's genial engineer was on hand to explain the idiosyncratic gearbox (a combination of wheel-mounted button-shift and conventional clutch), zero power steering and lack of air-conditioning, all of which conspired to make the experience rather nerve-wracking.
The GTbyCitroën will never be a supercar, but the raucous exhaust and startling performance meant it didn't disgrace itself amongst the starry exotica lined up at the start of the straight. Save for an embarrassing blip at the first corner, when we got all fingers and thumbs with the complex gearbox, it delivered us to the top of the hill with minimum drama and maximum noise. Despite initial reports, the company has no plans to put the GT into production, even as a million-dollar limited edition. Instead, it serves as a reminder of the days when every car Citroen built was a piece of automotive sculpture, utterly distinct from the competition. Here's hoping the revived DS name will bring that spirit back.