Master kraftsmen: Canyon's Kraftwerk-designed bicycle is a futuristic marvel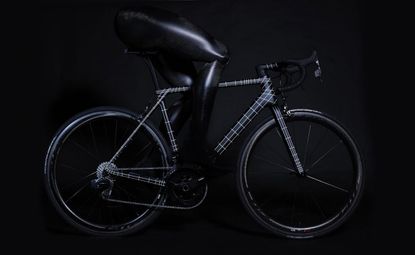 (Image credit: Canyon)
That a member of Kraftwerk is in part behind a new performance road bike is hardly a curveball. The pioneering German electronic band's predilection for cycling is well known. Musically, it was expressed most explicitly in the seminal 1983 single Tour de France and the 2003 collection Tour de France Soundtracks. A meticulous, proto-techno homage to the classic race, the track is one of the purest sonic evocations of the synergy between man and machine (this from the band also responsible for those classic elegies to transport, Trans-Europe Express and Autobahn).

Kraftwerk's founders, Ralph Hütter and Florian Schneider, took to cycling in the 1970s, jumping off their tour buses early so as to finish journeys by bike (and otherwise knocking out 200km on a good day). They've since performed at the Manchester Velodrome, and opened this year's Tour de France with a live performance of the eponymous track. The connection with their music – disciplined, rhythmic, resonant– is more profound still. 'We know that from cyclists, when they listen to our music, they understand,' Hütter explained in a rare 2015 interview with Rolling Stone. 'They listen, and they understand how the music is composed. It's important when you move with your bicycle to listen to the environment, the surroundings, the wind and your own breath.'
Given this context, the recent collaboration with German bike brand Canyon should come as little surprise. The Ultimate CF SLX Kraftwerk – a superlative road bike in an edition of 21, priced at €10,000 and sold out despite only being announced a month ago – is a stunning machine. It features a Grand Tour-winning frameset, a wireless SRAM eTap groupset and Zipp 303 Firecrest wheels, and a geometric graphic aesthetic based on a design by Hütter (one, Canyon states, that was meticulously hand laid, taking over seven hours per frameset).

As both collaboration and homage, it's a marvellous piece of work. Appropriately, German time trial champion Tony Martin rode a Canyon Speedman CF SLX with the same graphic design for the Tour's opening stage in Düsseldorf this summer (the city was also home to Kraftwerk's Kling Klang studios, where they composed some of their finest music).

'My memories of partying in friends' basements as a teenager are dominated by hearing Kraftwerk's groundbreaking sounds,' explains Canyon founder and CEO Roman Arnold of the collaboration's personal significance. 'Kraftwerk and cycling have a special and unique connection – their music, and all that they do, has inspired our work at Canyon in so many ways across the years. It is an unbelievable honour for us to pay respect to everything that Kraftwerk stands for and has achieved in such a fitting way with these stunning bikes.' Hütter, clinical as ever, declined to comment.
INFORMATION
Ultimate CF SLX Kraftwerk, €10,000. For more information, visit the Canyon website (opens in new tab)