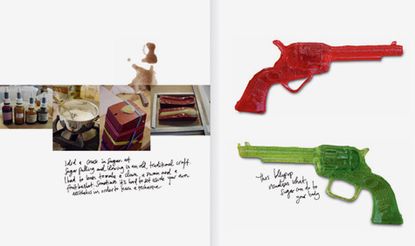 (Image credit: Press)
It takes a while to realise it, but 'Eat Love' (published by Bis Publishers) is not actually a cookbook. Rather an engagingly illustrated treatise on food, how it makes us feel and how so few of us fully engage all five senses when we eat.
See more spreads from inside Marije Vogelzang's Eat Love
Though Dutch author Marije Vogelzang (see W* 105) made her name creating elaborate food events for parties, she shies from the descriptors 'party planner', 'chef' or, God forbid, 'caterer'. Instead, she plumps for the unwieldy 'eating designer', a label that probably describes what she does most accurately but still fails to convey the peculiar out-of-the-box quality of her food.
Eat Love is an intriguing collection of Vogelzang's most famous commissions including a platter of nibblies customised according to each guest's astrological element; a Christmas dinner for Droog where guests poked their heads and arms through a huge curtain of cloth encircling the table; and a programme that retrained the way obese New York kids eat by abandoning the traditional healthy/unhealthy polemic in favour of the food's colour (yellow for making friends, red for power, black for magic).
It's clear after a few pages that Vogelzang has no rules. She saws serving plates in half; wraps root vegetables in wet clay, bakes them and then literally shatters the pottery to get to the cooked vegetables; loops carrot rings into edible children's necklaces and even mixes cocktails according to the Fibonacci sequence.
Vogelzang's goal is to entertain; yet, and here's the reason to the culinary madness, it must also nourish and engage the senses, to engage a dialogue about the psychological, cultural and design elements of food. As she told Wallpaper* last year at a late lunch party she threw us, 'Food is a material that you can really shape. There is so much more to food that steady materials like metals, textiles or bricks. It's funny that other designers don't see the same potency.'
Melina Keays is the entertaining director of Wallpaper*. She has been part of the brand since the magazine's launch in 1996, and is responsible for entertaining content across the print and digital platforms, and for Wallpaper's creative agency Bespoke. A native Londoner, Melina takes inspiration from the whole spectrum of art and design – including film, literature, and fashion. Her work for the brand involves curating content, writing, and creative direction – conceiving luxury interior landscapes with a focus on food, drinks, and entertaining in all its forms
You might also like
Chic peas: new art cookbook charts a history of hummus

On the Hummus Route traces a utopian track between cities, people, markets and dinner tables. It documents street food in nine Middle Eastern cities, including Cairo, Jerusalem, Gaza, Tel Aviv, Jaffa, and Damascus, and in doing so, offers a fascinating insight into the area's design, food, and culture

By Elly Parsons • Last updated
View More ▸