Edward Crutchley and Colovos scoop International Woolmark Prize 2019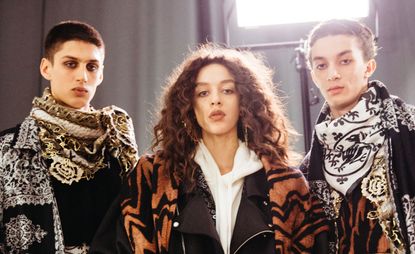 (Image credit: TBC)
Good clothes mirror the times. When this year's International Woolmark Prize finalists gathered in London, their jackets, shirts, jumpers and coats had a clear conscience. Each of the 12 designers zoomed in on sustainability, identity and kindness. Triumphant brands were Edward Crutchley, who scooped both the Menswear and Innovation prizes, and Colovos who won the Womenswear category, the New York-based label which launched in 2016.

Edward Crutchley celebrated the role that textiles play as cultural signposts. His collection featured prints inspired by Malinese mud-cloth and suits made from Saudi Arabian fabric. Breton lacework patterns were engineered into fine wool cardigan coats, whilst knitwear was dyed by hand at the Kyoto Guild of Shibori Masters, which Crutchley said gave off 'a grungy Australian surf vibe.'

It was a smorgasbord of skill, produced in collaboration with artisanal producers from around the world. The total prize money of AU$300,000 for both gongs means that Crutchley can grow his business, but he isn't in any rush. 'I want to take time to process this. The recognition means everything to me. I want this prize to mean something substantial for the long term. When I worked on the collection I took away the restrictions I normally place on myself, thinking about what will sell and what people might want from me and just did exactly what I wanted,' he said.
Crutchley's request for slowness chimed with fellow finalists CMMN. Concerned with the over-production rife across the industry, the duo behind the label have previously reworked pieces from earlier seasons. Here, they took second-hand Aran jumpers and knitted new pieces to them, relinking and felting them together to create a slouchy hybrid of old and new.

'There is a lot of focus on sustainability this year,' Julie Davies at The Woolmark Company observed. 'Many of the finalists are either working with really old mills or finding totally new ones and looking at working in different ways. There's a different approach to sourcing too.' Provenance is something that each of the finalists have been given the opportunity to consider, from yarn development right through to what we might buy in the shops, whilst learning the myriad ways wool can be used. 'It's a real eye-opener for the designers when they realise how diverse wool is. It works for all markets, all climates,' adds Davies.
More and more designers are rationalising their environmental responsibilities: 'I can't look at another image of animals caught in plastic without thinking about how we might be participating,' says Nicole Colovos, one half of husband-and-wife duo Colovos. 'We have to move it forward.' They were awarded the Womenswear prize for their studied, elegant collection of navy separates. Launched in New York in 2016 as a sustainable minimal wardrobe, the label is rigorous and unfussy. Here they used innovative finishes that gave wool the look and feel of denim and silk.
'When we launched we wanted to do something small and spend more time on less pieces. Reading about climate change in the news, we started to feel we were in this wasteful industry and so we wanted to push what can we do. Just how transparent can the processes be?' Their prize money will be used to help the brand expand into menswear and support e-commerce. 'It's a really big deal for us. We can scale. We can do the things we have been wanting to do with zero waste,' says Colovos.
The venerated Diana Vreeland once wrote: 'Fashion is the perfect expression of the economic and social hour. Fashion is never wrong. Fashion is the projection of invention for the time.' No surprise then that designer Daniel Fletcher has produced a large body of work in response to Brexit and the threat that British mills and many fashion institutions now face, economically and culturally. Here, he riffed on school uniforms and sports kits as a comment on the cuts to arts education, depriving younger people of the stimuli that could produce our future designers.

This year's International Woolmark Prize was the catalyst for the new guard to realise other ways of working. 'In order for us to sustain ourselves we need to be kind to one another and take care of one another,' finalist Willy Chavarria said. Since launching his label in 2016, he's been so focused on fighting social injustice, that he'd overlooked environmental issues… that is, until he started working with wool. 'It's the purest fibre you can have! I'm now thinking about more environmentally conscious ways of producing, limiting the styles I offer, manufacturing American milled wools in American factories so there is less wastage.' It's woke and wearable. The perfect expression of the here and now.
INFORMATION
For more information see The Woolmark Company website
London based writer Dal Chodha is editor-in-chief of Archivist Addendum — a publishing project that explores the gap between fashion editorial and academe. He writes for various international titles and journals on fashion, art and culture and is a contributing editor at Wallpaper*. Chodha has been working in academic institutions for more than a decade and is Stage 1 Leader of the BA Fashion Communication and Promotion course at Central Saint Martins. In 2020 he published his first book SHOW NOTES, an original hybrid of journalism, poetry and provocation.