Solange and St Heron celebrate finalists of International Woolmark Prize 2021
Solange Knowles and her creative agency make a film, Passage, showcasing the fashion designs of the six finalists of the International Woolmark Prize 2021 – the winner of which will be announced on 10 June 2021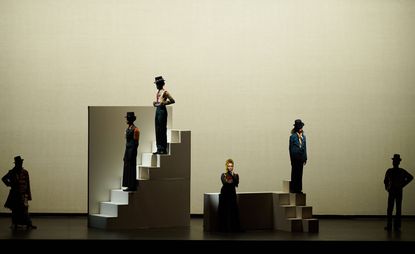 (Image credit: Bethany Williams )
An enduring image of the International Woolmark Prize – an annual award celebrating fledgling designers for their innovations in Merino wool – is that of a young Karl Lagerfeld and Yves Saint Laurent, assembling for a celebratory photograph in 1954 after receiving first place in its coat and dress categories, respectively. The photograph of young designers taking to the stage, the audience anticipating their next creative move, is the inspiration behind Passage, a new film celebrating the International Woolmark Prize's 2021 finalists.

The film was conceived by Saint Heron, the multidisciplinary platform, studio and creative agency established by Wallpaper* 2020 Design Awards judge Solange Knowles, which has previously collaborated with Hauser & Wirth, The Metropolitan Museum of Art, Google and Nike.

The International Woolmark Prize has, over the years, been awarded to and incubated some of the world's most prestigious fashion designers, including Giorgio Armani, Donna Karan and, more recently, Richard Malone and Bode.

The six 2021 finalists are: the UK's Bethany Williams and Matty Bovan, France's Casablanca, Nigeria's Kenneth Ize, Canada's Lecavalier and South Africa's Thebe Magugu.
Designs by Casablanca (still from the film Passage)
Passage, directed by MacArthur fellowship-winning multimedia artist and performer Wu Tsang – whose work explores hidden histories and marginalised narratives – celebrates the 'less is more'-themed designs of the International Woolmark Prize's 2021 finalists. The film's six acts focus on six stages of creativity: contemplation, courage, optimism, vulnerability, discipline and strength. This series of vignettes allude to the nature of theatre and performance, and have a surrealist slant. The film also features styling by Ib Kamara and an original score by Standing on the Corner.
'Passage further explores my interest in theatrical production through the translation of identity, spirit, philosophy and creation,' says Knowles. The film features performances by famed musician Dionne Warwick; actress, model and author Dominique Jackson; artist SahBabii; singer-songwriter Joi. 'Whether it be through album artwork, stage design, or filmmaking, I've always sought to create new visual languages that encompass the expressions my other works cannot communicate,' says Knowles.

'Solange has long been a champion of emerging talent, sharing common values with our talent programme, exploring the evolution and process of creative design and innovation,' adds Stuart McCullough, The Woolmark Company chief executive officer. 'Known to have created some of the most iconic visuals in contemporary culture, Solange's creative direction for our campaign film Passage allows the work of our six finalists to be brought to life and truly shine.'

The winner of the International Woolmark Prize 2021 prize will be announced on 10 June 2021.
INFORMATION