Solange judges Wallpaper* Design Awards 2020
With a repertoire that – in addition to music – encompasses filmmaking, choreography, performance art, sculpture and design, Solange has lent her creative energy to judging our highest honours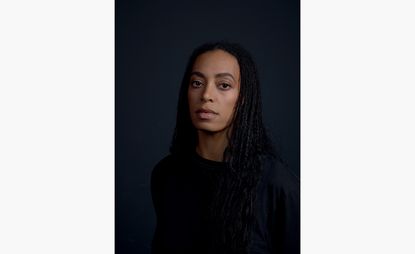 (Image credit: James Mollison)
Wallpaper* Newsletter
Receive our daily digest of inspiration, escapism and design stories from around the world direct to your inbox
Thank you for signing up to Wallpaper. You will receive a verification email shortly.
There was a problem. Please refresh the page and try again.
Solange began 2019 with the release of her fourth album, When I Get Home, accompanied by a dreamlike film that merged images of urban Texas, brutalist architecture, black cowboys on horseback and a futuristic animated sequence featuring people riding flying machines. She finished the year curating a thrilling fusion of music, dance and Afrofuturist philosophy in a live performance at the Getty Center in LA. In between, Solange has progressively expanded her artistic reach, with a repertoire that, in addition to music, now encompasses filmmaking, choreography, performance art, sculpture and design. The latest project of her creative agency, Saint Heron, is a home product collection with Ikea inspired by the exploration of 'time, space, light and matter'.

While the scope of her activities runs wide, Solange's work is underpinned by a desire to foreground the artistry and lived experience of people of colour. 'As a young contemporary artist I was very frustrated that there weren't spaces "for us by us",' she reflects. 'I wanted to connect with other black and brown artists, hear their stories, talk about our practices, and for them to feel safe and uninterrupted by the need to explain or certain cultural energies we carry amongst ourselves and want to celebrate.'

That ethos of black solidarity is at its most tangible in the series of live performances that Solange has staged in architecturally significant cultural meccas like the Getty, the Guggenheim in New York, Tate Modern in London, and Donald Judd's sprawling Chinati Foundation in Marfa, Texas. At these events, Solange choreographs physical space as much as she directs the artistic programme. In a performance at the Guggenheim based on her 2016 album A Seat at the Table, she had horn players emerge sporadically from various levels of the museum while dancers processed through the circular atrium below. With its racially diverse cast and audience, the event felt like a stirring celebration of black creative practice as well as a riposte to the historical reluctance of such institutions to engage with black artists. The performance, says Solange, was about occupying the building on her terms, as the most fitting site with which to bring her album to life.
'It's about choosing spaces that are in alignment with this already existing language of architecture that I'm creating with the movement of bodies, sonic language and space,' she says. 'Like the roundness in the rotunda of Guggenheim with the roundness of the work or placing the brass sections to call and respond in different spaces. But often times the work may belong in a different landscape like the desert in Marfa, or even office buildings in Houston in the When I Get Home film.'

It's her desire to build spaces of social connection and emotional affinity that led Solange to name Muller van Severen's 'Match' kitchen among her choices for this year's Wallpaper* Design Awards. 'I feel really connected to the idea of having agency over your own "landscape" through their "landscape for living" concept,' says the artist. 'I also love how self-contained the design is and the imagination of using multi-use materials in a creative and thoughtful way.'
INFORMATION
Receive our daily digest of inspiration, escapism and design stories from around the world direct to your inbox