Viktor&Rolf's experimental theatrics are translated to the pages of a new book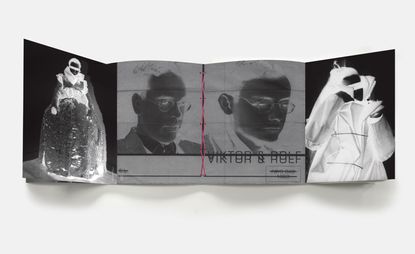 (Image credit: Irma Boom)
The Dutch fashion design brand Viktor&Rolf, is well versed in the art of transformation. Viktor Horsting and Rolf Snoeren, who began their fashion label in 1993, have transformed art into fashion, fashion into performance, and performance into commercial success. Their haute couture pieces interact with the bodies they adorn in transformative ways: distorting and hiding body parts in 'Blacklight', transfiguring models into cartoonish puppets in 'Action Dolls', and deconstructing the face in 'Performance of Sculptures' (lips, for example, sometimes appear on a model's thigh).
One questions how a fashion house famous for its ability to transform – and transform in ways that are theatrical, experimental and 3-dimensional – could be distilled into a book. Irma Boom's Viktor&Rolf: Cover Cover, published by Phaidon on 6 July 2018, does not leave you questioning for long. The acclaimed Dutch graphic designer performs her own transformation in the expansive tome, reinventing the very concept of a book in order to bring Viktor&Rolf to life on the page, employing the same principles of wit, experimentation and rule-breaking that the fashion designers employ on the runway.
Cover Cover celebrates the 25th anniversary of Viktor&Rolf, not merely by depicting their collections and character, but by embodying them. Boom's book is divided into eight-page gatefolds, each representing an era, collection or moment in the designers' career, illustrated with images by renowned photographers such as Tim Walker and Inez & Vinoodh, as well as sketches and shots from the catwalk. The hand-sewn book moves back in time. Each gatefold is arranged chronologically and made with papers that start super-fine and become thicker as the reader moves through the designers' history. The sculptural book is dressed in a bright pink acetate jacket and stamped with a V&R seal. Cover Cover mirrors the spectacle of Viktor&Rolf in all aspects; every image in the book is inverted and reproduced as a negative, engendering a kind of distortive inventiveness that marks many of Viktor&Rolf's shows and pieces.
Spending more time with Boom's book reveals a certain logic. For example, on the pages dedicated to Viktor&Rolf's Spring/Summer 2010 collection, 'Cutting Edge Couture', Boom complexifies Cover Cover's compilation of negative photographs by collaging the clothing from the show in full original colour on top of inverted photographs of the models. The 2010 collection itself, a quip on the language used by the fashion industry, features gowns, jackets, and skirts, cut harshly at surprisingly angles, or with holes pressed through the garments. Just as the clothes are 'cut' and collaged, the images in Cover Cover are too.
Take another example from 1996. Three years after Horsting and Snoeren began their fashion label, they went on 'strike' as a kind of protest, after failing to make much money or gain recognition from the mainstream fashion industry. Boom captures this moment with four blank pages, white as a fresh canvas (an intentional choice, considering she could have chosen to display images of the duo as she does in many other parts of Cover Cover). On the other side of the gatefold, is a black and white inverted image of the poster the group made in 1996 to indicate their inactivity: a woman holding a blank placard and screaming. The eight pages act as their own protest.
Viktor&Rolf: Cover Cover reads as a true collaboration: a partnership between two experimental designers to transform the three-dimensional into the two-dimensional without losing the essence of the art. Each project has been reimagined in Cover Cover, transforming a fashion universe into one of graphic design. With each read there is more to discover. As the book declares in the front cover, both as means to introduce and challenge: 'This book invites you to discover the method in the madness.'
INFORMATION
Viktor&Rolf: Cover Cover, by Viktor&Rolf with Irma Boom. Published by Phaidon (opens in new tab), available for pre-order