Fine quality: Theory launches Good Cotton collection
The minimal brand continues its foray into material innovation with its latest conscious collection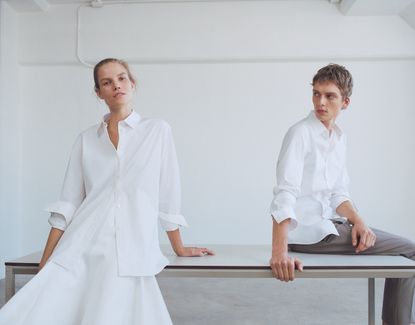 (Image credit: theory.com)
Since 1997, New York-based brand Theory has provided urbanites with a foolproof uniform. Employing a minimal aesthetic – focusing on sleek lines and neutral colours – the brand creates a fabulous foundation of staples fit for any occasion. Twenty years after they first launched, the label entered a new ethical era. 2017 saw the introduction of 'Theory for Good' with the 'Good Wool' initiative, a venture to use and produce premium merino wool we can track from sheep to sweater. Aiming to make all of their core fabrics 100 per cent traceable by 2025, the brand introduced 'Good Linen' in 2019 and now their efforts have converged on cotton.

'Theory was founded on material innovation,' says chief brand officer Siddhartha Shukla. 'Sourcing superior raw materials in a universe where conscious creation is as critical as conscious consumption is fundamental to our product approach.' This month Theory is launching 'Good Cotton', introducing high-quality SUPIMA® cotton, which makes up less than one per cent of the cotton crop worldwide. Grown in America and woven in Italy, these particular fibres are known for being soft and durable – creating clothing we want to wear year after year. 'We started our sustainability journey, years ago, by initially focusing on ways to eliminate hazardous chemicals from our raw material supply. In doing so, we found how complicated the supply chain can be and how much there was to learn regarding the intricacies of each fibre within each fabric we produce,' says Wendy Waugh, senior vice president of sustainability and raw material. Verifying the origins of their sustainable shirting, Theory has partnered with tech company Oritain and premier shirting mill Albini.
Using fashion forensics, Theory can prove the genesis of its garments – mapping the journey of their cotton clothing from field to factory to closet. 'We are working towards a goal of having all of our signature fabrics be traceable, but our mission is to make every aspect of our process better,' says Waugh. Using the Good projects as a blueprint for their work, the 'Good Cotton' collection is sustainable not only in the way that the fabric is produced but also in the classic design promising longevity season after season. With an oversized silhouette and minimal detailing, Theory's crisp cotton shirts really are the cream of the crop – and according to Waugh, this is just the beginning.
INFORMATION
theory.com (opens in new tab)