Pitti Uomo 96 re-evaluates sartorial sensibilities in Florence
For more than 20 years, curator Olivier Saillard has applied an incisive, dynamic attitude to the way fashion can be reassessed and renewed in fresh surroundings. He has curated hundreds of shows and artistic performances centred around women's fashion but only ever three devoted to menswear. He opened the latest edition of Pitti Uomo with a perceptive survey of the last three decades of the tradeshow and its role in shaping how men dress. A scorching Florence made a fine setting for re-evaluating sartorial sensibilities; Clare Waight Keller set her synthy S/S20 collection for Givenchy in the sumptuous surroundings of the Villa Palmieri (reputedly a favourite haunt for Queen Victoria). Paul Andrew's sportif debut men's collection for Salvatore Ferragamo was staged under the watchful eye of Florence's famed Fountain of Neptune. Clothes are best read in context and in contrast.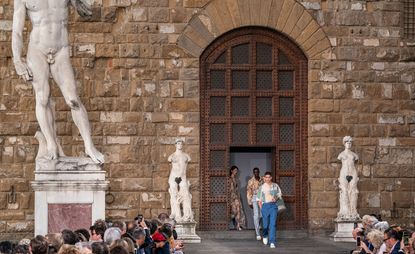 (Image credit: TBC)
Wallpaper* Newsletter
Receive our daily digest of inspiration, escapism and design stories from around the world direct to your inbox
Thank you for signing up to Wallpaper. You will receive a verification email shortly.
There was a problem. Please refresh the page and try again.
Givenchy: At a preview of her S/S20 collection, Clare Waight Keller said that the invitation to show at Pitti was serendipitous. It just felt right. It certainly looked spectacular in the labyrinthine gardens of the Villa Palmieri – the scene of Boccaccio's The Decameron and, reputedly, four visits by Queen Victoria. Entitled Nouveau Glitch, the collection brought together the guts and gusto of Seoul Street Style with the dark poetry of Charles Baudelaire. Keller used archive Italian jacquards as overcoats. Trousers morphed from traditional scrolling florals into pixelated new forms. The mood married centuries past with the futuristic; nylon was developed into a textile that looked like velvet. Turquoise cotton was shot with pink, and blue with orange gave off a pearlised slickness. Tailoring was interspersed with sportswear throughout; three button suits were softer on the shoulder. Every model wore a pair of sneakers including an exclusive new collaboration with Onitsuka Tiger, one of the oldest shoe manufacturers in Japan. Heritage and herstory.
Jacob Cohën: The luxury denim brand revealed its plan for a head-to-toe look, as well as a range of limited edition hand-poured candles. Now you can custom-build your own Made in Italy sneaker, choosing from a rainbow of Dolmen quality ponyskin, ten different types of sole, rivets and aglets in hand-finished, customised palladium. And even dip the tips of your laces in gold.
Parajumpers: Made in Venetian workshops, the latest collection reinterpreted some of the brand's best-loved all-weather pieces: windbreakers, jackets and shell garments stood ready for any climatic conditions. The ongoing collaboration with Japanese designer Yoshinori Ono continued with a light thermal capsule whilst Leonardo Fasolo developed classic military-inspired models, often enriched with earthy and bright tones characteristic of pigment colour techniques.
Z Zegna: The line is known for metropolitan exploration, yet the latest from Alessandro Sartori took a more altruistic stance. Less sporty than before, S/S20 highlighted desertification as a threat to global wellbeing. The space installed at Fortezza da Basso's Teatrino Lorenese was covered in fine sand; a black boxed infinity room played video projections of a digitised, neo-futuristic landscape. Materials were crafted from up-cycled and recyclable fibre, using water-friendly treatments. Deconstructed silhouettes in featherweight materials made sustainability look smart. Printed with Madras check, high-tech net felt like silk.
Marco De Vincenzo: Vincenzo's first men's collection was shown inside a bright, Art Nouveau style greenhouse located in Florence's Horticultural Garden. He's known for his glamorous, quirky womenswear and for his men's show he was thinking about crusaders: 'I had in mind a real man, who alternates between moderation and excess, strictness and kryptonite. An everyday superhero.' S/S20 featured staple pieces that had an added slick of sparkle. There were shots of intergalactic futuristic light in the pleated tulle with drilled vinyl, coated boucle used for a trench, safari jacket and wide leg trousers, evoking fuzzy television screens.
Baracuta: The British label unveiled a capsule collection of limited edition styles created with L.A.-based Atelier & Repairs. Under the direction of Maurizio Donadi, they renewed Baracuta stock using vintage nautical flags, fabrics and trimmings to create 30 one-of-a-kind jackets. 'We have a factory but we don't produce anything – we transform what already exits,' Donadi says. After 35 years of working in manufacturing for global companies, he decided to move away from the maelstrom of overproduction. 'It was almost like a mystic crisis. Something was broken, I stopped and just made a couple of pants for myself and then a few shops wanted to sell them and now I have a factory with 20 people. It's the best job I ever had. 50% is about responsibility and 50% is a creative, free process just like free jazz. It's improvisation.'
Paul & Shark: The brand presented its SAVE THE SEA project in the form of an eco-friendly wind and waterproof jacket, made using recycled single-use plastic. 23 average-sized water bottles went into the creation of a lightweight, zip up style. Recycled polyester yarns were used to make every element including the zip, inner padding and lining fabric.
Gucci Garden: Respected curator and critic Maria Luisa Frisa has worked on a number of shows at the Gucci Garden ever since its inception in 2018. For its latest turn, Frisa has installed a room dedicated to bags from the 1950s to today, whilst another explores the colour palette of green, yellow, blue and red that runs through the brand's history. 'The more I work with the archives, the more I realise how well Alessandro Michele knows them. He's working with a background in the heritage and skilfully bringing back its codes as part of his own vision,' Frisa says. Japanese artist Yuko Higuchi has designed a mural made up of archetypal Gucci house motifs, from the flora and fauna to kingsnake, tiger and insects. Frisa reconfigures and more importantly, re-contextualises the archives of the house, using past and present pieces to tell new stories. 'The archives are a living and evolving place, there are many secrets hidden there and so many surprises,' she says.
Herno: Much of the designers showing at Pitti were pushing sustainability over seasonal whim; Herno revealed Herno Globe – a new label that groups together all of the eco-conscious projects of the brand. S/S20 included four classic outerwear styles made with fabrics composed of 84% recycled nylon, as well as zips and buttons, and coloured with plant-based dyes. 'We believe it is an occasion of cultural and training growth but also of sensibility and conscious choices, both corporate and personal. They are the same choices that are globally determining the end of fast fashion in favour of a weighted and quality purchase,' CEO Claudio Marenzi said.
MSGM: Ten years since launching MSGM, Massimo Giorgetti is still in upbeat, energetic mood. His S/S20 collection was presented inside the Nelson Mandela Forum sports arena, where the models walked around a holographic swimming pool. The collection, he said, 'is like a stamp of our DNA, a map for our future.' It was a no holds barred poolside affair. Tailoring came in tonal turquoise and hot pink. Denim was laser-treated to appear like the reflections of a pool in the sun; leopard, acid floral and lobster prints were kitsch and cool. Paintings by Berlin-based artist Norbert Bisky of sun-kissed male bodies were printed onto shirts and shorts. Giorgetti's decade long party is still going strong.
Tiger of Sweden: Creative Director Christoffer Lundman is often drawn to architecture and once-occupied spaces when starting his collections. 'I feel like it's a backdrop to something, that's why I'm inspired by that,' Lundman says. S/S20 drew on the atmosphere at the summer home of Swedish botanist, physician and zoologist Carl Linnaeus in Hammarby. Linnaeus bought the estate in 1758 and it was opened up as a museum in the late 1930s after extensive restoration. 'It's a red timbered house and the walls are pasted with floral motifs, the rooms have all of these amazing striped mattress ticking, damask silks which we transformed into cotton and army twills,' Lundman says. 'It is centred around this house, around him as a person. He was a noble man, properly dressed even when he would be out exploring.'
Woolrich: Keep warm, keep dry, keep protected. S/S20 drew on the brand's core values as stated in its iconic 1972 'Woolrich. We Keep America Warm' campaign. Performance was at the collection's heart, with a range of light, trans-seasonal padded coats and waterproof garments. Sustainability was key too in the use of polyester created from recycled plastic and nylon obtained from industrial textile waste. Keep calm and carry on.
Margaret Howell: Howell's collection had a sporty feel with a knitted slipover given exaggerated armholes and worn over a t-shirt. A take on boxer shorts, joggers have been perfected over the last two seasons by the design team. Standout was a moss green suit, lightweight with an open weave. Its matching trousers carried a small ticket pocket detail on the hip. New for the season was a parka – the first in four years – in a woven cotton ventile fabric, both air tight and waterproof. Great for a British downpour.
Piquadro: The focus for S/S20 was the business backpack - an on-the-go style with added Piquardo performance points. Brightly coloured, matte rucksacks and lightweight aluminium and leather trolleys were smart and had their own sporty sprezzatura.
Receive our daily digest of inspiration, escapism and design stories from around the world direct to your inbox
London based writer Dal Chodha is editor-in-chief of Archivist Addendum — a publishing project that explores the gap between fashion editorial and academe. He writes for various international titles and journals on fashion, art and culture and is a contributing editor at Wallpaper*. Chodha has been working in academic institutions for more than a decade and is Stage 1 Leader of the BA Fashion Communication and Promotion course at Central Saint Martins. In 2020 he published his first book SHOW NOTES, an original hybrid of journalism, poetry and provocation.