Searching for Seoul: on the ground at South Korea's A/W 2016 fashion week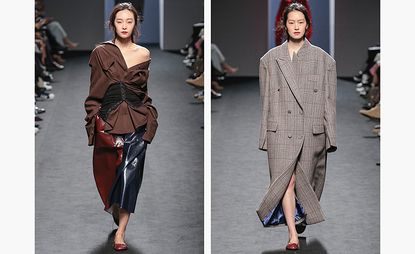 (Image credit: press)
Looks like the immediate future of street fashion might just be K-style – aka quick turnaround cool sportswear in South Korea is going great 'soft' guns. Dip your toes into Seoul Fashion Week and one will find modish brands, fad driven labels and a bunch of talented designers primed to play in the global fashion market.

Seoul Fashion Week has in fact being going for aeons (nearly as along as London Fashion Week) but primarily it was a domestic affair serving a fashion hungry audience that has always been keen to show off its pop-tastic savvy. To note: the average age of the front row audience is twenty-something and the social media fodder in this highly wired city is wondrous. Even toddler 'influencers' dressed like Pharrell Williams and PSY were afforded prime seats along side girls who dress like boys and he/she's and she former he's. Note: swallows and amazons matelot looks are very 'in.'

Given that K-movies, pop and tech have already spread far and wide (via numerous Hollywood, tech giant mergers with South Korea's dynastic corporate business – LG, Samsung et al) fashion and beauty are next on the list for global expansion thanks to a strategic government and corporate investiture.

From an outsider view, there's a deep parallel with Tony Blair's 'Rock The Boat,' adoption of Brit Pop in the late nineties and the intense building of the creative economy in London – a force field that David Cameron has so wisely tapped. Indeed, 'Gangnam Style' (2012) might just have been Oasis' 'Champagne Supernova' (1997) in terms of providing an anthem.

But who's to look out for now post the hyperbolic pink, spiky Versace fad? Brands such as Vlades that declared 'High Fashion is Dead,' on outsize sweatshirts and Moohong with its reconstructed tailoring in jacquards and fine wools plus giant shoulder pads looked compelling, super well made and aligned with respectively Rick Owens and Vetements. This K twister is shifting from cheesy to soulful; flash to thoughtful; synthetic to artisan; screechy to rootsy – and to the bluesy rap of bands like HighGrnd.

Pushbutton has a nice line in outsize pretty smock dresses and super padded coats, while SYJP (a denim diffusion line from Stevie J and Joni P) proved that wearing the blues everyday can look pretty.

With fashion being in hyper real moment (authentic items reprised via proportions, slogans and noble fabrications) Seoul has a lot to offer. But who buys from nations any more? Creative capital is transmitted by nodes across the globe. 'The fashion business got going at the end of the 1980s and it was a big wave. It was hit with the Asian financial crisis but picked up again in the noughties. Fashion in Korea has always been big but never got a chance to go out of Korea until about five years ago when brands and designers got noticed with the K pop boom,' says Jung Kuho, executive director of Seoul Fashion Week. Jung, who built his own highly successful menswear label called Kuho in New York has deep experience in the field. 'The timing is right – the next five years will see a big expansion into the global market. The first thing is promoting and letting people know we are here and what we are doing,' says Jung who now also operates as creative director of Fila. Magazines like the elegant A5 size UrbanLike (opens in new tab) (set up three years ago) are documenting the Seoul scene.

If Seoul had cousin cities rather than one twin – they might just be London, Paris, Florence, LA, Shanghai and Vancouver. If you are ready to boomerang, style nodes these days can hop/skip very far.
INFORMATION
Seoul Fashion Week ran from 21 - 26 March 2016. For more information, visit the website (opens in new tab)