In search of Korea's new wave of design talent at Seoul Fashion Week S/S 2016
In search of Korea's new wave of design talent at Seoul Fashion Week S/S 2016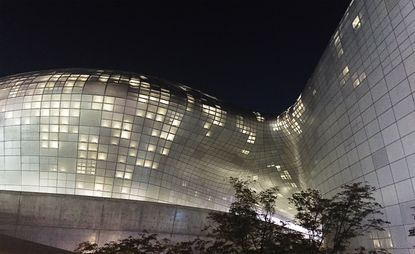 (Image credit: press)
2015 has been a stellar year for Seoul in the fashion stakes. In addition to hosting Chanel's 2016 Cruise show back in May, and Dior's largest and most striking flagship opening in the stylish Gangnam District in July, this past week the city's Zaha Hadid-designed Dongdaemun Design Plaza (DDP) housed the revamped S/S 2016 Hera Seoul Fashion Week (opens in new tab) under the new direction of Kuho Jung.

'Style wise you will see a bold, pop-culture approach contrasted with a minimal, avant-garde aesthetic,' predicted Jung of the event's two key style camps, which also dominated its surrounding street style – some of the best in the world, even without designer press rail access.

For Jung, who studied at New York's Parsons in the late 1980s and was more recently creative director of Samsung's fashion division, the most important message behind the bolstered event was that it met international standards: 'Seoul Fashion Week has been here for 15 years, but it has never been exposed to foreign influencers,' he says. 'This is the right time to expose ourselves to the global market.'

'It was exciting to see first-hand the next generation of emerging talent,' says Natalie Kingham, buying director of MatchesFashion who was on the ground and on the hunt. 'I think there is a huge amount of design potential in this market. Two brands I would highlight right now as ones-to-watch are Soulpot Studio (opens in new tab) and Low Classic (opens in new tab).'

Like many international fashion weeks outside of the four show capitals, this one could do with a tighter edit, both in terms of what was vetted for the seven-day, 66 show schedule, and the number of runway looks shown – entire colourways could have been held back for the buyer's showroom – but this also differentiated between the brands destined for the international playing field and those content with the domestic market.

Overall, on and off the catwalk, designers and fashion enthusiasts alike appeared to be deeply cemented within the street and sportswear sphere. Menswear was a particular strength, along with the city's male models, who would do well to pack themselves off to Paris, pronto.

The men's market's gutsy experimentation with the humble pant should also be commended: culottes, asymmetric pant lengths, fisherman styles, paper bag waists, drop crotches, tight leather, baggy denim – we saw it all as they collectively pushed the boat out on the trouser. Topcoat length suit jackets, extra long sleeved shirting and monochromatic tailoring also dominated these proceedings, while seersucker, Airtex, leather and terry toweling fabrics ruled material matters. In these parts sneakers, skater slip-ons and sporty slides were de rigueur – even on the women's runways, and definitely about the venue.

'I was blown away by what people were wearing on the street,' says Damien Paul, MatchesFashion.com's head of menswear. 'The way they mixed established and up-and-coming international brands was just incredibly cool.' As for his pick: 'On the runway, there was more of a contemporary feel which was interesting to see – PushButton, Beyond Closet and Kimseoryong especially.'

Indeed, much of what was on offer on the SFW catwalks sat just above the high street in this category; currently stocked at local department stores or through the brand's own retail networks. The city's most impressive multi-brand stores in Gangnam – including the Peter Marino-designed and Shinsegae-owned Boon the Shop, Mass Studies-conceived Space Mue and Rare Market – all seemingly stocked an international edit of big names.

And although local success stories Junn J (opens in new tab) and Wooyoungmi (opens in new tab) take their runway bows during Paris Fashion Week, industry patriarch Madam Woo debuted her second Wooyoungmi collaboration with Mr Porter (online 28 October) at her multi-storey Gangnam store during SFW. The spacious loft-like flagship also houses her new capsule women's collection For Her, along with contemporary menswear brand Solid Homme (opens in new tab), which has just launched its first overseas shop-in-shop in London's Harrods, Galeries Lafayette Beijing and Harvey Nichols Hong Kong.

'I was really impressed by how the first collection spread our brand DNA,' Madam Woo explained of her first Mr Porter collaboration. 'While the [mainline] Paris fashion show is very inspirational, I tried to focus on wearable luxury through this capsule collection. This one is more approachable, but central to brand identity.'

Madam Woo has taken a similar approach with Solid Homme, which was first launched 28 years ago, and now holds 29 stores across Korea. So why hold the brand back internationally until now? 'The contemporary market wasn't mature enough,' she explains of the sector's recent designer sportswear boom. 'It's a growing market and hasn't been accepted until now – especially in China,' she maintains.

Earlier in the week another Seoul fashion icon, Jin Te-ok, opened the SFW proceedings with her retrospective exhibition Anthology, which spanned the designer's fifty-year legacy as a founding member of the Korean fashion industry. Her theatrical designs, which take cues from traditional Korean dress, are also currently on tour in Paris as part of the Musée des Arts Décoratifs' Korea now! Craft, Design, Fashion and Graphic Design in Korea (opens in new tab) exhibition. That said, Te-ok's intricate work often felt like a world away from many of the week's runways, where it was hard not to notice derivative European or American tendencies.

Experimental shapes fused with minimalist lines epitomised PushButton's S/S 2016 show, where staff sported familiar white lab coats. A moody storm trooper with a penchant for crushed leather and slogan tees sauntered out at New Gen brand Vlades. A sporty cross of Airtex fabrics, denim and leather summed up Resurrection, while directional shirting was teamed with frayed denim at Blindness. Later, a grunge slant was explored at R.Shemist where piercings edged long-armed tailoring and distressed jeans.

In addition to denim, bold print was another dominant category: established menswear designer Ko Tae Yong of Beyond Closet showed energetic Mexican motifs on men's silk scarf-print shirting and embroidered outerwear, while coloured camouflage patterns dominated womenswear label Kumann Yoo Hye Jin (opens in new tab). Baemin x Kye's collaboration was made up of CCTV surveillance footage and the neon lights that illuminate most of Korea's commercial buildings. Text was similarly an important mode of expression – with every second show featuring some form of English language word play, printed onto sweatshirts, tees and jackets.

But outside the trend treadmill, the message of International Woolmark Award winning menswear brand Munsoo Kwon (opens in new tab), designed by Choi Boko, shed light on a social change currently washing over Korea. His show was based on the concept of 'Guieoh', which is a recent migration phenomenon whereby urban youths are abandoning Korea's cities for small fishing villages, fusing their modern digital ways with a more traditional lifestyle. This was evident on the runway through nautical accents that were moprhed with a techno street flavour.

Finishing up the week, we found ourselves on another street entirely for the grand opening of new handbag temple 9014, which featured a shop-in-shop by Italian designer Stefania Pramma (opens in new tab). Suzy Menkes was even onsite for the official ribbon cutting (or rather reveal, as a sheet that hosted a multi-media projection slipped away to unmask an architectural marvel designed by Sungik Cho), located just a few doors down from the equally monolithic Maison Hermès Dosan Park. This was just another example of the city's bold investment in fashion, and the gap between its luxury behemoths and up-and-coming local design talent, which are together servicing all areas of this hungry market.
Industry patriarch Madam Woo debuted her second Wooyoungmi collaboration with Mr Porter at her multi-storey Gangnam store during SFW. 'I was really impressed by how the first collection spread our brand DNA,' Madam Woo explained of her initial Mr Porter collaboration. 'While the [mainline] Paris fashion show is very inspirational, I tried to focus on wearable luxury through this capsule collection. This one is more approachable, but central to brand identity'
Solid Homme was first launched 28 years ago, and now holds 29 stores across Korea. So why hold the brand back internationally until now? 'The contemporary market wasn't mature enough,' she explains of the sector's recent designer sportswear boom. 'It's a growing market and hasn't been accepted until now – especially in China,' she maintains
Woolmark Award winning menswear brand Munsoo Kwon, shed light on the social change currently washing over Korea. The show was based on the concept of 'Guieoh', which is a recent migration phenomenon whereby urban youths are abandoning Korea's cities for small fishing villages, fusing their modern digital ways with a more traditional lifestyle. This was evident through nautical accents that were moprhed with a techno street flavour