Roberto Cavalli interview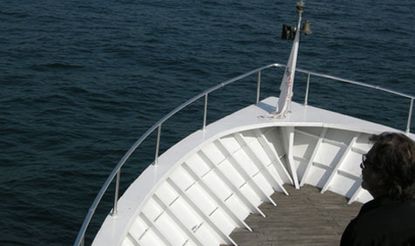 (Image credit: press)
Wallpaper* Newsletter
Receive our daily digest of inspiration, escapism and design stories from around the world direct to your inbox
Thank you for signing up to Wallpaper. You will receive a verification email shortly.
There was a problem. Please refresh the page and try again.
Italian fashion mogul Roberto Cavalli was the first designer to show at Fashionable Istanbul. We took time out with him in his suite at the Ritz Carlton to quiz him on his thoughts about the event.
How did you enjoy your show last night?
No, how did you enjoy it first of all?
I thought it was very good.
It was nice, I'm glad you enjoyed it because I enjoyed it very much myself. For a show you still never know what to do or what the reaction will be. It was nice to have such a good reaction from Istanbul.
Why did you accept the invitation to show here?
Istanbul is a very important city. We're looking especially at the moment during the crisis to new markets. Obviously China, India - why not Turkey too we thought. They have money. They are not contaminated by the crisis so much.
You already have a store in Istanbul, what are your expectations from showing here?
I don't have so many expectations actually any more from my work. It's a beautiful city, I have my friends here and everyone is very friendly. If we talk about expectations I realise more and more that people expect something from me. All over the world people don't treat me like a fashion designer, they treat me like a rock star. You saw yourself yesterday. It still shocks me.
Are you not used to it?
I can't walk down 5th Avenue without being treated like a rock star. In fact maybe it's more than a rock - many times I've walked down 5th Avenue with rock stars and nobody pays attention to them. It's very strange.
Why do people have that reaction to you do you think?
It's because of my fashion. Maybe because I'm more natural as well.
Is it more about you as a character than your fashion now?
I don't know. Maybe it's just because I have friends who are stars. It's something the press always like to talk about.
It's an image that you cultivate too though. Last night when the screens came down on the catwalk half way through the show, they played footage of you with your celebrity friends for five minutes.
And what did you think of this?
I understand it's an important part of the brand. But I preferred seeing the second half of the show with so many beautiful dresses from your archives. That for me was more enjoyable.
I found it interesting. It was beautiful. It was exciting. It made me understand that this is what I want, this is what the people want. I don't have to look for a different or a new direction.
What keeps you inspired?
My feeling against vulgarity. Sometimes you journalists write Cavalli is too vulgar, too sexy - it kills me because I'm so against vulgarity. Sometimes the line between vulgarity and sexy is very thin. Especially in some countries where the female culture doesn't understand it. It upsets me when I see women wear it the wrong way.
Do you tailor your collection for a Turkish market then?
No I don't feel there is a need to adapt it for this market. I think my collections are international still. It's like character. You have one character and people love you. You have to believe in your own character and not change it to make more people happy. Maybe some people don't like your character because they think it is strange but many people will love you. It's the same with my fashion. I want to keep giving to the people who know and love what I do, not try to convert the people who don't.
Receive our daily digest of inspiration, escapism and design stories from around the world direct to your inbox
Jack Moss is the Fashion Features Editor at Wallpaper*. Having previously held roles at 10, 10 Men and AnOther magazines, he joined the team in 2022. His work has a particular focus on the moments where fashion and style intersect with other creative disciplines – among them art and design – as well as championing a new generation of international talent and profiling the industry's leading figures and brands.