Renaissance man: how Italian fashion magnate Brunello Cucinelli cashed in on cashmere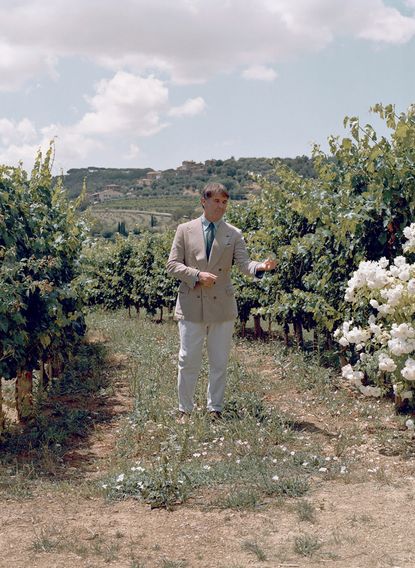 (Image credit: Catherine Hyland)
Out in the rolling curves of the Umbrian countryside, Brunello Cucinelli is indulging his utopian urges. Headquartered in the 12th-century hilltop village of Solomeo, once largely ruined but now restored and fruitfully occupied, the cashmere mogul runs an experiment in what he calls 'humanist capitalism'.

This is not fantasy or folly, though there are certainly eccentric insertions here and there. Cucinelli's mission is grounded in the simple belief that you can treat your workers with respect, let them leave the factory every evening at 5pm sharp (he insists on an email shutdown until they show up again at 8.30am), and still turn a tidy profit. Last year his eponymous company returned a net income of over 42m, with sales up nearly 11 per cent in Europe and over 36 per cent in China.

In 2000 he moved his Solomeo staff from quarters in a converted castle in the village to a set of low-slung existing industrial buildings in the valley below. Samples are manufactured here, while the range is produced by 330 subcontractors big and small, all in Italy (and 80 per cent of them in Umbria). When he moved operations, he inserted large picture windows so all his workers had views out into the green valley. The buildings are meticulously tidy, light and airy, and there is little distinction between white- collar and blue-collar space, but rather an easy flow. Cucinelli also created a large subsidised canteen, again open to its environment with covered terraces and comfortable seating for the postprandial snoozes that the hour-and-a-half lunch break allows, and that the healthy – in all senses – portions demand.
Cucinelli's ethos is simple: he pays his workers generously for the sector and expects them to work hard when they are at work. He is unapologetically disciplined. 'They call me the German, that's my nickname,' he says. 'I'm happy with that. I'm strict and rigorous.' Even unnecessary adjectives are discouraged. Everything in Cucinelli's world is either beautiful or ugly. And beauty is everything.
When they are not in the factory, though, his workers should be entirely free to rest and spend time with friends and family. Life should be one of work, relaxation and prayer, he says – though he doesn't insist on the prayer. 'St Benedict, talking about his monks, said you should be a master and a loving father at the same time,' he says. 'Strict but gentle. Demanding but gracious and kind.' Cucinelli, a self-educated classicist in a buff cashmere blazer, has cast himself as the ascetic but benevolent patriarch.

Solomeo is Cucinelli's vision of a civilised corporate set-up. And deliberately not a Silicon Valley-style campus, filled with distractions in compensation for 14-hour working days. That comparison is instructive: the company has a strong business in the US and he is an intimate and outfitter of the Aspen/Davos liberal elite.

While we are visiting he receives an email from Amazon chief and rocket man Jeff Bezos asking if he wants to meet. He is particularly friendly with the tech billionaire and innovative philanthropist Marc Benio, whose cloud-computing operation, Salesforce, regularly picks up plaudits for its enlightened employment practices. The pair share similar ideas about the possibilities for benevolent business. Cucinelli and his company, and the model it represents, are a challenge to the 'move fast and break things' champions of tech-driven disruption.

Cucinelli took his company public in 2012, but he made clear to his potential investors that 'this company believes in dignity and a fair profit. This is how the company works and this is what you are investing in.' The IPO still attracted blue-chip investors. And while the Cucinelli family retains its 60 per cent stake in the company, he can continue his policy of restrained 'elegant growth'. Production will remain in Italy and he will open new stores, adding to an existing 126 standalone stores, at a gentle pace. Quality and exclusivity are everything. He is, unsurprisingly, uncomfortable with the term luxury. He prefers to talk of 'costliness', a much more useful idea, a tally of material costs, high-skilled labour costs and so on.

Cucinelli, though, is determined on being more than an exemplary corporate citizen. He also wants Solomeo to be a model for a very modern and vital village life and economy: a counter to the centrifugal forces of urbanisation and a sales pitch for a new kind of country living. It is a mission rooted in his own biography.
Now 65, he is the son of a farmer and grew up in the nearby village of Castel Rigone. His father, Umberto, worked his land by hand and young Brunello was charged with pulling the oxen while they ploughed the fields. (He puts his belief in rigour and order down to his father's insistence that he keep his furrows straight because they were more beautiful that way.) Umberto eventually decided to take a job in a cement factory and Brunello saw the effect the job, brutal and humiliating, had on his father (Umberto, now 97, lives in Solomeo).

He decided that was not the path for him. He studied engineering but dropped out at 24, spending most of his time at a bar in Perugia, where the family now lived. He was, though, already well advanced in his personal study of philosophy, ethics and theology, with Kant an early favourite. It's a self-education he has continued and he must be the only fashion industry chief who regularly drops quotes from Plato and Francis of Assisi into conversation. His renaissance villa in Solomeo is liberally scattered with marble busts of Socrates, Marcus Aurelius and, a more recent commission, Barack Obama. (A committed Anglophile, Cucinelli is also a fan of John Ruskin and William Morris.)
In 1978, a year after abandoning college, he bought a batch of cashmere and, noting the success of Benetton, dyed it in bold colours and turned it into a half dozen sweaters. He took them to local retailers and eventually received an order for 50 more. By the end of the century he was selling 200,000 sweaters and 75 per cent of the business was export. Cucinelli insists that even then he had an eye on sustainability, noting that – moths notwithstanding (and Cucinelli can even attend to those) – people tend to keep hold of cashmere. In 2000, after encouragement from US department stores, he started to offer complete collections. In 2003 the company started to open its own stores.
He grew enamoured of Solomeo as a teenager, when he fell in love with one of the local girls, Federica, now his wife. In the mid-1980s he started to buy up buildings there, determined on a complete restoration of the village and its establishment as an idyllic company town, and moved his HQ into the town's castle. Since the move down into the valley below, the castle has become a school for tailors, knitters, masons and horticulturalists.

Cucinelli's mission to update the economies of villages such as Solomeo depends on the supply of fresh young artisans, not just to produce high-end goodies, but also to maintain their ancient buildings and make the most of land around them.

The school is operated by the Cucinelli Foundation, bankrolled by 20 per cent of the company's profits. The foundation also funded the painstaking restoration of the old heart of the village, now complete. It includes a chic hole-in-the-wall café-cum-grocery and a more traditional bar, perfect for the manly arts of smoking and card-playing. (While we were there, the village was being readied for its annual nine-day medieval festival, another Cucinelli innovation).

In 2008 he opened the Teatro Cucinelli in the village, expertly built to Palladian principles and holding 240 mushroom cashmere seats (Cucinelli has a symphonic command of off-white and earth tones). Later this year he is expecting a visit by Peter Brook, whose Battlefield play, based on the Mahabharata, was shown at the theatre in 2016. In front of the theatre is a small amphitheatre, anked by an inviting library that is open to anyone wanting to brush up on their classics.
The village resuscitated to his liking, Cucinelli has more recently turned his attention to the valley below. In 2014 he added a small stadium in Castel Rigone, but he is more concerned with beautification than new additions. He has removed six industrial buildings, convincing their owners to relocate, and replaced them with what he calls the garden of Solomeo. He has also taken over 70 hectares of adjacent land, now given over to vegetable gardens, vineyards, olive groves, orchards and trees, most of its produce destined for the company canteen and the village store.
This autumn Cucinelli is unveiling a restored winery in the valley, complete with new intricate terracotta-tiled ceilings. Above it sits a meticulously restored country pile, potentially a retreat for artists or writers. A short walk into the vineyard there is a series of concentric circular marble benches, a place to gather, talk, engage or just gaze at the stars. Another nearby building will soon be restored and turned into a bakery.
A short drive across the valley is the new Monument to Human Dignity, a series of five marble arches around a dais, crafted as the Romans or Greeks might have done. It is an indulgence, of course, a folly, but, in its own way, spare and modest. Cucinelli hopes that it will be used as the backdrop for concerts or perhaps even speeches and debates, dialectics to please the ancients.
Surprisingly, perhaps, Cucinelli says one of his inspirations for the Solomeo project was Adriano Olivetti, 'a great man and a benchmark', who turned the family typewriter business into a household name. He too had a concern for the proper work/life balance and essential dignity of his staff. The company came to dominate the northern Italian town of Ivrea and, from the 1930s to the 1960s, some of the country's leading architects designed housing and factories there. Olivetti built low-rise modernist apartment blocks surrounded by generous green spaces. His factories also had generous windows, better to capture the landscape, large cafeterias, libraries and screening rooms. Ivrea's fortunes have declined with Olivetti's, but this year Unesco declared the area a World Heritage Site.
Cucinelli shares much of Olivetti's vision, if not his taste for contemporary architecture. But then Cucinelli is taking the long view. 'The Greeks and Romans would plan for eternity,' he says. 'Now we only think about the next ten years. But the winery will still be here in 2,000 years. The theatre will still be here. The monument will still be here because it was built exactly as the Coliseum was built. I'm sure of it.'

He wants this place to connect with something profound but also project forward, to last. Of course, Cucinelli cherry picks the aphorisms of the classical world that have aged well. And anyway, the classical statuary and the Marcus Aurelius mottos are sort of a distraction: Cucinelli is much more an Olivetti than he is a Renaissance prince. And at Solomeo he is trying to answer very contemporary concerns, to run a very modern business – but with a classical twist.
As originally featured in the October 2018 issue of Wallpaper* (W*235)
INFORMATION
For more information, visit the Brunello Cucinelli website