Cutting room: behind the scenes of Rei Kawakubo's Met Fifth Avenue show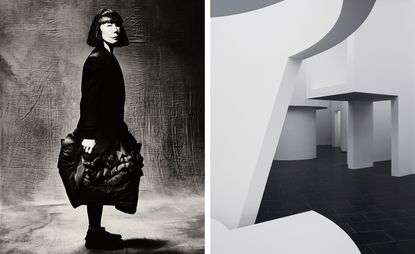 (Image credit: Nicholas Alan Cope)
This summer, the work of Rei Kawakubo, founder and creative director of Comme des Garçons, is the subject of an exhibition at the Costume Institute of New York's Metropolitan Museum of Art. Both Kawakubo and the curator in charge, Andrew Bolton, insist the show is not a retrospective – though that would certainly be Kawakubo's due.

The last exhibition at The Met dedicated to a living fashion designer was in 1983, when Diana Vreeland, former editor-in-chief of US Vogue, staged a show exploring the work of Yves Saint Laurent, believed then and now to be one of the 20th century's greatest. Two years earlier, in 1981, Kawakubo made her debut at Paris Fashion Week, presenting collections that radically reconsidered conventions of dressing, dressmaking and fashion as a whole. They were revered by few, reviled by many. Today, they seem uncannily prescient: a new way of looking at fashion, of embedding concepts, of cutting garments flat rather than tailoring them to the body. These clothes had a different form, a different look and a different intent.

Now 74 and still creating, Kawakubo is possibly the most important fashion designer of our age. One of the most radical things about her work is the fact that, in her eyes, much of her recent output hasn't been fashion at all. Her past eight collections, starting with S/S 2014, have been described by the designer herself as 'not clothes'. The S/S14 show was labelled 'objects for the body', which sounds like a synonym for clothes but is apt to describe pieces that more readily resemble soft sculpture than, say, a cocktail dress. Rather than surrendering to a visual effect, they seem to express an interest in space, in dimensionality.

A Comme des Garçons dress is frequently so multi-layered and complex, so structurally intricate, that it is more than merely 3D in a world of 2D fashion. Perhaps the fourth dimension to these pieces is an inner one – an exploration of soft engineering. How is the waist held? Where does your arm go? How does it feel? You have to be inside these 'not clothes'  to truly understand the architecture of the spaces Kawakubo has designed. Her latest design, however, is on a vast scale.
The extraordinary exhibition space of the Costume Institute show has been devised by Kawakubo – a concept presented, complete, to Bolton eight months ago, after her S/S17 womenswear show in Paris. The exhibition design doesn't look like a giant dress, but it kind of is. 'It is the same, intricately connected,' says Kawakubo via email (she hates interviews and seldom conducts them, even more rarely in person). 'The same aims deriving from the same sense of values – that is creation. In other words, always something new. I didn't want it to look like a museum exhibition.'

It doesn't. The expanse of The Met Fifth Avenue's Iris and B Gerald Cantor Exhibition Hall has been carved into niches, nooks and crannies, with walls deliberately thrown up to split the space apart. The overall effect is both cosy and confused, intimate and intricate. 'It is a massive white space of structures and sculptures, which lead the public on a voyage of discovery,' says Kawakubo.

There is undoubtedly a sense of journeying through her labyrinthine design: the sections overlap and intermingle, with straight lines and curves jostling one another in seeming disorder. This collection of structures resembles a dystopian cityscape. Inside the different spaces, visitors will encounter around 150 examples of Kawakubo's work produced over the past 40 years.

Her recent 'not clothes' are strongly represented. According to Bolton, Kawakubo originally wanted the exhibition to present pieces only from those eight collections, and he had to fight to include earlier examples. The exhibition design itself sits easily alongside Kawakubo's recent work, as another piece of non-clothing for people to inhabit. 'It's an environment,' the designer says. 'It is intricately linked. It is not a backdrop.' (She replied entirely in block capitals to my emailed questions; the emphasis is mine.)

'I feel as if that spatial awareness of the body, and that spatial awareness of the body within space, is incredibly important,' says Bolton. He's speaking on  the phone from New York in the final days of the exhibition installation. 'Even the early work emphasises the void between the body and the dress. She developed that void by lowering the boundary where the body starts and the clothing begins.' Boundaries don't interest Kawakubo.

When asked if she was conscious of rules about the display of clothes in museum exhibitions – sight lines, glass, the conventions of labelling – her answer was brief: 'I never adhere to any rules.' The space itself, Bolton explains, is entirely free of exhibition markings or descriptions. There is a booklet to guide viewers, should they so wish, but otherwise their voyage is without overt navigation.
'It's a completely white space, with the clothes,' Bolton says. 'You have the option to walk in and experience without interpretation.' The lighting, devised by Thierry Dreyfus, who also produces and designs the lighting for Comme des Garçons' Paris fashion shows, was deliberately intended to eradicate shadows and give the impression of… nothingness.

The Japanese word mu can mean emptiness, without, or merely nothing. It's an important concept for Kawakubo. Her reluctance to be interviewed reflects a reticence to over-explain her work. Backstage after her fashion shows, rather than the sermons offered by other designers, Kawakubo summarises her collections with neat elliptical phrases, or even single words: blood and roses, the future of silhouette, crush. Speaking to The Independent in 1995, she stated: 'The meaning is that there is no meaning.'

The designer resists Bolton's interpretations – or, at least, declares them to be his and not hers. 'I was reminded of Susan Sontag's essay "Against Interpretation",' says Bolton. 'Sontag basically says that intellect is the critic's revenge on art, that the critic can't do art so they talk about it instead. The idea of subjectivity as opposed to objectivity, emotion versus intellect.' Kawakubo echoes that: 'I don't have reference points.' She has approached the exhibition design in the same manner as her clothing. 'Energy, stimulation, new beauty' are the words she uses to express what she wants viewers to feel when exploring the space.

That space is, of course, her space. Having a living fashion designer – or artist, or anyone – directly involved in the curation and display of their work is generally problematic. A curator will have one perspective, a designer another. In this instance, the exhibition design was devised by Kawakubo in collaboration with Bolton and constructed by the Met. There is no outside interference – the vision is pure. 'She was very adamant, and I was very adamant, that it would be just the museum and Rei,' says Bolton. 'There's such a profound connection between our clothes and the environments in which they're shown. I actually encourage that collaborative effort.'

The collaboration here, though, was something of a dance, with Kawakubo conceiving the architecture, Bolton curating the designs, and those elements being brought together in a space envisaged as a distinct creative endeavour. 'Usually, how I work is that you have the curation and you work with a design concept that works around the curation. This is almost the opposite,' says Bolton. Kawakubo, as always, avoids easy categorisation: 'I like not to think of borders and definitions in my work.' 

As originally featured in the June 2017 issue of Wallpaper* (W*219)
INFORMATION
'Rei Kawakubo/Comme des Garçons: Art of the In-Between' is on view until 4 September. The exhibition catalogue is now available, featuring photography of Kawakubo's womenswear by the likes of Nicholas Alan Cope, Inez and Vinoodh, Craig McDean, Brigitte Niedermair and Paolo Roversi. A separate limited-edition exhibition album, with installation photography by Nicholas Alan Cope and commentary by Mark Wigley, is available at The Met Store from late May. For more information, visit The Met Fifth Avenue website
ADDRESS
The Met Fifth Avenue
1000 Fifth Avenue
New York NY 10028