London calling: Rag & Bone's Soho flagship is a tale of two cities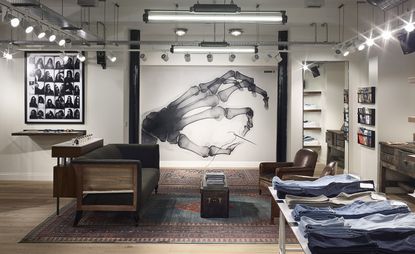 (Image credit: Rag & Bone)
It's hard to think of label Rag & Bone (opens in new tab), without also thinking of Charles Dickens. After all, it was in his tome Bleak House (1852-53), that the original rag and bone man Mr Krook was a victim of spontaneous combustion. The label, which celebrates it's 15th anniversary this year, also represents an aesthetic tale of two cities – London, the former home of its CEO and founder Marcus Wainwright, and New York, where the brand is based.

It is renowned for its blend of Savile Row-inspired tailoring and British fabrics, with a denim-focused downtown cool. Now the brand has further cemented its Victorian symbology, adding a third boutique to it's retail presence in London, housed in a 1904 building on Soho's Beak Street.

'When we open our stores, rather than imprint Rag & Bone onto a space, we try and take the bones of it, and the history of the shop itself and and weave the brand into it', explains Wainwright of the 14,000 sq ft, five-storey corner building. 'The store has a lot of English elements, but it also has some strong New York parts to it'.
The design pays homage to the building's Victorian roots, featuring its original raw brickwork and exposed plaster. It also boasts custom fittings, produced in Rag & Bone's Brooklyn-based furniture workshop, which has been creating furnishings for the brand's stores and showrooms since 2008. These are intermingled with antiques sourced in England, and British artworks. A mural by Stanley Donwood – the pen name of artist and writer Dan Rickwood – who has created Radiohead's album and posterwork since the nineties, sits in the store's stairwell. An artwork of x-rayed hands by British artist SHOK-1, features in the men's fitting room.

'We're able to create furnishings ourself, literally down to the nuts and bolts,' Wainwright says of the brand's Custom Fabrication shop. Furnishings, just like the opposing elements in Rag & Bone's aesthetic, have been designed to emphasise contrast. The store's main staircase is crafted from hot rolled steel, metal mesh, reclaimed wood and leather. Fitting room curtains and sofas have been upholstered using archive fabrics, including Harris Tweed. 'We've been using it for at least ten years. It's one of the most durable fabrics you would possibly use – a little bit itchy, but it will last 50 years!'

In store, a custom denim table features a steel frame, with a live walnut top inset into poured concrete. 'We want people to be inspired by the clash of things – some which look expensive, and others really dilapidated,' Wainwright explains. 'Rag & Bone is a brand which isn't precious. Just like our leather and denim, we're building things that will only look better with age'.
INFORMATION
For more information, visit the Rag & Bone website (opens in new tab)
ADDRESS
Rag & Bone
50-54 Beak Street
W1F 9RN
VIEW GOOGLE MAPS (opens in new tab)