Q&A with Stuart Vevers of Loewe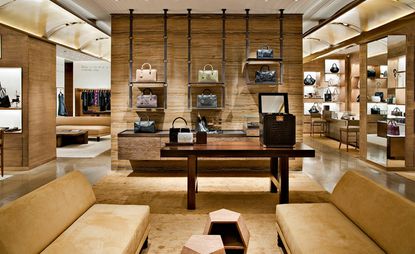 (Image credit: Loewe)
Stuart Vevers started out as Creative Director at Spanish fashion house, Loewe, two years ago this month, and his time at the helm has been nothing if not eventful.
The recent opening of Loewe (opens in new tab)'s flagship store in Valencia, and the appointment of swarthy matador-turned-model, Cayetano Rivera, as the face of the brand's upcoming new fragrance count among just a few of Vevers' achievements,and he has plenty more in the pipeline for Loewe, as we soon discovered when we caught up with him last week.
You've been at the helm of Loewe for two years now, how has it been?
It has been a great experience so far - with lots of exciting achievements already made - but there's an awful lot that I still have left to do. Living in Madrid has been great, it's granted me the opportunity to visit loads of new places and meet many new people.
What would you say has been your most important achievement to date as Creative Director of Loewe?
My most important achievement has probably been re-focusing the house towards its core values, and making them relevant to now.
Two years ago you told us that your aim was to remould Loewe's status to the 21st Century. How have you achieved this?
I think we're getting there. Seeing people I admire, famous or otherwise, wearing Loewe has been a big step in reaching that goal. Working with forward-thinking stylists, photographers and artists has definitely helped - it takes time to really see change, but I think we're starting to witness important alterations in the perception of the house.
What elements of the brand's heritage have you kept intact?
Leather has been a real focus. Loewe is, of course, best known for its leather products - it's an expert in its field. I've very much moved the focus back in that direction, towards clothes and bags.
Take us through the new flagship store design in Valencia?
Loewe has worked with a host of architects since 1939, when Francisco Ferrer Bartolomé designed our first store, in Barcelona. It was a real thrill to collaborate with acclaimed architect, Peter Marino, for the Valencia flagship, and it was made even more exciting as this was Peter's first collaborative project with a Spanish brand. The main focus was to create a luxurious space that was also relaxed and comfortable to be in. It's grown up, with a sense of quiet luxury, and there is something very Spanish about the space - the textured bronze façade; the 'Oro' suede (our signature colour) on the sofas and chairs, and the Madagascan and Tanzanian stones used in the flooring - it's been a long time coming, but I love the space, it just feels very right.
Cayetano Rivera is the face of the new Loewe fragrance. What is it about Rivera that encapsulates the essence of a modern Loewe man?
Cayetano Rivera is from a long family line of 'toreros' (matadors); and he encapsulates a strong Spanish essence. 'Toreros' have an intriguing strength of character – and tend to be very passionate, stylish and elegant, qualities associated with a Loewe man.
Any more exciting projects in the pipeline?
We've lots of exciting projects lined up for 2010 – Loewe's signature 'Amazona' bag is celebrating its 35th Anniversary this year, and we have shot a story of the bag travelling around Spain with the artist Nigel Shafran. We will be releasing a rainbow palette of limited-edition versions of the 'Amazona', and we are also set to launch an all-black collection of iconic leather pieces. Loewe is best known for leather and this new collection will champion essential wardrobe staples.