Show piece: photographer Alice Mann hooks up with performance art group Stasis
Cape Town-born, London-based photographer Alice Mann scooped both the Grand Prix du Jury and the Wallpaper* New Generation Prize at this year's Hyères International Festival of Fashion and Photography for her documentary portraits of South African drum majorettes. Here she hooks up with performance art group Stasis, who take to the floor in frills, frocks and florid hues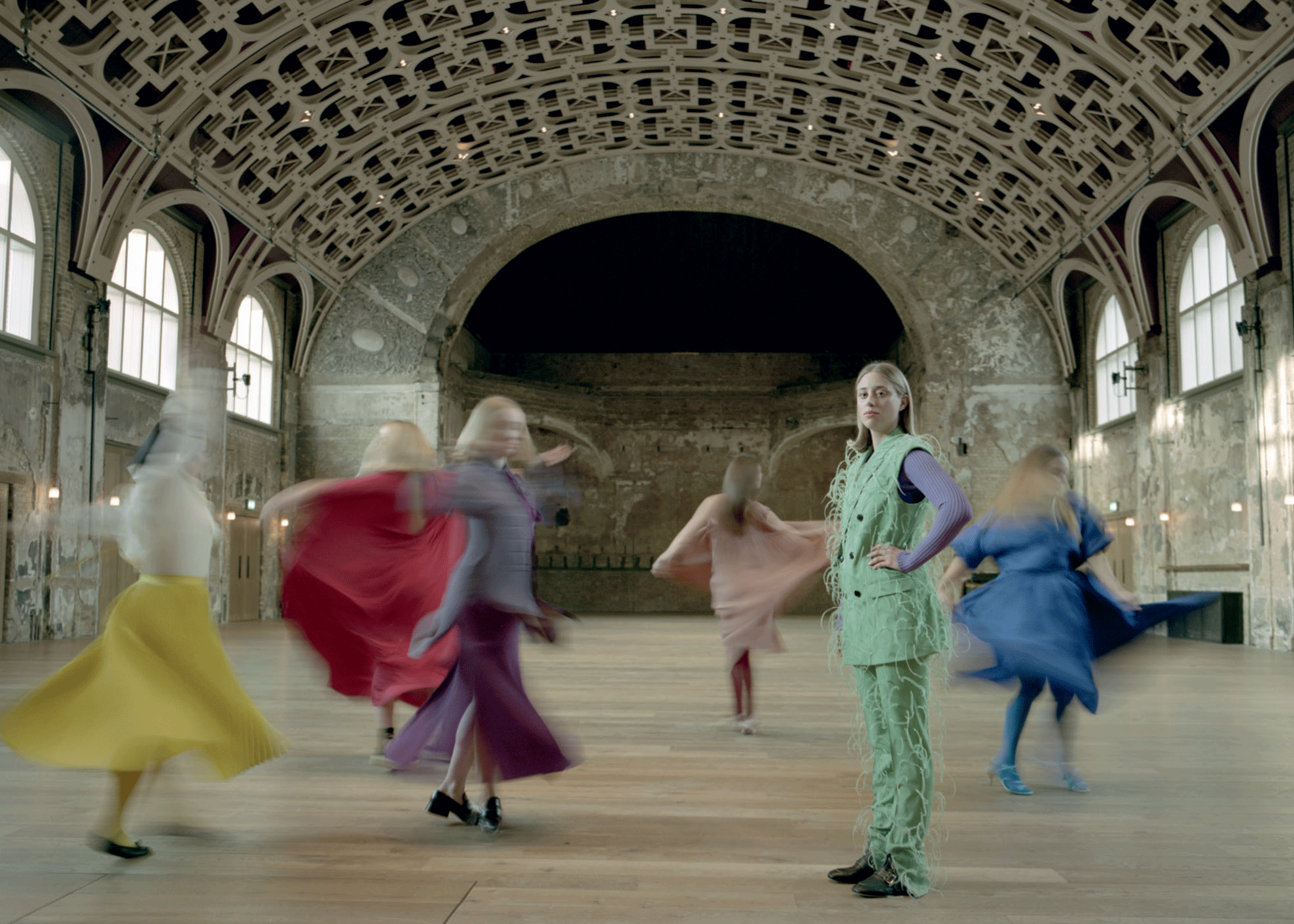 (Image credit: Alice Mann)
Alice Mann was only 26 when she won the prestigious Taylor Wessing Portrait Prize in 2018 — the first time the award had been given for a series of work. Mann's Drummies documented young female drum majorette teams in the photographer's native Cape Town — uplifting and strident. She shot the pictures in collaboration with the girls and young women at primary schools in some of the city's most marginalised areas. Despite their day to day reality, what we see in Mann's pictures is strength, joy, and a sense of self-worth that eschews stereotypes and reframes narratives. The series also won the Photography Grand Prix du Jury and Wallpaper* 'New Generation' x Hyères Photography Prize at 2019's Hyères International Festival of Fashion and Photography. It is currently in the process of being turned into a publication with Gost Books, due for release in 2020.

Drummies was something of a breakthrough for Mann and it's since toured the world, going on show everywhere from Arles to Addis Ababa. It marked the beginning of her ongoing study of the relationship between community and creativity, exploring African communities in Europe — where she is now based — and back at home in South Africa. In previous projects, Mann has photographed Congolese men living in London and Paris who use fashion to empower themselves, and she's documented the traditional clothing worn by the West African diasporic community to attend Sunday service at Walworth Methodist Church.
Earlier this year Mann was selected for Studio 1854's Adidas Breaking Barriers commission — spending two weeks with women footballers at clubs in London, it gave Mann a chance to evolve her interest in sport as a form of community and creative expression. Using a large, heavy medium-format camera means Mann has to work slowly and steadily. Getting to know her subjects is an essential part of the process — it's important to Mann to represent people as they want to be seen, and to see themselves.
All of this comes vibrantly to life in Mann's shoot for Wallpaper's December issue. In typical Mann style, she isn't interested in giving us the expected, but plays with traditions and tropes. Shot in the new Battersea Arts Centre, it combines colour, movement and a mix of old and new. 'I prefer to work on a concept by responding to the people I am photographing and the location. I did know I wanted to work with real people, and the three ladies we worked with were part of a female dance group. From there it made sense to work around a concept of dance/ performance,' she explains.
Trained in Fine Art Photography in South Africa, Mann mixes documentary and formal portraiture in her work, which gives it its distinct feel: staged and performed while spontaneous at the same time — and mature beyond her years.
It's not always easy to manage the demands of success, with all eyes on her next move. 'I am a huge perfectionist, so for me it's always been about working out a balance between needing things to be perfect and allowing the work to develop without putting to much pressure on it! Honestly, I did struggle a bit after feeling added pressure of other people being aware of what I was doing, so it took a little while for me to come to terms with that and not let it inhibit what I was doing.'
INFORMATION
alicemann.co.za (opens in new tab)
Charlotte Jansen is a journalist and the author of two books on photography, Girl on Girl (2017) and Photography Now (2021). She is commissioning editor at Elephant magazine and has written on contemporary art and culture for The Guardian, the Financial Times, ELLE, the British Journal of Photography, Frieze and Artsy. Jansen is also presenter of Dior Talks podcast series, The Female Gaze.
With contributions from