Can the Marina Abramović Method change your life?
Lady Gaga and Jay-Z are among those who have followed the Abramović Method to reach higher creative consciousness. Now, the artist's iconic approach has been translated into a series of instruction cards for all. If you don't try, you'll never know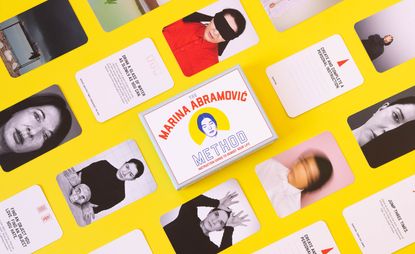 (Image credit: press)
Wallpaper* Newsletter
Receive our daily digest of inspiration, escapism and design stories from around the world direct to your inbox
Thank you for signing up to Wallpaper. You will receive a verification email shortly.
There was a problem. Please refresh the page and try again.
The path to creative transcendence has never been a clear one, but no one has come quite as close to forging it as Marina Abramović. The Serbian artist and titan of performance art has spent the last half-century stretching the human body to breaking point, offering herself as an object of experimentation for audiences, and eroding the seal between body and soul.
Through staggering performances, she's subjected her body and mind to distressing symbolic rituals, reconfiguring the thresholds of pain, endurance and suffering.
Among these, The House With The Ocean View (2002) at Sean Kelly Gallery, for which Abramović lived, entirely exposed, on three raised platforms for 12 days with no food and only water. And lest we forget The Artist Is Present(2010), in which she sat motionless for at eight hours per day over three months, engaged in silent eye contact with hundreds of strangers, and some friends, one by one. More recently, the artist dominated London with a multifaceted homage to soprano Maria Callas.
Her interest in participation is cemented in the so-called Abramović Method, an approach conceived by the artist to engage the public with participatory exercises to conjure 'inner strength, concentration and endurance' to confront life's challenges. The method blends radical contemporary art with self-help, making the otherworldly connotations of transcendence feel jarringly down to earth. Last year, as part of a year-long collaboration with file sharing platform WeTransfer, the artist unveiled a digital manifestation of The Abramović Method available 24/7 to the platform's 80 million-strong global community.
Now, this famed method is being made available as a set of physical instruction cards published by Laurence King. Created by Abramović and arts and fiction writer Katya Tylevich, the 30-card set makes some ambitious and alluring promises: to 'purge your mind of all unnecessary distractions and anxieties' and 'unleash your creativity'.
So what's on the cards? For starters, you might try 'complaining to a tree', in which you 'Choose a tree you like. Put your arms around the tree. Complain to the tree', for 15 minutes. If tree-hugging isn't your jam, perhaps you could try 'holding a mutual gaze' with a willing partner? Or 'releasing static electricity through a strand of your hair?' (there's a first time for everything).
In 2023 Marina Abramovic will present a solo exhibition at the Royal Academy in London, and become the first female artist in the institution's 250-year history to occupy the entire gallery space with her work.
INFORMATION
The Marina Abramović Method, Instruction Cards to Re-boot Your Life, by Marina Abramović and Katya Tylevich, will be released on 10 February 2022, £16.99. laurenceking.com
Receive our daily digest of inspiration, escapism and design stories from around the world direct to your inbox