Nautical but nice: accessories label Lonb's debut boutique cruises into London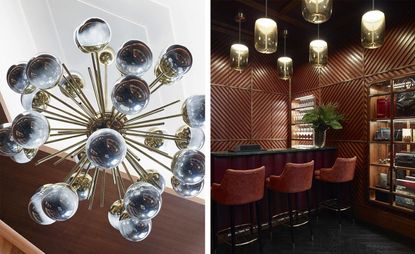 (Image credit: Michael Bodiam)
'During the sixties, craftsmanship became infused with a soul and a spirit,' explain Reinhard Mieck and Melissa Morris, co-founders of the new accessories label Lonb, who cite the decade as a pervading aesthetic influence. 'The result was design of the highest quality with unparalleled functionality.'
Exquisite utility aimed at the global jetset is at the heart of Lonb's designs. Two years in the making, these are feats of functionality. Take its Runaway clutch, which features a series of inner compartments, for boarding passes, mobile phones and sunglasses. Unfold the clutch, and it can be clipped into the interior of a Sergeant tote bag or The Rider backpack, allowing its wearer easy access to valuables. 'People are once again looking for something with soul, perfected and personal,' Mieck, the former chief executive of Labelux, and creative director Morris explain.
The duo opened Lonb's first boutique on London's South Audley Street earlier this month, and have extended this precision to its retail design. The store – made up of teaked walnut panelled walls, gently curving shelving, marble and rich leather – is inspired by vintage Riva speedboats. 'We wanted to transport the same feeling of warmth and luxury you get from being on one, glamorous but unpretentious,' they explain.

Equally elegant, Mieck and Morris have forsaken a traditional cashier's desk for a green marble-topped bar. 'We dream that people will stop by and trade travel stories, and enjoy a glass of amarone, the wine that is the namesake of the house,' they say. While the store embodies the Lonb lifestyle, it also nods to design features of its debut pieces. A deep red signature colour lines both the Alcantara interiors of its bags, and is noted throughout the store.

'Precise lines with subtle rounding are also a signature we used throughout our bag designs,' they explain. 'We integrated subtle rounding and chrome profiling into the store to create a refined yet welcoming feeling.' The boutique's curved shelves also evoke the functionality of the pieces that they house, seen in the rich fabrics that line them, which can be changed at will. Contrasting geometric lines are emphasised in the replication of Lonb's diamond motif design, in the ceiling's cutouts, the store's matt black parquet flooring and the jewel like display table at its centre.

A vintage chandelier, sourced at the Marché aux puces de Saint-Ouen in Paris, also illuminates the space. Adding a touch of well-travelled thriftiness, it sits alongside a series of bell jar-style lamps with nautical knots and a tribute to sailing. A Venetian lamp also hangs in the store's bathroom. 'That's one of our favourite surprises,' Mieck and Morris explain. Like the modular designs of Lonb's bags, the duo leave no detail unnoticed.
INFORMATION
For more information, visit the Lonb website (opens in new tab)
ADDRESS
59 South Audley Street, London, W1K 2QN
VIEW GOOGLE MAPS (opens in new tab)