The ceramics show celebrating Soho's drinking culture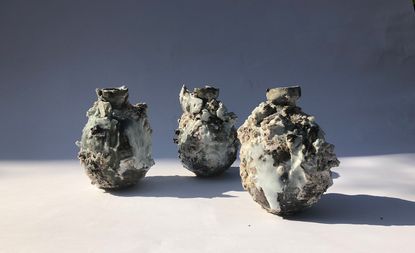 (Image credit: TBC)
When Jonthan Anderson moved to London in the Noughties, he ate out in Soho every night, mesmerised by its bustling streets, densely populated with late night bars, sex shops, coffee stop offs, and elegant eateries. When the designer opened his eponymous brand's first boutique in March, just days before the UK went into its first lockdown, he settled on a two storey former corner shop on Soho's Brewer Street, which beckons fashion fans into its interior with an illuminated neon sign. 'For me, I'm more excited about this area than Bond Street,' he says.

Anderson enlisted 6a Architects to design his brand's flagship, who he first collaborated with in 2017 for his exhibition Disobedient Bodies at The Hepworth. The 13,000 sq ft space features details that celebrate the vibrant history of Soho, from checkerboard tiling that nod's to the location's original flooring, to shelving and cabinets constructed from faux wood formica and brass trim, that evoke interior elements of neighbourhood cafes and bars from the 60s, 70s and 80s. The designer was also inspired by Kettle's Yard in Cambridge (where he also held his Resort 2016 show) and now his flagship has also erred on gallery space, with the opening of the exhibition 'Setting a Hare in the China Shop'.
'When we opened the store before the pandemic, the idea was to have five exhibition shows a year, giving people I really respect, or people I collect, free reign of the space,' he explains. The debut show features works by North London-based Japanese ceramicist Akiko Hirai and Russian-born fine artist and set designer Ivan Kochkarev. Hirai, who creates decorative and practical pieces, has created vessels and vases that draw on the drinking culture of Soho, from traditional tea sets to goblets, sake cups to beer mugs. They highlight her glazing techniques which include finishes resembling ice caps. Kochkar's oil on canvas paintings include 'Soho Hares', which depict long-eared leaping animals, on which the name of the exhibition was based.
RELATED STORY
'I was inspired by this idea of having very late nights in Tokyo and stumbling into a conceptual store selling beautiful things,' Anderson adds of the inspiration behind the debut show. 'I love the physicality of these pieces.'

'In a weird way, I'm glad the show is happening this year,' Anderson adds, referring to opening a space inspired by the energy and hedonism of Soho, which for many months has seen a restriction on revelry. 'Fashion needs to change. Things need to be more personal and about what you love, and I'm lucky to be taking on the role of curator. This isn't just about clothes.'
INFORMATION
'Setting a Hare in a China Shop' on view until 20 December. jwanderson.com (opens in new tab)
ADDRESS
JW Anderson
2 Brewer Street
London, W1F 0SA
VIEW GOOGLE MAPS (opens in new tab)