Jonathan Anderson on setting up shop in Soho
JW Anderson has opened its first UK flagship in the west end, cleverly blending glossy new finishes with references to the building's not-so-polished past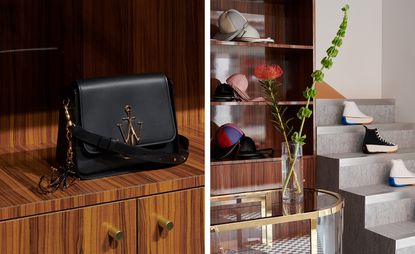 (Image credit: Olivia Estebanez)
The glowing neon signage that wraps the front of JW Anderson's newly minted flagship makes it somewhat camouflaged in its gritty Soho surrounds. Perched on the corner of London's Brewer and Wardour streets, a 'Las Vegas' amusement arcade sits directly next door while a jumble of tattoo parlours, adult bookshops and numerous Soho walk-ups sit happily next to frozen yoghurt cafes and busy coffee shops in the surrounding streets. It's only on closer inspection, when you look through the store's tall glass windows that it becomes apparent that this particular shop is not quite like any of its neighbours.

'It hasn't really hit me that we're finally opening a store after 12 years of doing this,' reflects Jonathan Anderson looking around the space in disbelief. 'But in a weird way it feels like exactly the right time.'

Anderson, who moved to London in the noughties to attend the London College of Fashion has a longstanding love of the neighbourhood and singled it out as the perfect location for his first bricks and mortar store.

'When I first moved to London, I would eat in Soho every night,' he recalls. 'I would go to Maison Bertaux (a famous cake shop on Greek Street) and there was an amazing woman there who would always say, "you can't sit there" when you tried to sit down, because there was some other customer who always sat there. It actually reminded me of where I grew up in Northern Ireland because you'd be told the same thing in the local pub. So to encounter that in London, which is one of the biggest cities in the world, was kind of comforting.'
The Victorian building that the flagship occupies previously housed two separate stores on its ground floor, one of which was a corner shop, that, according to Anderson, was the 'go-to place' for late night cigarettes. The stores were divided by a typically narrow Soho entranceway that led to flats above.

The new 1,300 sq ft interior, which is spread across the ground and basement level, is designed by London practice 6a, and like the neighborhood itself, cleverly blends glossy new finishes with references to the building's not-so-polished past.

The brief, Anderson reveals, was non existent, but having already worked with 6a on his career-defining show, Disobedient Bodies, at The Hepworth in 2017 he was confident that the architects had an innate understanding of what he wanted.
'What we had done at the Hepworth was kind of a rehearsal,' says architect Tom Emerson, who set up 6a with his wife Stephanie MacDonald after they graduated from the RCA in 2001. 'We had got to know Jonathan and knew what he liked.'

'In Mayfair your job is to stand out and to outdo your neighbours, but in Soho you just need to blend in. It's an area that holds a lot of memories and people are fiercely loyal to it, so you have to do something that joins in and participates in the neighbourhood.'

'So we started this project by asking, "what happens when you place JW Anderson into the Soho environment and which parts of that environment we interested in keeping?"'.

One of the most notable retained elements is the strip of chequerboard flooring that runs across the store's ground floor linking with a series of steps that trace the location of the building's former walk-up hallway. The original tiles and stair were ripped out before they could ask for them to be preserved, Anderson informs, but these are near identical replicas.
The stairs are now used as display shelves for JW Anderson's Converse collaboration and the tiles create a dividing line across the interior, clearly indicating where the former shops used to be separated. The Wardour street shop space is bright and lined with glossy aluminium shelving, polished stone floors and immaculate white leather seating. Meanwhile the Brewer Street space where the corner shop used to sit is full of shelving and cabinets made from faux wood formica and brass trim. Blue vinyl tiles line the floor while the original patchy paintwork covers the ceiling.

Emerson notes that elements such as the Formica are a nod to the distinctive interiors of local cafes and bars from the 60s, 70s and 80s where faux materials were all the rage. Likewise, the fluted aluminium used on the facade nods to the Italian cafes that once populated the neighbourhood.

'This abrupt contrast is also present in Jonathan's work, which is also why we wanted to translate that into the interiors,' explains Emerson.
Past the cash desk towards the back of the space, a set of stairs covered in plush cream-colored carpet edged with incongruous strips of bright yellow nosing lead down to a more intimate basement level. Here fabrics hang behind leather-wrapped rails that display JW Anderson's menswear and womenswear collections. Contrasting with the sumptuous carpet and fine leather detailing, the basement's original alcove has been refinished with a rough textured plaster that Emerson describes as 'how you might finish a London basement that you would never expect anyone to see'.

One of Anderson's key references for the project was Kettle's Yard art gallery in Cambridge, which Emerson says is an example of a 'very British idea of cultured modernism'.

'You're discreet but also very knowing,' he explains. 'There are things you are connected to, but you're not going to show off about it. Somehow Soho is not unrelated to this idea. So in a sense there wasn't a brief for this project, but there was a place.'

For Anderson, the collaboration has been a rare chance to take a back seat in the creative journey. 'I think as a creative, you naturally become a bit of a control freak, and what I've really enjoyed about this is being able to take a step back and enjoy the process.'

Going forward the space will be more than just a showroom. JW Anderson will host workshops, readings, exhibitions on ceramics and art, as well as events with the wider Soho neighbourhood. 'It's going to be a snapshot into the brand,' says Anderson. 'As much as everyone is consumed with the online experience, it's still important to have a physical space. It's kind of like porn somehow,' he compares with a laugh. 'Everyone can get porn online but they still come into Soho. Everyone can get fashion online but they will still come into Soho.'
RELATED STORY
INFORMATION
ADDRESS
JW Anderson
2 Brewer Street
London, W1F 0SA
Receive our daily digest of inspiration, escapism and design stories from around the world direct to your inbox