In conversation: when Giorgio Armani met Paul Smith
As part of our October 2022 issue, featuring guest editor Giorgio Armani, the two legendary fashion designers talk shop, discussing everything from role models and career highs to their strong Italian and British roots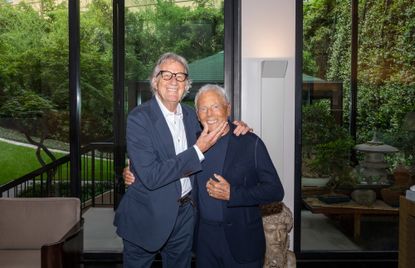 (Image credit: TBC)
In an industry that often moves at whim with breathtaking speed, Giorgio Armani has shown remarkable staying power. Expertly steering his eponymous brand for more than four decades, he has taken his vision of soft elegance from fashion to interiors and hospitality, built a multi-billion euro empire and, with Armani/Silos, created one of Milan's foremost cultural institutions. As guest editor of Wallpaper's October 2022 issue, Mr Armani invites fellow fashion legend Sir Paul Smith for a wide-ranging conversation about role models, design signatures, the virtue of consistency, the tide of technology, and much more.
When Giorgio Armani met Paul Smith…
Giorgio Armani: Paul, you started with your little shop in Nottingham, I started as a window dresser and then a buyer at La Rinascente [in Milan]. How did your experience on the shop floor shape your vision as a designer? For me, it was an invaluable asset, a call to realism that I still treasure.
Paul Smith: There's nothing better than hearing what the customers are requesting, commenting on or criticising, and it does keep your feet on the ground – but then, over the years, I learned that you've got to get the balance right between attention-seeking clothes that you use for a catwalk or for publicity, and the clothes that pay the rent.
I was wondering whether there was an important role model or mentor in your earlier life who guided your decisions, and helped you establish yourself as who you are today.
GA: My real mentor, supporter and sidekick in the business has been Sergio Galeotti, my business partner and the one with whom I started the company. Apart from talent, Sergio saw things in me that I didn't. He pushed me to believe in my ideas no matter what, and helped in every way. Without him, there would be no Giorgio Armani enterprise. I owe him a lot and even though he passed away almost 40 years ago, he is still a presence in the house. His spirit and energy persist everywhere.
And are there any designers you admire and look up to? I have always had a fondness for Coco Chanel and for Yves Saint Laurent. What about you?
PS: My wife Pauline and I were lucky to visit some of the great couture shows when we were first starting out, which was just an amazing experience and has definitely informed my steadfast focus on maintaining the quality of everything I make. We were also fortunate enough to get to know Yves and Pierre Bergé. The last Le Smoking that Yves made was for Pauline. She still has it in her wardrobe and seeing it gives me goosebumps.
I wanted to be a racing cyclist until I had a bad accident when I was 17. What would you have been if not a designer?
GA: I wanted to be a medical doctor when I was young, but that was not really my calling. I would probably have been a movie director if I was not a fashion designer. I love the idea of creating a whole ambiance, dressing the people that inhabit it and getting to create the story, too. And I've always been a big cinema buff.
PS: You have had some amazing success in film dressing, from American Gigolo to The Wolf of Wall Street. Do you consider film an important tool for showcasing your clothing, and do you enjoy the process? I have found it can be a huge amount of work!
GA: Film can indeed be a huge amount of work. What I enjoy the most about working in cinema is the fact that I can dress characters, and that means matching clothing and personality in many ways. I love to explore the symbolic and psychological power of clothing. In some movies, like American Gigolo, I had the opportunity to showcase my style to the wider public. In other cases, I worked with period costumes, making them my own way. Cinema is more than a tool to showcase style. It has the power to build an aura around the name of a designer, and that has been a huge asset to the Armani world.
In a world of bigger and bigger fashion conglomerates, you keep your independence just as much as I do. What are the pluses and the minuses of being your own boss?
PS: For me, independence is the freedom of action, and the fact that you can steer your own destiny. I love the joy of spontaneity. Obviously, the difficulty is that you have to wear many hats: the designer, the businessman, the salesperson. And although you have a good team around you, ultimately the final decision lies with you.
GA: From my perspective, there is an essential British quirk to your vision. Whereas I see myself as quintessentially Italian in my appreciation of soft elegance – do you agree?
PS: I've been enjoying your career and your clothes since the early 1970s, and you've always had that same aesthetic, which is to do with quality, freedom of movement, softness. And your colour palette has always stayed more or less the same, with gentle taupes, creams and putty colours. Mine, being a British designer, has what we call 'tongue in cheek' – classic with a twist and quite playful. Which in many countries is very positively received, and in other countries is not always understood.
GA: We both started with menswear, and an idea of womenswear evolved out of that. For me, the straightforwardness and efficiency of the masculine wardrobe brought into feminine territory produced a long wave. Was it the same for you?
PS: For me, dressing men is totally natural and inhabits the majority of my business. But we have a relatively small collection for women, which does well. What is interesting with fashion for women is that it's far more vulnerable, because trends change so often. Brands go out of favour and so it's more of a challenging market.
GA: Another similarity between the two of us is our fondness for patterns. Your way with stripes, in particular, strikes me – could you tell me more about this?
PS: I've always used printed textiles and patterns. It goes back to the fact that my clothes are about putting simplicity with the unexpected. They are not really attention-seeking, overly designed. When it comes to shirts, or especially dresses, the pattern is where I can make a statement. As a visual person who loves the arts and travelling, I find printed textiles come quite naturally. With regard to stripes, as we both know, striped fabric for men, especially in shirting, has been with us for many, many years. It's only when my business started to develop a little that I had the opportunity to design more stripes. Initially, it was just navy blue and white stripes or burgundy and white stripes. My famous stripe came completely by chance, and has stuck with me until today.
Are there any particular influences that you find yourself often returning to? I have a large business in Japan, and have found the country a huge source of influence since I first started visiting in the 1980s. Am I correct in thinking that your womenswear design often takes inspiration from Asia, and your trips to the continent?
GA: You are correct. I am really fascinated by other cultures, by other ways to perceive dress and decoration, in particular, by those from the Far East. It came over the years with my travels and many other experiences. What attracts me to the aesthetics of China and Japan is the soulful simplicity, the elegance and the spareness. I like that everything about China and Japan is so quiet, so calm, so pure, but so full of power.
What is fashion for you? Is it more about running a business, or dressing people?
PS: I think fashion is a difficult word to describe, in the same way style is a difficult word, too. Style for me can be to do with posture or good manners, as well as how you look. If you can put people in nice clothes, it really does make them feel special, authoritative, sexy and strong. Clothes definitely do a job, but we can see that so much in the industry now is to do with promotion and superficiality.
I consider that you have found the balance between the need to be commercial and also in tune with changing trends. Is there a particular inspiration or design that you return to that reflects this realism in your collections?
GA: This might sound rather obvious, but I constantly return to the softly tailored jacket. In both menswear and womenswear, it shows an ability to endlessly evolve while being consistent with my design values. A jacket is an everyday item, a very pragmatic piece that nonetheless shows the immense power of clothing. It gives presence, stature and dignity. And it is one piece: you attain more with less. Someone who has achieved the same balance, for me, is Robert Wilson, the stage director. Bob's way with spareness in stage design, light, costumes is incredibly inspiring in this sense, as it is endlessly repeated in his work but never in the same way. I also deeply admire Jean Michel-Frank for his way with shapes and materials, the sense of elegance his work emanates. It is something I always look at for Armani Casa.
I think we are both realists, we like to dress the daily lives of people, avoiding unnecessary flights of fancy. In this respect, how do you see creativity?
PS: I completely agree with you, and I think what is called the king's new clothes, or the reliance on press or modern communication, is alien to us. We want our business to keep up with the way people communicate, but the foundation of our collections has stayed true since the beginning.
Collaborations with other design companies have been a large part of my life as a creative, and I gain a lot of insight working with teams in other disciplines. Do you enjoy collaborations and have you done any that you are particularly happy about?
GA: Life, and work for that matter, is an endless learning curve, so I make sure to absorb everything I can from those I come in contact with. I have learned a lot by collaborating with stage directors and movie directors to create atmosphere, to suggest feelings. And, of course, I collaborate actively with the factories that produce my items, in order to make everything of the best quality possible. This said, co-branding is not really my cup of tea. Emporio Armani did a collaboration with CP Company, and it was very exciting as both brands are iconic and of a certain Italian style. But this was a one-off. Collaborations today are way too much of a marketing drive, and lack the authenticity I crave.
PS: The world of fashion can be very flippant and changeable, but I think the joy of both of our brands is that we have stuck to our guns, do you agree?
GA: I do! Consistency to me is a virtue, not least because it allows one to grow and change within a definite frame. That, for me, is way more effective than flipping ideas every six months. There is something reassuring and even strengthening to sticking to one's guns.
I have a feeling that fashion somehow is morphing with entertainment. Which on one side is exciting, on the other frightening. What is your personal take on this matter?
PS: I think the main changes I've noticed are the reliance on technology for promotion, the fact that many companies are now run by stylists and not trained designers, and the over-reliance on a logo. The actual skill of cutting shape, and the quality of construction, have fallen by the wayside with many brands.
Is there one particular aspect of this change that you find disturbing or difficult? And something that you think has changed for the better?
RELATED STORY
GA: The current interest in fashiontainment [the merging of fashion and entertainment] has completely diverted the interest of designers away from the materiality of clothing. Everybody wants to be a showman, and making clothes is the least interesting part in this sense. This is unbearable for me. We are here to provide modern and interesting clothing that people will actually wear, and to change people's lives and perceptions with that. Aren't we? A change for the better, I have to say, is the collective drive towards a more responsible industry. We have only one planet, and have to take care of that, at every level, from design to consumption.
I design furniture, you create special objects in collaboration with renowned furniture brands. What do you like about dressing the space that one inhabits?
PS: I think we've witnessed how much interior design has changed over the years. If you are really immersed in it, which we both are, then there is great fun in the texture or pattern of a carpet, or the colour of a wall, and it just becomes a blank canvas to play with.
GA: At one point, rather naturally, I moved from clothing to interiors. From dressing the body to dressing the space a body inhabits. That led to hotels, then a restaurant, flowers and so on. Gradually, I created a lifestyle; you've done so, too. Do you recall how that happened?
PS: The way you have built your lifestyle projects has been admirable, amazing, and on a far bigger scale than mine. Mine's more of an interest and has a small commercial side to it. We build your confidence in the way we like to have things, see things and behave, and that leads to additional products that reflect our spirit.
One of the strengths of your business is how solid its foundations are. You're not just independent in a business sense, but also in how you operate – your logistics are as strong as your design. Was that very conscious? Or like me, did it come as a result of developing very organically and gradually without this expectation of rapid growth and the perils that it brings?
GA: I started as a designer, with a vision that I thought was relevant for the mid-1970s. The first ten years of that enterprise were wonderful: I focused on creativity, Sergio took care of every aspect of the business, protecting me. When Sergio passed away in 1985, replacing him with someone else was out of the question. It was a hard moment, which I overcame by deciding that I would take care of everything – there was no other way to protect what we had and make it grow. I became a designer-entrepreneur, which is how I label myself today. So, to answer your question, I learned all along the way, from mistakes and from successes. As a proverbial control freak, I worked hard on making everything come together, from design to logistics. The best part is that, to this day, I am still learning.
What is your view on failure? Are there any big mistakes you learned a lot from? One of my biggest failures was the Japanese-inspired collection of 1981: a huge success with the press and a total commercial wreck. I learned how to balance creativity and business savvy.
PS: I had this conversation very recently when I was talking about my Foundation. I was asked about significant failures in my history, and I struggled to recall anything. I think it's because I'm a very positive person and any mishaps or stumbling blocks I've experienced, I've always tried to concentrate on the things I've learnt from them. That's not to say I haven't had a few disasters in my time, I think my memory sometimes magically erases them, which is very generous!
GA: I love being in the sea on my yacht, I have seen pictures of you with a lovely Mini. Are you more of a car or a boat person?
PS: I am definitely more of a walking, bicycle or car person. Although I love being by the sea, I don't have a great desire to be on the sea. I enjoy fresh air, country walks. I love living in town because I enjoy the excitement of exhibitions, people, cuisines from different countries.
I am a collector of many things, from artworks to bicycles. I am motivated mostly by the things I love and that bring me joy. Do you consider yourself a collector of anything? Is there any item you own which you particularly treasure?
GA: Collecting is something that is quite far from me, unless houses fall in the category. My biggest indulgence, in fact, is owning a place in the cities I love, so that I can feel at home wherever I go. For the rest, I do not own much, but there are objects, just like you said, which are to me objects of affection, like Uri, the life-sized gorilla that stands in my living room in Milan, or little things that I collect in my travels. My office, though, is quite spare and monastic, complete with my signature incense scent.
PS: Over the years, the rabbit has become a lucky charm of sorts for me; my wife started this years ago by presenting me with a rabbit charm she had found before every show – do you have any symbology in your life or mascots which you return to?
GA: The navy blue T-shirt I usually wear at the end of my shows is definitely my lucky charm, and an expression of my fondness for pragmatism and uniform dressing. It started, just like in your case, by pure chance and it stuck. I might wear a white shirt and necktie for the couture presentations, but I do really feel empowered by that humble blue T-shirt. It is as straightforward as I am.
PS: I admire how you have created a seemingly loyal group of celebrity fans and friends who support you at your events and shows. Did this come naturally to you, and how do you think it has impacted your life and your business?
GA: Working with celebrities and movie stars came rather naturally to me, and early in my career. It all started in the 1980s when the actors of the new Hollywood, looking for a new style for the red carpet, came to me. That created a bond between me and them and this bond has grown over the years, creating real friendships and extending quite widely in show business. That also translated into a huge communication tool: one based on authenticity and stardom.
Are you happy, Paul? You seem to be a happy person.
PS: I am blessed with a beautiful wife, whom I've been with for many, many years, since the age of 21. I'm a very optimistic person, I think we're both the same star sign of Cancer, I don't know whether that means that we are more positive and happier than other people, but I certainly enjoy every day and I never forget the expression 'every day is a new beginning'.
I love Italy and have a home in Tuscany which I spend – at least – the summer in. It is the place I feel most relaxed. You are a true Italian to me and epitomise the relaxed glamour we associate with Italy. Where are you happiest, and do you spend enough time there?
GA: I am more relaxed and free, as I told you, when I'm close to sea. Water is really my element so I love being in my house in Pantelleria or in my house in Antigua. The landscapes are dramatically different, but the energy of the sea is just the same. I spend as much time as possible in both places. Over the years, I've learned that taking time for yourself is important and that one has to care about personal rest. Most weekends, I'm at my villa in Broni, near where I was born: a beautiful mansion with a park and lots of animals, including a giraffe. I am sure you would love it: it is definitely Italian, with just a dash of magic.
Is there a place where you would live if you were not living in London? Does London define you and your personality in any way? I would not live anywhere else than Milan.
PS: I love London. I love that it's a melting pot of so many different cultures. In the UK, lots of people choose to escape the city at the weekend and go to the countryside to unwind and be in nature. Whereas I love my weekends in London, visiting galleries, spending time working in my shops and meeting the people who pay my bills. I do enjoy visiting new cities, and the holidays that I spend in my home in Tuscany, but I always love coming back to London.
I am very impressed by your garden in Milan. Is that something you take particular pride in?
GA: My garden makes me proud, and I have gardens in most of my properties. I do not have a favourite spot, because the whole garden is a favourite spot: a place of peace and retreat in the midst of the city. How can one beat that? I love feeling in touch with nature: it gives me serenity and room for thought.
Paul, how do you cope with technology? Do you like social media? I do a little to keep au courant, but they are not really my thing: I find them too fast and too fickle.
PS: My dad was an amateur photographer and I inherited his love of taking photos. Before I had an iPhone I would take a camera everywhere I went, and the photos I took were an endless source of inspiration for me and for my team. Now I take all those photos on my iPhone and some of them are used on my own personal Instagram. Having the whole catalogue in my pocket is a brilliant reference point. I am surrounded by a passionate and young team who keep me informed. I'm very aware of how important it is to keep up, and the speed at which everything happens now is pretty mindblowing and unlike anything I have experienced in my career.
How has your relationship with privacy evolved over your career? Are you happy with the fame that came with your success, or would you prefer to have remained anonymous?
GA: This is a very hard question Paul, which I think calls for no simple answer. By nature, I am a private person, so probably I would have stayed anonymous, but fame is also something that makes me happy, because it allows me to connect with an audience well outside of fashion, and it allows me to say things and be heard. I have been reflecting on this a lot in the long pandemic winters: fame has made me a role model to many, and this is a responsibility I willingly take on. I think of fame as something that pushes one to do better, not as the badge of total visibility.
PS: I'm sure you've done your fair share of interviews throughout your career. What's a question that you've rarely or never been asked that you'd like to answer?
GA: I have been asked all kinds of questions, and dutifully answered all of them. Sometimes I think I would have loved to be on the other side, and be the one who asks questions – it is a much easier position in a way. Which, in fact, is what has made this dialogue with you so enjoyable for me.
Paul, would you ever retire? When I was younger I thought that, by my eighties, I would be on permanent vacation, but the work is so exciting, so energising, I really cannot let it go. Working keeps me alert and, relatively, young. What about you?
PS: I know people find it difficult to believe, but I really do honestly enjoy what I do every day and wouldn't change it for anything. I find what is often referred to as 'relaxing' as a very strange experience and my mind is just constantly on my work. If you enjoy what you do, then the notion of a vacation or of retirement is very alien. I feel no shame in saying I would happily just keep on doing it for as long as my mind and body allow me to.
GA: Finally, Paul, would you be able to define yourself? I see you as a bright, positive person.
PS: A down-to-earth boutique owner!
The same question to you, how would you define yourself? And how would the people whose opinions you value most describe you?
GA: I would describe myself as a very focused person who looks icy from the outside, but has flames burning inside. In other words, I am a passionate individual hidden behind a self-possessed persona. People I love and trust would describe me exactly like that.
INFORMATION
A version of this article appears in the October 2022 issue of Wallpaper*, available in print, on the Wallpaper* app on Apple iOS, and to subscribers of Apple News +. Subscribe to Wallpaper* today!
Jack Moss is the Fashion Features Editor at Wallpaper*. Having previously held roles at 10, 10 Men and AnOther magazines, he joined the team in 2022. His work has a particular focus on the moments where fashion and style intersect with other creative disciplines – among them art and design – as well as championing a new generation of international talent and profiling the industry's leading figures and brands.