Fully Fashioned: Pringle of Scotland toasts 200 years with an anniversary exhibition in Edinburgh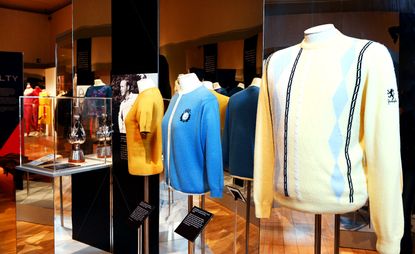 (Image credit: Ian Jacobs)
In today's modern world, where our clothing needs are strongly driven by our lifestyles choices, it's hard to imagine a time when knitwear didn't constitute a daily wardrobe essential - ticking off comfort and movement in one multitasking loop.

Picking up that thread, a new exhibition retraces the knitwear industry's lesser-known Scottish birthplace and native Robert Pringle's central role in fashioning our modern wardrobe as one of the world's first luxury knitwear manufacturers. In celebration of his heritage brand's bicentennial birthday this year, the 200-year-old house has rummaged through its archive to stage an anniversary showcase titled 'Fully Fashioned' at Edinburgh's National Museum of Scotland (opens in new tab).

'This exhibition is about a company that started out making silk hosiery and undergarments and with the developments of the 20th century became really important to modern life,' says curator Alistair O'Neill (opens in new tab) of Pringle's intimate beginnings that forged the international fashion brand that it is today. 'Clothes that you used to wear as underwear became clothes that you wore to show that you were modern, and allowed you to participate in life, which is why we all still wear them,' he continues. 'It's about practicality and warmth and movement of the body in a way that wovens just don't allow for.'

Many of the brand's greatest advocates are also featured in the exhibition from a personal note from Her Majesty The Queen (Pringle has held a royal warrant since 1948) to Princess Grace of Monaco's cardigan, borrowed from her daughter Princess Caroline of Hanover's closet.

The classic twin-set (originally adopted from the golf course) has been a Pringle mainstay since the 1930s and is well represented alongside the brand's signature argyle pattern - first made famous by the Duke of Windsor. 'Pringle has always been really good at marrying technology with design,' O'Neill explains of the house's early intarsia patterns that were incredibly intricate and labour-intensive to produce.

Current head of design, Massimo Nicosia's explorations into 3D printing and knitting with a range of materials - from leather to fur - take the exhibition right up to the present day. 'My favourite piece is an Op Art cardigan designed by Stuart Beaty in the 1960s, which feels completely current,' says Nicosia. 'A screen-printed cashmere design by Lesley Brown uses the same techniques as Andy Warhol used in his art at this time,' adds O'Neill.

In addition to the archive array, O'Neill has also commissioned Scottish choreographer Michael Clark to produce three short films that merge movement and knitwear via dance, offering a contemporary spin on the post-war era's 'sweater girl', shot in East London. It's a progressive fusion between tradition and technology that continues to reinvent Pringle's design legacy.
ADDRESS
Fully Fashioned: The Pringle of Scotland Story (opens in new tab)
National Museum Scotland
Chambers Street, Edinburgh EH1 1JF, United Kingdom
VIEW GOOGLE MAPS (opens in new tab)