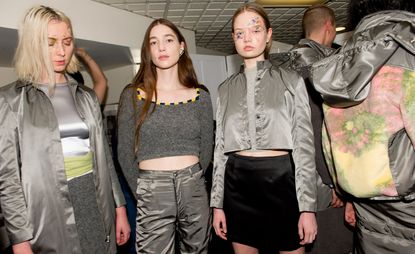 (Image credit: Jason Lloyd-Evans)
Scene setting: An empty retail space that once housed a lingerie store in Midtown south before the area became a retail hub. It was remodeled in the 80's, and still carries that aesthetic some 30 years later. Models who included artists Hayden Dunham, Susan Cianciolo and Collier Schorr, emerged from the second level before descending down a staircase to the ground floor runway.
Mood board: 'MELANIA AND KAREN, JUST SLIDE THE PILLOW OVER THEIR FACES AND PUSH AS HARD AS YOU CAN,' read a line in the Eckhaus Latta show notes, referring of course, to Melania Trump and Karen Pence's significant others. Schorr also sported a grey knitted jumper with the question, 'IS THIS WHAT YOU WANTED?' sewn onto it in colourful lettering.
Best in show: The floral and grey skirts made for versatile options that could be worn as miniskirts or buttoned into something longer. The vivid wide-legged trousers added a hopeful splash of colour to the defiant collection.