Out of office: coffee and creative small talk with Duro Olowu
Bodil Blain, Wallpaper* columnist and founder of Cru Kafé, shares coffee and creative small talk with leading figures from the worlds of art, architecture, design, and fashion. This week, London-based fashion designer Duro Olowu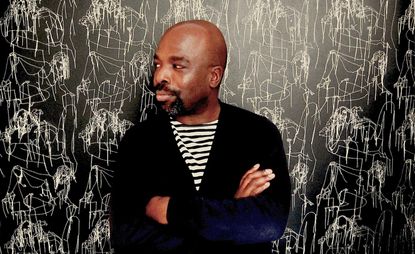 (Image credit: Uzoamaka Maduka)
Bodil Blain: How do you take your coffee? Is this a special moment in your day?
Duro Olowu: I love coffee, I have it every day, sometimes at 10am but also at 10pm; I drink coffee for pleasure. I like it strong: a macchiato or a short espresso. I am a second-wave coffee drinker – I like it Italian-style. There's something about watching a proper coffee being made, it's one of the few things left in our lives now where we can observe the process and watch something come into being. It's an art form.
BB: How old were you when you realised your creative urge?
DO: It started at four. I remember being in kindergarten, being told what to draw and thinking 'I am not doing it that way.' I wanted, always, things to be detailed and stylish. I suppose that's being Nigerian. I was born in Lagos to a Nigerian father and Jamaican mother and we travelled a lot, Geneva, London and so on. It inspired how I saw things.

If I ever said to my parents 'I'm bored', they would say 'go make something'; so I would make cardboard sculptures and draw costumes. It was very empowering. I was never macho, or wanted to play rough sports; I preferred tennis and elegant players like Bjørn Borg. I liked elegant stylish expression from a young age. Individuality, really, was what I decided on.
BB: What were the key pieces of clothing that inspired you growing up?
DO: As a child, the woman you see most in your daily life is your mother. This is usually where you get your style from, at least I did. The ritual of getting ready and, especially, how my mother did it, really influenced me as designer. She had this openness to flipping things; she would mix traditional, tailor-made Nigerian clothes with rive gauche European clothing. She would visit me in boarding school wearing a silk head scarf, a semi-safari dress and rive gauche shoes, that she had either picked up in Lagos or in Liberty in London. She would carefully balance expensive items with inexpensive items.

My grandfather wore elaborate Nigerian robes, but my mother would mix real and unreal jewellery, stacking them on her arms. It was a laborious process and the act of watching her was a formative influence. If there was one aspect I picked up, it was the length of her skirt, (think Romi Schneider), they should always be an inch or so below the knee. That's how I cut my dresses. It's an alluring length. It's about being self assured, I hate the word sexy. There is a certain confidence of knowing what works for you.
BB: What gives you the most satisfaction in your work?
DO: Creating the fabric! I love creating the fabric placing it properly. I like the fabric to work for every day and different moods. I adore culture and the culture of style – not fashion. I work by instinct. Fabric is always the starting point. I create the various fabrics, do sketches, then I do a proper illustration. Then someone helps me with the repeat. And then it goes to the factory. The way the ink hits the fabric – it's luminous.

BB: What has been your greatest battle as a designer?
DO: Independence. It hasn't left me handicapped, but what takes the most strength in the fashion world is to remain genuine.
BB: You have a notable interest in art; who would you say are the three most exciting artists at the moment?
DO: I have a voracious appetite for contemporary, as well as non-contemporary, art. I love the current return to figurative art. The trend is moving away from the non-figurative or semi-figurative installations and video works we saw at the ICA in 1980s and 1990s. I curated a show at the Camden Art Centre Museum last year called 'making and unmaking'. It turned out to be a success because I mixed it up; I put a Alighiero Boetti next to a Chris Ofili, next to an Amy Arbus, next to Lorna Simpson. I mixed abstraction with conceptual, figurative with photography. The Camden Art Centre were great in that regard, I really didn't feel the chains of the institution.

The way I design and see things is not about being indoctrinated, it's about the process again. I can talk about… Bronzino, Goya, Nigerian sculptures from the 18th century – real artists are like that. It's a duty of every creative person to make something that represents what's going on. However, if I were to pick three artists, it would have to be, Lynette Yiadome-Boakye, Lisa Brice and Michael Armitage.
BB: Is your work political in any way?
DO: Absolutely.

BB: If you were not a designer, what would you be?
DO: A filmmaker; I love film. Being a fashion designer, or even a curator, is about seeing these things in motion. When you watch a good film – beautifully photographed and composed and with a great script – they really are just moving images. I like films that have gaps, these beautiful silences, because that's real life. Those moments are such important moments, moments that capture the world. I'm inspired by films such as Orfeu Negro by Marcel Camus, Black Girl by Ousmane Sembène, and anything by Michelangelo Antonioni. I also loved Moonlight by Barry Jenkins
BB: What have you seen that you wished you had designed?
DO: A Grecian gown by French couturier Madame Grès Grecian, or the American Bar in Vienna, designed by Adolf Loos.

BB: How does a perfect day in London look?
DO: A day with clear skies. The greatest artists paint when there's great light.
A version of this article originally appeared in the April 2018 issue of Wallpaper* (W*229)
For more information visit the Duro Olowu website