New York Fashion Week: seven emerging US brands to watch
In this long read, we showcase seven young American labels, all of which are lifting New York Fashion Week with their individual interpretation of style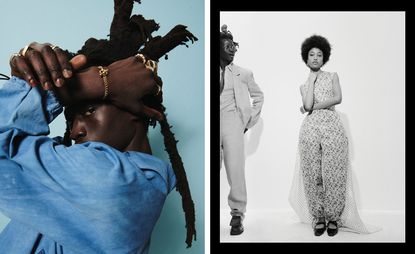 (Image credit: Annie Powers)
Left, Top, £458, by Conor McKnight. Ring (left hand, little finger), models own. Ring (left hand, ring finger), $470, Gentle Storm. Ring left hand, (index finger), $230, Gentle Storm. Bracelet (right hand), models own. Ring (right hand, little finger), models own. Ring (right hand, ring finger), $470, Gentle Storm. Ring (right hand, index finger, $230, Gentle Storm. Right, Ahmad wears, Jacket, $945; shirt, $360, trousers, $700, Puppets and Puppets. Glasses, models own. Necklace, models own. Ring (index finger), models own. Ring (little finger), models own. Shoes, models own. Nyla wears, Jumpsuit, $3,400, Puppets and Puppets. Earrings, £357, SPYLXN. Ring, £225; ring, £225, SPYLXN. Shoes, £575, Manolo Blahnik. Fashion: Anatolli Smith
New York Fashion Week A/W 2022 is well underway in the Big Apple. Here we celebrate seven Emerging US fashion brands, revealing how they reflect their diverse backgrounds in their work, and charting the challenges of establishing a label during a global pandemic.
01. Diotama
Nyla wears, Jacket, $795; top, $395; trousers, price on request, Diotima. Hat, £165, Xtinel. Earrings, £159, SPYLXN. Shoes, $409, Socialwork. Ahmad wears, Trenchcoat, price on request; shirt, price on request; trousers, price on request, Diotima. Bracelet, models own. Ring (Little finger), models own. Ring (Ring finger), $470, Gentle Storm. Ring (Index finger), $230, Gentle Storm. Shoes, models own
Designer Rachel Scott's approach to fashion is both personal and theoretical, historical and forward-looking. Born in Kingston, Jamaica, Scott now lives in Brooklyn, New York, with her photographer husband. 'I have been working in the fashion industry for 15 years, but this has always been a goal,' she says of Diotima, the line she launched from the studio that she set up in her home during the pandemic.

Scott left Jamaica 20 years ago to study art and French philosophy at Colgate University in New York. The label takes its name from the ancient Greek priestess and philosopher Diotima of Mantinea. 'The past few years I've continued studying philosophy recreationally,' says Scott breezily. 'Diotima is fascinating because it's never been clear if she was real or mythical,' she says, referencing Plato's Ladder of Love. 'When I'm designing, I try to approach it with the idea of working trans-historically – with history and the future.' Landing a place at Istituto Marangoni in Milan, she swerved to study fashion design, gaining a job at Costume National which she describes as 'a wonderful experience, an excellent education.' She learnt the rigour of a major Italian fashion house. 'There was such a reverence for craft,' she recalls. Today, she is vice president of design for Rachel Comey, where she has worked since 2015.

During the pandemic she made two trips home to the Blue Mountains in Jamaica, and while there, sought out the expertise of two local crochet makers. 'When the borders closed during the pandemic, they lost all their tourism trade. I thought, 'What can I do?' So I started talking to them over WhatsApp from New York about making some crochet pieces. The rest of Diotima's collection was made from very limited deadstock fabric in the US.' Now she works with 12 women in Kingston, including some younger women who are learning the trade. What is not made in Jamaica, Scott produces in New York. 'I take a lot of inspiration from New York. Not just manufacturing in the garment district, which is very much alive, but also so much about relationships and collaborations, making new connections,' she says.
Scott's roots are inextricably woven into her designs. Powerful and seductive, dancehall culture is ingrained in her clothes. 'The explosive dance and music means so much possibility for liberation,' she says. 'Carlene Smith was super influential to me as a teenager,' she says of the Jamaican dance hall icon. 'And the female musicians of this Caribbean postcolonial nation. It was such a fascinating time of gender dynamics. Carlene was not trying to operate in a man's world as a man, but owning it as herself.'

'The BLM movement in the US has been so important in highlighting which voices get heard and which don't. As a woman of colour, I used to feel that if there was someone working as a Black or Carribean designer, that there was no more room for another voice. But now I know that's not the case,' she says. 'I always knew I wanted to try and find a way to not contribute to the Caribbean's brain drain – the youth and energy that leaves to find work elsewhere,' she says of the industry she is building in Jamaica. 'You can always spot Carribeans anywhere because we are so proud of it.' Writer: Tilly Macalister-Smith
02. Kenneth Nicholson
'Fashion design has been a lifelong internal conversation for me,' says Kenneth Nicholson, speaking from his LA studio. While Nicholson may keep some of this dialogue to himself, his clothes present a rather more public discourse, education even, in expanding a somewhat calcified view of masculinity. 'It's always been a goal to liberate the outdated notions of sartorial options for men who longed for a more modern approach of being fully expressed in their wardrobe,' he adroitly explains. 'A being that has a range of emotions should be able to have clothing that reflects that array. I'm hoping that my approach to this solution can continue to evolve our narrow perceptions.'

Nicholson is a designer who manages to conjure aspirational dreams while considering commercial viability, a ropewalk he believes is essential to growing a successful brand today. His background - he once enlisted in the US Navy - speaks of a pragmatism that might not have been learned at art school.

His clothes say a lot: romantic, grungy, provocative, sporty, sharp, déshabillé. And all the while, they are garments that work effortlessly on the body: a flimsy floral print button down shirt that ends, dress-like, below the knee; a silk bias cut slip dress, and one worn provocatively falling off the shoulder revealing a sleeveless skin tight t-shirt; a polka dot blazer with matching tailored shorts.

Born in Houston, Nicholson studied fashion and fine art (at San Francisco Academy of Art University) before founding his brand in 2016. So where does he view clothes on the spectrum of beauty versus functionality? 'Fashion at its best ceases to be "just clothes." I think fashion design can certainly inhabit that space between high art and functional design. To me, high art is something that engages the human soul along with its senses. How you use cloth to wrap the body and drape its members, the way you use color to ground the garment in a mood or when it comes to presentations, how all of those elements merge together to orchestrate a story a moment in time. In terms of seniority, it is arguably one of the first crafts or art forms in existence.'

And as for the future? 'I aspire to grow this label into an American fashion house that spreads out into other sectors and stretches beyond the medium of design.' Writer: Tilly Macalister-Smith
03. Head of State
Using fashion to highlight social and political issues might seem like an ambitious and laborious task, but for Taofeek Abijako, the Lagos-born multidisciplinary designer behind the fashion label Head of State, all of these heavy-hitting facets are continually brought together with an effortless aplomb. Known for his architectural eye, minimalist approach to streetwear and ability to create tailored yet languid silhouettes, Abijako's multi-faceted approach to garments is ever-evolving, which not only results in exciting collections, exudes the energy of a social movement gaining momentum as well.

Abijako moved from Lagos in Nigeria to Albany, New York at the age of 12. ''When I moved to the US, it was a total culture shock. I actually got here in the winter. It was early February and a brutal New York winter. We had to drive from JFK airport to Albany, which was three hours away, so right away, I hated America,' he recalls, laughing. 'But over time, I started figuring out my identity here and in a way that started shaping up the narrative and what my work would eventually look like. It was about finding the balance and the middle ground between who I was in Nigeria and who I am here in the US.'

During his senior year of high school at age 17, he established Head of State in 2016, setting aside other aspirations, such as plans to study architecture, in order to start his own brand. In fact, he had originally envisioned it as a non-profit architecture firm, championing fundraising and making contributions to community-building infrastructure by selling screen-printed t-shirts and hand-painted shoes. Now 23, Abijako has created a platform that not only creates visibility for African aesthetics, but uplifts his various communities as well. He calls Head of State 'a representation of postcolonial youth culture' that is not only 'born from clashing intersectionality, but thrives on it.'

This constantly evolving quest to figure out self-identity is what grounds Abijako's work at Head of State. Centred around diasporic stories, his aim is to capture the unexpected links between them in each of the label's collections, in a bid to 'provoke and further a dialogue about the past, current and future state of marginalised spaces.' For example, the concept behind his Spring/Summer 2022 collection, which showcased his womenswear debut, is rooted in FESTAC '77, also known as the Second World Black and African Festival of Arts and Culture which drew 16,000 participants to Lagos in the largest pan-African gathering ever to take place and a source of Black joy and pride.

Above all, Head of State devotes a portion of its sales to supporting a range of initiatives that benefit underserved communities in both the South End of Albany and in Lagos. Its long term goals include building South End Studios, a center that nurtures the budding ecosystem between creatives and entrepreneurs while creating jobs for the community, and Schools for a Sustainable Future, an initiative in Sepeteri, Nigeria that will improve education through design, which the label has already conceived a school building adapted to local climate conditions to improve learning conditions. Writer: Pei-Ru Keh
04. Connor McKnight
Left, Top, £458, by Conor McKnight. Ring (left hand, little finger), models own. Ring (left hand, ring finger), $470, Gentle Storm. Ring left hand, (index finger), $230, Gentle Storm. Bracelet (right hand), models own. Ring (right hand, little finger), models own. Ring (right hand, ring finger), $470, Gentle Storm. Ring (right hand, index finger, $230, Gentle Storm.
What does continuity look like in an industry that is notoriously capricious? The Brooklyn-based Connor McKnight is the latest talent trying to find out. An alumnus of Bode and Kith, McKnight launched his own line in 2020 and recently received early-stage investment from Kitsuné Ventures. 'I hadn't really worked on the sales aspect of things before I started this. Obviously, I knew about the calendar and delivery schedules, but this industry operates like a well-oiled machine…well, maybe not so well oiled at times,' he says.

Openly derided as bad for the planet, bad for people and lacking in moral or social values, it is a machine under constant surveillance. 'I thought about it a lot in my first season and I would say that the machine is out of date. It's a really intense schedule, especially when you're starting out, but in my head, I'm like "if you're not participating in that, then somebody else is" so I ask myself: "do I have the bandwidth to deliver, or do I want to miss a season? Is it gonna matter that much?"'

S/S 2022 explores narratives around the Black family and manifests as a sort of parody of the clothes the average American lives in. McKnight thought about what his mum would don to tend the garden, how his dad would dress to go to work. The family's sportswear or Sunday best. He looked at a lot at pop culture references from the Brady Bunch to TV sitcom archetypes: 'They don't really add up. I'm pulling from a lot of things, trying to match them to what I know.' The looks include a classic topcoat in water resistant nylon and wool, and a vintage 1960s workwear trouser tailored cut in luxury sports wool.

McKnight's work to date has focused on what he calls 'the Black mundane.' 'In fashion we have this tendency towards something that is either extremely over the top or very minimal – but I grew up in a middle-class household in the DMV and a lot of the things I pull from come from that,' he says. '"Mundane" can be seen as a bad word within Black and brown communities because we like to strive towards excellence – I just think that having a breadth of different perspectives of POC experience is important – for everybody.' Writer: Dal Chodha
05. Interior
Launching a fashion label at the peak of the pandemic may not have been a goal that best friends Jack Miner and Lily Miesmer set out to achieve, but the timing has proven to be a critical component of their womenswear label, Interior's, success. Launched in March 2021 by Miner, formerly director of sales and operations at Bode, and Miesmer, a brand marketing executive at wellness brands like Billie and Soulcycle, the young, New York-based brand has become known for its mix of hand-knotted gowns, languid silk button-down shirts, buttery knitwear and off-kilter suiting that toe the line between loungewear and event wear.
Conceived to reflect the nuanced and idiosyncratic approach to daily dressing in a post-pandemic era, Interior's collections represent the peaks and valleys of a contemporary wardrobe, which its founders encourage to be irreverently thrown on together. A pewter-toned silk dinner shirt, festooned with handmade miniature fruit charms inspired by a set of lifesize silk fruits discovered on an antiquing trip in Maine, is as at home paired with a pair of full-legged tailored suit trousers for work, as it is with their matching pair of embellished silk pyjama pants for a statement-making look.
'Having developed the concept during Covid, we really thought about what women want today, which of course, is in the context of these huge lifestyle shifts that we've seen,' reflects Miner. 'What do women want to show up in and where, and why? We think about the product very specifically, each style is thoroughly considered from the customer's perspective, what she's craving and what she wants.'
Miesmer adds, 'The place that we've always wanted to design from, and tend to really gravitate towards, is specialness. These are things you feel like you couldn't get them anywhere else. A lot of thought, care and love were poured into them. What we're looking to do as a brand and business is really to bring specialness to scale.'
Filled with artistic details and embellishments, ranging from intricate embroidery inspired by an antique hand-hooked rug to an exquisitely beaded trompe-l'oeil bosom on sheer chiffon, Interior's trove of memorable flourishes nod to a wide array of influences, ranging from nostalgic Americana to period dressing and costumes. It also means its garments are priced on the higher end of the spectrum, but that hasn't deterred its clientele.
'People are willing to pay for something special at that price point, which is really surprising and heartening to me, because it speaks to how we're all feeling,' Miesmer shares. 'We may not need any more clothes, but this is more about what [people] want coming out of Covid. It's more about want than need. It's not utilitarian.' Writer: Pei-Ru Keh
06. Puppets and Puppets
Ahmad wears, Jacket, $945; shirt, $360, trousers, $700, Puppets and Puppets. Glasses, models own. Necklace, models own. Ring (index finger), models own. Ring (little finger), models own. Shoes, models own. Nyla wears, Jumpsuit, $3,400, Puppets and Puppets. Earrings, £357, SPYLXN. Ring, £225; ring, £225, SPYLXN. Shoes, £575, Manolo Blahnik.
Imagine a handcrafted smart black leather top handle purse approximately 9.5 inches in length with a hyperrealist chocolate chip cookie made of resin stuck to its front. It is a thing that is both surreal and sexy. Clumsy and chic. A succinct précis of the New York-based fashion-cum-art project Puppets and Puppets.

Established in 2019 by Carly Mark and Ayla Argentina, the label is loved for its trippy elan. Mark spent time working as an artist exploring the semiotics of commercial food packaging before applying her pop-consumerist ideas to clothes. 'When I was younger, I saw art as this transcendental thing, but I learned that it's a business, just like everything else. That's OK, but I'd rather be creative in a lane that is more transparent and forward about it,' she says.

Her shift into fashion was 'an unexpected risk that paid off.' Together with Argentina, who used to assist Mark in making costumes for her sculptures and short films, they chose the name Puppets and Puppets as moniker for their method. It's a loaded term as well as an homage to Mark's rescue Chihuahua who is named after the Puppet Master from the Japanese manga series Ghost in the Shell: 'an artificial intelligence program that has cyberbrain hacking abilities.' Fashion – for better or worse – may not be that different. 'As a designer it's fun to partake in and observe a sort of cultural permeation. Of course, one can see the negative use of the word "puppet" and how it relates to creative industries – or industry in general – and that's not wrong either,' Mark says. 'That duality makes it that much more interesting to me.'

The duo enjoys straddling the line between the disciplines, 'being neither here nor there' and their output is defined by a resistance to formality. 'I feel very free and very satiated. I work on collections the same way I would start an artwork, thinking of themes, moving through things like I would a story. I'm not sure how other designers work but that's what I know and that's what makes me happy.' Writer: Dal Chodha
07. Social Work
There has long been a disconnect between the luxury consumer who purchases a finished garment and the machinist, pattern cutter or seamstress who physically cuts and crafts their clothes. We place huge emphasis on and deference to the creative director who divulges ideas from an ivory fashion tower, but less on those actually realising the individual stitches of those visions.

When Italy-born, Shanghai-and-Shenzhen-raised Chenghui Zhang launched her fashion label Social Work in 2018 with her friend Qi Wang, after they both graduated from Parsons in New York City, she was encouraged to bring the often-invisible garment creators behind fashion collections to the forefront. For the fledgling label's S/S19 collection, the brand's lookbook stars were the workers from its factory in Dongguan. 'The approach is a little more elevated today,' says Zhang. Social Work includes codes in the labels of all of its garments, which shoppers can scan to learn who created their clothing. Workwear and utilitarian shapes, from industrial jumpsuits to denim wrap skirts referencing Chinese factory worker's aprons, are also central to the label's collections. 'I also look at my mother's wardrobe,' Zhang says of her wearable, democratic approach to design. 'From when she was working for the government in China after graduation'.

Eastern and Western youth quakes – from the Maoist cultural revolution to the hippy movement of the Sixties and Seventies – inspire Social Work's collections. These riff on and assimilate European, Chinese and American design idiosyncrasies. For S/S22, Zhang (who has full creative control of the label after Wang's departure) looked to the cult 1993 Bernardo Bertolucci-directed film The Dreamers, which is set against the Paris riots of May 1968. 'I was thinking about how you can express sexuality within a society which wasn't that free,' she says. Here, masculine and feminine tropes intermingle: rose motifs are crocheted into vests, leather skirts balloon below the knee, tuxedo jackets are imagined as cropped boleros and ombre shirting is tucked into high waisted trousers. 'The rose motif is a way for me to romanticise femininity, and infuse it with a more androgynous silhouette,' Zhang says.

For Zhang, the transparency behind the production of her collections is a distinct way to stand out in the oversaturated fashion landscape. 'It can be really difficult to communicate with your customers,' she says. 'This feels like a modern approach.' Writer: Laura Hawkins
Jack Moss is the Fashion Features Editor at Wallpaper*. Having previously held roles at 10, 10 Men and AnOther magazines, he joined the team in 2022. His work has a particular focus on the moments where fashion and style intersect with other creative disciplines – among them art and design – as well as championing a new generation of international talent and profiling the industry's leading figures and brands.